Biography
Sandra: guitar and vocals
Dado: guitar
Jaime: bass and vocals
Iván: drums
Eva: keyboards and vocals
JUNIPER MOON formed in Ponferrada (Spain) and started playing in 1997.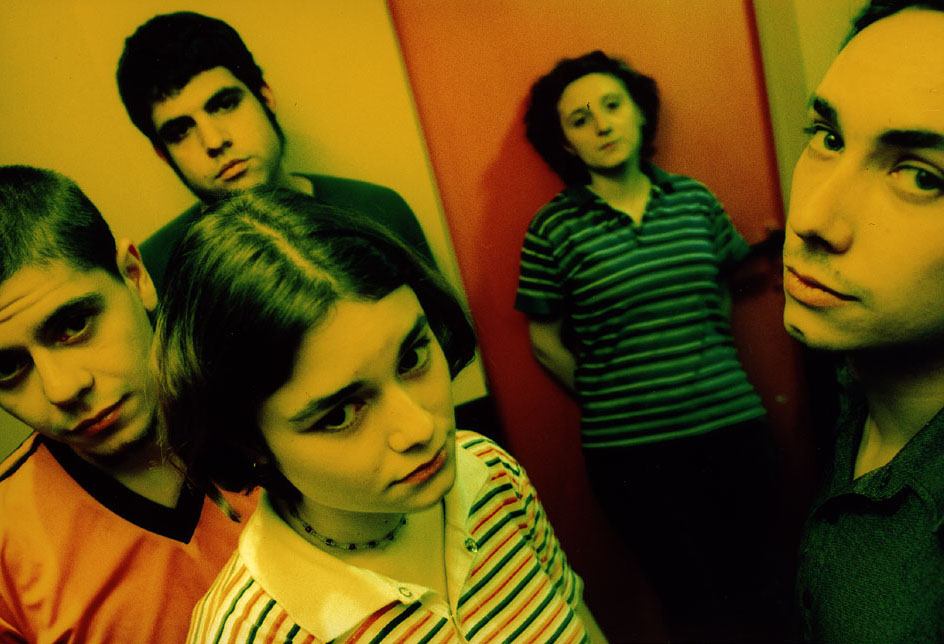 The starting point was the influence of power pop and punk classics, but soon the band decided to create their own sound, creating exquisite, moving songs with harsh guitars and solid rhythms.
They were known by the extreme solidness of their live sets, as a consequence of hard working and endless gigging. They opened and toured with American bands like THE QUEERS, BOTSWANAS or CHARIOT, a band led by the ex-POSIES Ken Stringfellow, who wouldn't hesitate in praising JUNIPER MOON in press and radios. They also played with Spanish bands like KILLER BARBIES, LOS FRESONES REBELDES or TCR; with the latter they played their first gig in Madrid, in June 99.
1999

The first song released by JUNIPER MOON is "Madrid", which is to be found on Elefant's compilation "Verano del 99". In November 1999 their first five-song CD-Single is released: "¿Volverás?", is also available in a seven inch green vinyl limited edition. They got a review in UK weekly NME, and some airplay from BBC's notorious DJ's Steve Lamacq and John Peel. Meanwhile, they support the SUPER FURRY ANIMALS on a date off their Spanish tour.
There's a video of "¿Volverás?", created by Esferobite, who have also worked with the likes of FANGORIA, ASTRUD, ESTAFA or PROZACK. This cartoon video is based on the artwork of JUNIPER MOON's two singles, created by Xtraño Elefante.
2000

They play many summer festivals in 2000, like Benicassim, and Contempopranea festival in Alburquerque (Badajoz). In October 2000 there's a new single/CD-Single out: "Basado en hechos reales", featuring four brand new tracks and an equally superb design work by Xtraño Elefante. They premiere the new songs in some shows in Madrid, Valencia and León.
2001

On July 17th the band plays Madrid's Palacio de Congresos. The show is included in the official presentation of Playstation's "GT3" videogame. The band also appears in a videogame magazine called "EGM nosolojuegos", featuring a CD with two songs of the band.
2002

The band's debut album, "El resto de mi vida", comes out in October 2002. It was recorded in March 2002 with Carlos Hernandez in Refugio Antiaereo Studios (Granada).
JUNIPER MOON tours the country in October and November to promote the album. The first show is at the Lemon Pop Festival (Murcia) with TENDER TRAP.
On October 17th they join the premiere of the short film "Looking for Chencho", directed by Kepa Sojo. The act takes place in FNAC Madrid and is featured by the director and the main actors of the film. JUNIPER MOON play live. Their song "Superstar" (demo version) is included on the film soundtrack CD, which is released by PIAS SPAIN.
"Me siento mejor" is included on "Elefant 2002" compilation, released by Mexican label Suave.
After a brief stop in their album promotion tour, due to a car accident suffered in November, JUNIPER MOON come back repowered and with new songs.
2003

In January, JUNIPER MOON travel to Madrid to shoot the video-clip for "Sólo una sonrisa".
In April, a new CD-Single comes out: the first single taken from their debut album, "El resto de mi vida". In addition to the self-titled "Sólo una sonrisa", three previously unreleased songs are also included: "Cosas que nunca te dije", "Ocho meses en globo" and a newer version of their demo-hit "Superstar". JUNIPER MOON offer bursts of energy, sassy performances and guitars with flare.
They record a new "Conciertos de Radio 3/TVE" TV live show. This will be the last show for Raquel (main and backing vocals); her place is occupied by Eva from Galicia's band LOS CONTRASTES.
"El resto de mi vida" was very well received by fans and music press; it reached number 33 in the list of the best 100 albums for Rough Trade Record Shops, plus it got excellent reviews in El País, La Luna, Rockdelux, Rocksound, Ruta 66, Mondosonoro... It was also included in the "Best of 2002" polls in LaNetro and Mondosonoro, and some of the album songs, such as "Puro teatro" or "No te pongas el sombrero" are chosen by TeleMadrid Radio or Rockdelux magazine among the best tracks released throughout 2002.
2004

JUNIPER MOON are included in a compilation that gathers the best of international indie-pop, and shows the international indie-pop scene acknowledgement to them as one of the best indie and punk-pop bands.
London's Rough Trade shops (specially Portobello's) are a dream of every music enthusiast. As a celebration of their 25th anniversary, they released (though Mute Records) several essential compilations reviewing this store's history, firstly, and lastly going over styles as punk and post-punk.
In October 2004 they released "Indiepop 1". Sean Tyler is in charge of the compilation and musical selection manager (and also the person responsible, along with rock writer Everett True and Matt Haynes from Sarah Records, for the booklet's texts).
On the album there are legendary and well-known bands as PRIMAL SCREAM, THE JESUS AND MARY CHAIN, MY BLOODY VALENTINE, BELLE AND SEBASTIAN, FELT or THE MAGNETIC FIELDS; along with other classics of indie music, maybe less known but no less mythical, as TALULAH GOSH, SPEARMINT, POPGUNS, McCARTHY, VASELINES, SHOP ASSISTANTS, FLATMATES, WOLFHOUNDS or BOYRACER. Besides bands very close to the Elefant Records universe, as CAMERA OBSCURA, BMX BANDITS, HEAVENLY, THE FIELD MICE or HELEN LOVE.
And between all those pop wonders, JUNIPER MOON managed to get in with "El resto de mi vida". JUNIPER MOON album's cover is reproduced in this compilation's cover, and in the back cover there's a badge from Elefant Records, which shows how well regarded is our label ahead our country's borders.
2005

However unfortunately, after achieving this international acknowledgement from one of the most respected and important compilations in the British independent scene, JUNIPER MOON split up, leaving behind an excellent legacy of energetic pop music. Some of the band's members are already working on a new project, which will surely keep the high level of quality they have kept to this day.
2016
18-03-2016
Double-LP vinyl release of their first album "El Resto De Mi Vida" with extra tracks This numbered, limited-edition and double vinyl release also includes all the songs from the singles "¿Volverás?" (1999), "Basado En Hechos Reales" (2000), and "Sólo Una Sonrisa" (2003), which include early versions of "¿Volverás?" and "Me Siento Mejor". And if we add to that the songs taken from the Elefant compilation "Momentos Perdidos" (2004) and "Verano Del 99" (1999), plus two really early versions of "Quiero Verte Una Vez Más" and "Superstar", originally published on a Japanese compilation in 2010 on the Waterslide Records label, we find ourselves with a super complete release of all the songs ever recorded by JUNIPER MOON. Many of these songs had never been out on vinyl before. Since their disappearance in 2005, JUNIPER MOON have continued making hits and recruiting new fans all over the world. Especially in Japan, where in 2010 they released that compilation we mentioned in the previous paragraph, which included all their singles along with previously unreleased songs and a few live recordings; or in the U.S., where their song "¿Volverás?" was used in a 2014 TV and radio campaign for the country's biggest mobile phone service provider, Verizon Wireless. Movies, TV shows, even reality shows like MTV's "Alaska y Mario" have used JUNIPER MOON songs on various occasions. Listening to these songs with hindsight gives us the feeling that time goes as fast as a JUNIPER MOON's song. And we can be happy that they haven't lost even a drop of their energy along the way. Iván and Eva are still going strong in LINDA GUILALA. We are also trying to keep fighting with the youthful energy that defined us 25 years ago. And we hope that the effects of bringing back this incredible collection of songs has a similar effect on you all. We're sure it will.
Discography in Elefant:
ER-218 JUNIPER MOON "¿Volverás?" Single 7" (November 1999)
ER-323 JUNIPER MOON "¿Volverás?" CD-Single (November 1999)
ER-227 JUNIPER MOON "Basado en hechos reales" Single 7" (October 2000)
ER-333 JUNIPER MOON "Basado en hechos reales" CD-Single (October 2000)
ER-1097 JUNIPER MOON "El resto de mi vida" LP/CD Digipak (September 2002)
ER-348 JUNIPER MOON "Sólo una sonrisa" CD-Single (April 2003)
Songs in compilations:
- "Madrid", in VERANO DEL 99 (CD ER-1062, 1999)
- "Volverás", in ELEFANTDIEZ (CD ERDL-001, 1999)
- "XXX", in CD compilation with Rock Sound magazine (2000)
- "¿Volverás?", in BENICASSIM 2000 (CD FIB, 2000)
- "XXX" and "Nave espacial", in CD "EGM-No solo juegos" (2001)
- "Me siento mejor", in ELEFANT DOSMILUNO (CD ER-1083, 2001)
- "¿Volverás?", in GENERACION 2000 (Double-CD/Double-Cassette Outta Watta 2001)
- "Superstar (demo)", in LOOKING FOR CHENCHO B.S.O. (CD PIAS, 2002)
- "Me siento mejor", in ELEFANT 2002 (CD Suave, Mexico, 2002)
- "Sólo una sonrisa", in MODAPOP (CD ER-1094, Septiembre 2003)
- "El último tiro", in MOMENTOS PERDIDOS (CD ER-1115, 2004)