Biography
Carlos Valderrama, one of those incredible personalities hidden behind nice, funny gestures, formed FITNESS FOREVER in Naples, with his freinds Paster, "Big Tony" Fresa and Scialdone, sometime around 2006, bringing the pop spirit of the great Italian composers (Bruno Martino, Piero Umiliani, Fred Bongusto, Ennio Morricone, Lucio Battisti and more) back to life, and combining them with the timeless classics of pop music (Brian Wilson, THE BEATLES, Caetano Veloso, Antonio Carlos Jobim, Burt Bacharach, Henry Mancini...).
Throughout 2009 they introduce their marvelous and luminous debut album, "Personal Train", full of majestic string arrangements, wind instruments full of energy and an irresistible, unstoppable pop spirit. Later, with "Mondo Fitness EP" and "Con Fitness Forever En La Playa" (their Spanish-language adventure) they continue the journey and make it clear that Valderrama and company have an unstoppable imagination. They perform in festivals like Indietracks, South Pop Festival and Lemon Pop.
In November of 2013 they release their second full-length album, "Cosmos", an album flooded with groove and disco, with a clear seventies aroma, marinated with the spices of STEELY DAN, Lucio Battisti, Marcos Valle, David Axelrod, the contemporary influences that feed Carlos Valderrama (ARIEL PINK, MODULAR, GONZALES, TORO Y MOI and LA CASA AZUL) and their recent passion for some Brazilian albums from the 70s.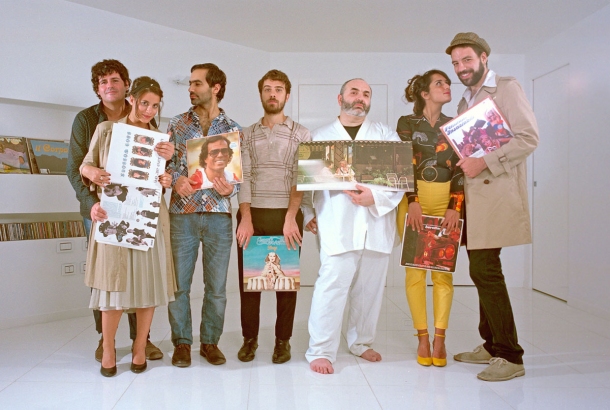 2006

Carlos Velderrama, the producer, composer, ex-underwear model, arranger and multi-instrumentalist (and one of the worst dancers and singers in the music industry), founds FITNESS FOREVER in Naples (Italy) soon after realizing that love is not forever. That's why, unfortunately, he couldn't call the band LOVE FOREVER.
Shortly after, in the waiting room of the "help center for unemployed ex-models", he met the rest of the people who would become his band mates:
"Big Tony" Fresa: orchestra director, who plays the keyboards and the piano in his free time (he is currently in shape).
Scialdone: bass player and guitar genius, still not in shape. Almost 20 years ago the famous power-pop group THE KNACK wrote a song about him, and it was a huge hit! It was called "My Scialdona".
Paster: gorgeous lady and singer, "we think that a modern pop band absolutely needs a pretty female singer who can later leave the group for a solo career like Gwen Stefani or Nina Persson did".
All the members of FITNESS FOREVER were involved, at the time, in other musical projects: Carlos was playing surf-rock with THE PREACHERS, sixties styled psychedelic indie pop with VALDERRAMA 5, hard-rock, hip hop and cruise music with THE GOONIES and shoegaze with SEA DWELLER. "Big Tony", electro-tango with KANTANGO, jazz with his FRESA TRIO, techno music and one of the most solicited session keyboard and Fender Rhodes musicians for concerts in Italy. "My Scialdone" is a progressive rock maniac from the 70's, so for years he has been playing in progressive bands like GARDENWALL and CONTROTEMPO. He's also a band member of Inigo (an incredible sunshine pop composer) and Marzouk (rai pop). Paster had never sung before. She works as a web designer and speaks Japanese very well.
2007

After recording the promo "Marmalade Gomelsky", they're signed by EMI. The quickly record the single "Mondo Fitness" (only available on iTunes, and downloaded twice by Carlos' aunt, Rosa) and they begin the recording of their ultra-ambitious first album (which is ultimately called "Personal Train"), which takes them almost a year, due to the quantity of arrangements and orchestrations it contains (but above all, "because Carlos doesn't play very well!"). The album is recorded by the very Luigi Scialdone and "Big Tony" Fresa.
2008

After their relationship with EMI didn't work out very well, Elefant Records signs them and will be who releases their debut album, "Personal Train", an album that will be a musical tribute to their beloved country... They have this to say on the subject:
"Nowadays, things aren't going very well, but there was a time when people went on vacation for a whole month in the summer, they made a ton of super fun B movies, and, ultimately, people were happier. Italy was also the home of marvelous pop music in the seventies and eighties.
This is an inheritance that can't be lost or erased... what we've done is take this music from the subconscious of our happy inner children, and record it following the examples of Italian and international pop geniuses like Bruno Martino, Brian Wilson, Piero Umiliani, Burt Bacharach, Scott Walker, Fred Bongusto, Kevin Shields, Ennio Morricone, David Axelrod, FREE DESIGN, Lucio Battisti, Syd Barrett, THE BEATLES, Joao Gilberto & A.C. Jobim, Barry White, STEREOLAB, LA CASA AZUL, THE DIVINE COMEDY, THE CLIENTELE, Sergio Endrigo, Armando Trovajoli, LILYS, Alan Sorrenti, CIRCULATORY SYSTEM, XTC, BEE GEES, RAMONES, SPIRITUALIZED, Billy Nicholls, BROADCAST, SUPER FURRY ANIMALS, TALKING HEADS, Serge Gainsbourg, THE BYRDS, THE HEAVY BLINKERS, CORNELIUS, STRAWBERRY ALARM CLOCK, BLOSSOM TOES, Peppino Di Capri, THE WHO, NON VOGLIO CHE CLARA, THE HIGH LLAMAS, JOY ZIPPER, NAZZ, NIRVANA (UK), OS MUTANTES, Esquivel, Sly Stone, EARTH WIND & FIRE, GLADYS KNIGHT, all the music from the 70s, SERENA MANEESH, OLIVIA TREMOR CONTROL, SUPERGRASS, Armando Trovajoli, BLUR, Piero Piccioni, POP SHOPPING, Gazebo, DUNGEN, Sabrina Salerno, PULP, MELT BANANA, ARIEL PINK, Astor Piazzolla, JUNIOR BOYS…
Our album will remind you that you deserve to be happy, and that you deserve to listen to pretty music. Our pop is made with love, so "Love Forever, for all of you."
2009

In January their debut album, "Personal Train" is released, an album with such incredible songs as "Probablemente", "Se Come Te" or "Bacharach", which explore diverse parts of pop, passing through sunshine pop, orchestral pop, or small brushes of bubblegum. The album has a precious and fun photo of the group on the cover, taken by Anna Di Prospero, one of the photographers Elefant admires most (also responsible for, among other things, the recently released single cover photo of AU REVOIR SIMONE and all of the promo photos of FITNESS FOREVER.
Over the first few months of the year they stage a mini-tour to present their album "Personal Train" in several Italian cities (Rome, Naples and Lecce).
In April Anna Di Prospero and Fabio La Starza direct the Video-clip of the song "Bacharach", very Italian and totally in tune with the song and the band.
In June, FITNESS FOREVER performs for the first time in Spain in the Indyspensable Festival in Madrid, on the day the festival is dedicated to Elefant Records for its 20th anniversary. The next day they hold an intimate gig in Siroco, sharing the stage with the Spanish group CORAZÓN. In July FITNESS FOREVER performs at the Indietracks Festival in England.
In August Anna Di Prospero and Fabio La Starza direct another video-clip for the group. This time the song in question is the fun summer tune "Vacanze a Settembre". The song "Albertone" is included in the Spanish film "Yo, también" (Me, too), as well as in the film's soundtrack.
2010

We get two compositions in green color vinyl, limited edition format as a continuation of that great debut album Mondo Fitness E.P. On side A we have "Mondo Fitness", a song that reminds us of the Italian group's ability to make indubitable hits while, at the same time, filling them with elegance and delicacy. On the other side, side B, "Diego Mon Amour" offers a more restrained facet of the band, that fills itself with a Mediterranean sound between Marseille and Salvador de Bahía, between the French chanson and bossa nova.
2011

On July "Con Fitness Forever En La Playa" single is released. "Botellón" opens this release, the song has seventies Spanish-pop influences and the fantastic excesses of OS MUTANTES or Mohammad Rafi, a mutant himself, tremendously fun and lively. After that, it's time for two different versions of "Brasil": on the first (the "Magic" version), the band from Valderrama leave the mark of their good taste with the arrangements, the elegance and class with the string instruments, and their delicious harmonies which make us think of precious couples and Bahía beaches. The second version picks up the pace a bit, and they turn it into one of those perfect pop songs, with a touch of bossa and samba that offer an exotic, Caribbean sound, proving that FITNESS FOREVER is capable of moving us all around the world and making us dream, with almost no effort. The album closes with a true wonder. The Spanish version of "Be My Baby", with Palma de Mallorca as the star, the island that gave name to a song with portentous melodies, splendid arrangements and, of course, castanets.
2013

08/11/2013
Fitness Forever release their second album, "Cosmos". The result is an album capable of constantly keeping a summery, young, innocent mood ("Il Cane Ciuff"), giving us the gift of seaside vacations ("Piano Fender Blues"), enjoying the most hedonistic spirit of pop ("Le Intenzioni Del Re" and "L'amore Annegato" (pure Burt Bacharach), and filling it with an appreciation of black culture ("Hotel Flamingo"), traces of great geniuses like Marvin Gaye, Barry White, and Curtis Mayfield (the wonderful and seductive "Lui"), jazzy experiments ("Laura"), and even spacey hallucinations blessed bySun Ra ("Cosmos" and "Disco Quiz").
And if their lyrics used to be about the flourishing of life, opening up to feelings and experiences, discovering the whole world in all its gleaming brightness, the ochre tones are beginning to make an appearance on "Cosmos": resignation, growing up, losing trust, losing love… It's a leap toward maturity in all senses, but luckily it's full of that vital energy that needs to be there, and that FITNESS FOREVER are true masters of.
Recorded with a symphonic orchestra, a wind quartet, vintage material (none of the microphones or anything they used were from later than 1978), over a period of more than a year, "Cosmos" is a complex, ambitious album that offers a new dimension within pop, assimilating influences like only Valderrama and his group know how to do, maintaining the immediacy and at the same time making the risks and the complexity transparent for the listener. Is going to take an unnecessary amount of time for the pop genius from Italy to be recognized? How many generations can say that they enjoyed the effervescence of such imaginative and versatile songwriters as Giorgio Tuma and Valderrama himself? Ladies and gentleman, let's make the most of this moment.