Biography
Javier Aramburu: vocals, guitar and programming
Iñaki Gametxogoikoetxea: bass and programming
FAMILY is already a classic name in all-time Spanish pop history. They reached that status with only an album, a record which is truly perfect from beginning to end: "Un soplo en el corazón". A real masterpiece, which didn't need big promotion campaigns or live tours: in fact, FAMILY rarely played live, had their pictures taken or held an interview. By doing this they preserved all the mystery and the emotion that makes "Un soplo en el corazón" something really special and unique.
FAMILY's created out of a band called LA INSIDIA, a band from San Sebastián (Basque Country, hometown of bands like LE MANS or LA BUENA VIDA). In LA INSIDIA we already find Javier and Iñaki, and they act from 1983 to 1988 without leaving any recording. In 1989 Javier and Iñaki form a new band: EL JOVEN LAGARTO. They record a demotape in which we can find FAMILY style perfectly formed. In fact, most of the songs in this demotape would end up included in "Un soplo en el corazón".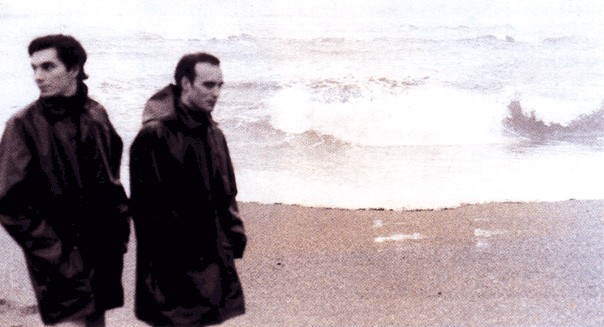 1992

First FAMILY's official recording is released in 1992: it's a cover version of an eighties Spanish band (DECIMA VICTIMA) made with a very popular Spanish band, FANGORIA, which would become big FAMILY champions.
1993

"Un soplo en el corazón" is finally released in 1993, and it's inmediately received by specialized press as the best record of the year. Since then this prestige has been growing and growing: all the "best albums of the nineties" polls featured FAMILY in the first places, in some cases at the very top.
But unfortunately there have been no more recordings of the twosome so far. Javier Aramburu has turned into one of the most famous graphic designers of the last years, thanks to his excellent sleeves for bands like LE MANS, LA BUENA VIDA, LOS PLANETAS, Carlos Berlanga and many others.
2003

"Un soplo en el corazón" is re-released just in time for its tenth anniversary. Following the band's own decision and out of respect for their fans, the re-issue of "Un soplo en el corazón" does not feature unreleased tracks, and even the original tapes of the album's recording haven't been remastered or remixed, thus leaving the album as it was originally released in 1993, with the only exception of the sleeve format. Especially for this occasion, it has been Javier Aramburu himself who has adapted the original cover's design to the digipack format, just as this masterpiece deserves.
Rockdelux magazine's December issue includes the CD "Homenaje a Family", where fourteen bands cover the fourteen songs from Family's album "Un soplo en el corazón".
"A decade after the duo from San Sebastian's only album was released, Elefant Records and Rockdelux magazine have promoted the edition of this tribute to Family on a digipack CD, following the same order the songs appeared on the original album, which proves the influence of "Un soplo en el corazón" on the last ten years' Spanish pop."
01. la noche inventada KAMAMURI : ANA D
02. nadadora LA BUENA VIDA
03. como un aviador PARADE
04. en el rascacielos CHUCHO
05. el bello verano ASTRUD
06. portugal NOSOTRÄSH
07. el buen vigía APENINO
08. viaje a los sueños polares LA CASA AZUL
09. al otro lado LA MONJA ENANA
10. carlos baila FANGORIA
11. yo te perdí una tarde de abril AMA
12. dame estrellas o limones NIZA
13. el mapa LOS PLANETAS
14. martín se ha ido para siempre CORAZÓN
2013


FAMILY "Un Soplo En El Corazón": Vinyl Re-release [Twentieth Anniversary]
2014
03/03/2014

ELEFANT RECORDS: The first two releases from our 25th anniversary [FAMILY] ELEFANT RECORDS: 25th Anniversary [1989-2014] "25 years with Elefant Records"

2015
27/11/2015

FAMILY: Release "Casete", the silver demo on 12" vinyl ["Recuerdos Que Olvidé" collection]

FAMILY is an immense and mysterious group. "Un Soplo En El Corazón" was love at first listen for so many people, and it awakened our desire to know more about its stars. But only a lucky few of us could talk about their history in EL JOVEN LAGARTO and a prior demo to the album that gave them a definitive place and what would soon be the group's only album. It's considered by the media and by fans to be one of the most important and influential allbums in the history of pop music in Spain. We know that many of you have been anxiously awaiting this - so have we - and the time has finally arrived: Elefant Records is going to release FAMILY's "silver" demo. It will be a 12" vinyl called "Casete". Because that's what this album is, a recording that Aramburu and Gametxogoikoetxea made – alone and on cassette – on a four track cassette reel. Dated 1991, it is a faithful reflection of what they were, without buffers, without the refinement that comes from production, with the limitations of their amateurism and the force of their conviction. "Casete" is FAMILY in all its intimacy. And right along with that scarce-resource spirit is their design, which plays with the original cassette's spareness without adding after the fact anything that could contaminate its memory. A good part of the value of that demo now resides in the extra-musical aspects, like the memory that goes along with that recording that the group gave away as a homemade cassette. This "Casete" from FAMILY is definitely the album we listened to the most in our rooms as students when we were starting to give shape to our little label, and its songs have been an important part of our lives without a shadow of a doubt. The fondness we still feel for these songs, these first versions and that cassette tape that Javier gave us, is infinite.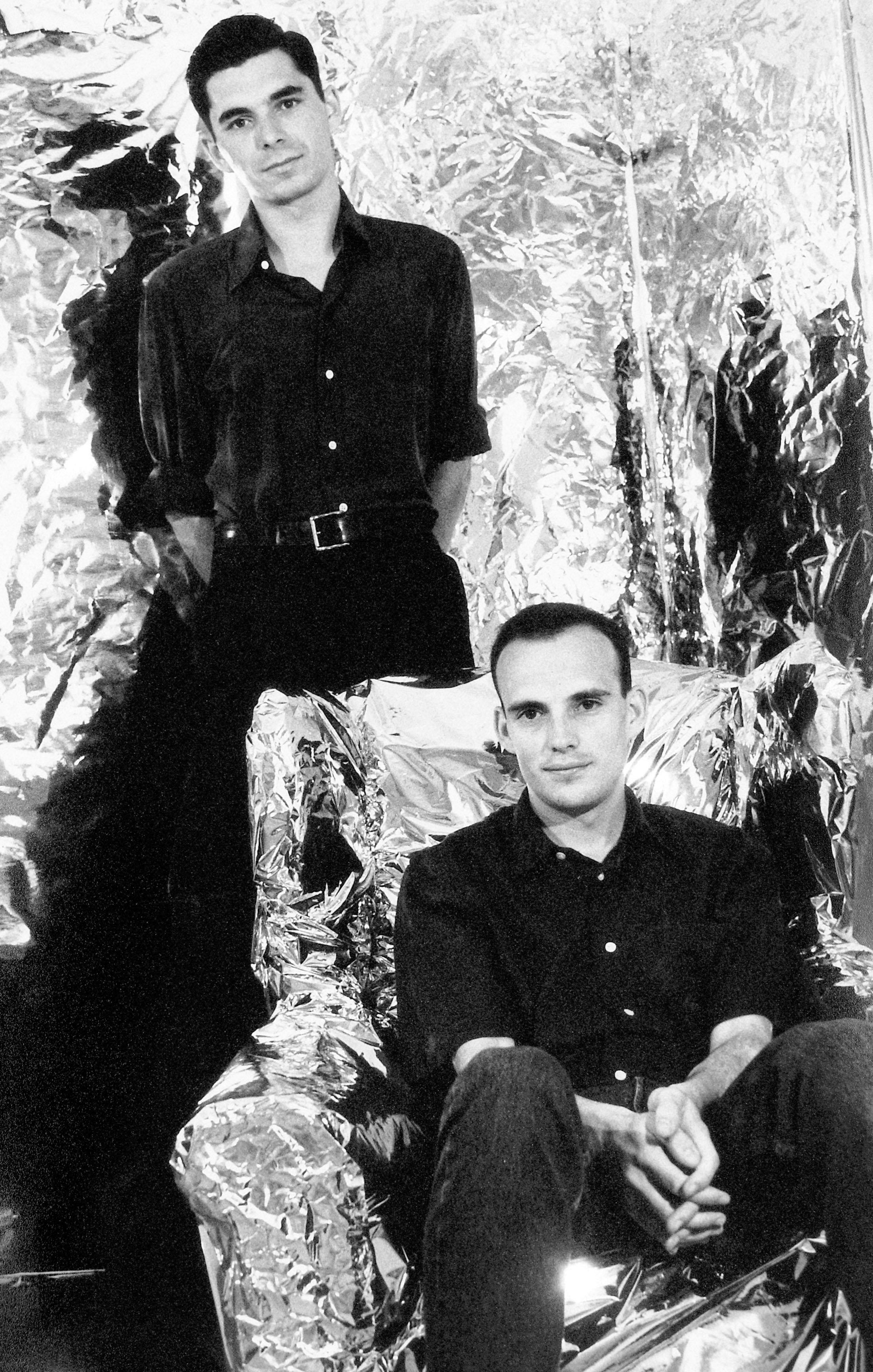 Javier and Iñaki in their "workshop" in San Sebastián in October, 1991.

The group's determination that it was Xavier Alarcón who was responsible for digitalizing these four tracks could not have worked out better. It is a brilliant remastering job done from the original tapes from the Yamaha MT3X multitrack cassette recorder. The album includes early versions of some of the songs that were included on their album, as well as some which have never been released. The first feeling you have after listening to this for the first time will be that in these demo versions the guitar shines in its almost complete absence, which increases the dance-ability of these songs, closer to techno-pop than electronic pop. That's what happens with "Carlos Baila" and "Como Un Aviador", which seem to be connected by the rhythmic base, and elevated to those levels that the group has earned for themselves, this time thanks to the cushion of keyboards and a provocative bareness. The rhythmic production of "Nadadora" is rougher than the final version, though that is exactly why it sounds stronger and reveals even more of the artists who were hiding behind the song's lyrics. NEW ORDER glide through "Yo Te Perdí Una Tarde De Abril", while "El Mapa" is one of the most difficult results to recognize, with a different rhythm, no guitar, and the omnipresent keyboards.Techno-pop wins again on "Martín Se Ha Ido Para Siempre", while "Al Otro Lado", with the exception of a few production and sound details, maintains practically all of that lively yet enigmatic spirit we already know and love. Between "Dame Estrellas O Limones", as magical as on the album, and "El Buen Vigía", bathed more in electronica and programmed basses, we find "Sentimental", a song that had never been released before now, at least by FAMILY, since FANGORIA had a version on their album "Un Día Cualquiera En Vulcano S.E.P. 3.0" and also MODULAR made a cover version recently that is included in the "Homenaje A Family (Un Soplo En El Corazón De Elefant)", a tribute album to FAMILY.

There are probably very few people who are coming to this album without having heard FAMILY's "Un Soplo En El Corazón" first, and there are probably even fewer fans of the group who don't know these demos have been floating around for years in different formats. But we are sure that all of them will enjoy these songs that maintain their shroud of mystery, their tremendous sensibility, but that here are more artistic and arid, solid and serious. For the hardcore fans, and there are a lot of us, it will help placate, just a little bit, the need for more material from the duo from San Sebastián, bringing them a little bit closer and giving us a little more insight into their workings, their trajectory, and the true origin of that album that has become a symbol of something more

Discography in other labels:
- "El signo de la cruz" (con FANGORIA). Flexi, Club de fans Fan Fatal 1992.