Biography
Cristina Quesada has been showing off the ukulele on stage in Elefant parties and online for a long time now, giving us little advances of her music and making us fall in love with her singular charm. That's exactly why we were so impatient to see what shape her record-label debut would take.
A music-lover from a very young age, she studied music theory and violin starting at age 7, until at 13 she bought a guitar and began to play versions of her favorite songs. She broadened her artistic horizons, joining theater groups, which has led her to her current participation in a children's program on television in the Canary Islands called, "El Club De Archi".
At 15 she discovered the unmistakable sound of the ukulele, which she thoroughly mastered, and which ultimately led her to record her versions. And this is how we got to the 7" that we currently have before us.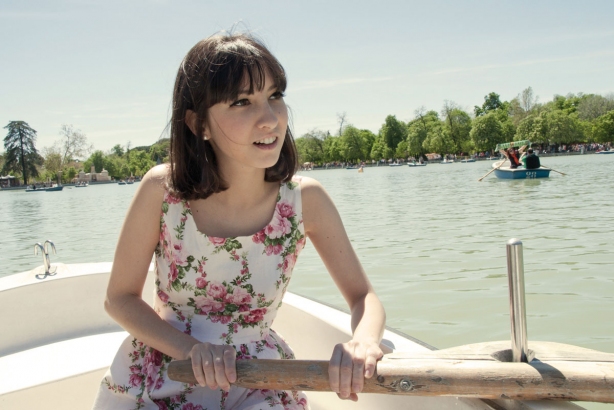 2013

July

The single opens with the well-known "Pineapple Princess", which pulls on the Hawaiian evocations of the instrument, surrounding her innocent voice and dreamy desires for a perfect love, in that song by the Sherman Brothers, made popular by Annette Funicello.
"Secret Song", on the other hand, highlights the more intimate and melancholic side of things, among luminous harmonies and a delicate glockenspiel, on the first of her original songs.
"Tonight You Belong To Me" is a version of a North American classic from 1926, written byBilly Rose and Lee David, that maintains all its delicacy and elegance under Cristina's trembling voice.
On the other side of the single there is a poetic and bare revision of "Viaje A Los Sueños Polares" that shows the marvels of FAMILY's melodies without additives or flashy touches.
"I Don't Know" was composed with Paul Bevoir, who was responsible for the arrangements and production of the single from London. He brings just the right details to adorn the songs without stealing the spotlight from Cristina's voice and her omnipresent ukulele. To wrap things up, we have another version.
This time it's "Let's Together", which was made famous in the original version of that movie called "Parent Trap" and which was also written by the Sherman brothers, who were responsible for so many scores from the Disney factory, like "Mary Poppins", "The Aristocats", and "The Jungle Book". Is it a nod? Is it a declaration of intentions? What we know for sure is that we're still here, sighing for our beloved Cristina. You captured Pineapple Princess for us.
2015
06/04/2015

Releases "You Are The One" [LP / CD]. Cristina Quesada and her delicious voice give us a good handful of extraordinary minutes on this first album, which is a diverse and incredible collection, with a ton of covers and some original songs. The album is lucky enough to include a fantastic collaboration with Javi and Coral from BAND À PART and Luis Elefant. Cristina uses the songs that she has hand-selected by other artists and creates her own world with them, one that is as delicate as her way of singing is. And that is how she gives us this "You Are The One", which is beyond a shadow of a doubt a huge delight to even the most stubborn music lovers