03/09/2021
COUR DE RÉCRÉ: "Cour De Récré" LP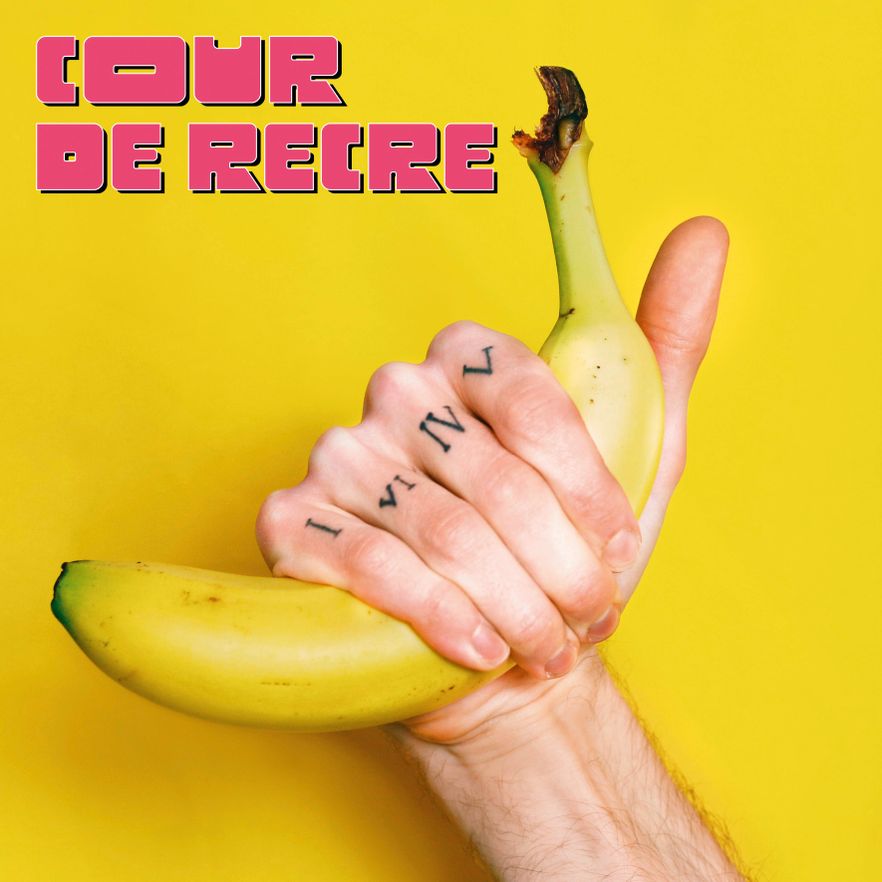 "New Adventures In Pop" collection [Issue 053]
We love that daring way of living so much, that lifestyle that is constantly pushing the limits while searching for freedom and happiness that only a very few young, fresh groups are able to give us. We have already seen that COUR DE RÉCRÉ is in their element in that way of living, and now it is time to celebrate their first, eponymous full-length album, which shows us all the aspects of their intelligent and fun work. And above all, it plays up that "joie de vivre" that is such an intrinsic part of our French neighbors.
The road that has led us here, though it may not seem like it, has been long. COUR DE RÉCRÉ started out as Stan and Héloïse's band. They built a project, with him in Avignon and her in Santiago de Chile, about distance and separation. Soon, Quentin, a friend of Stan's, joined the project, and soon thereafter Chloé stepped in for Heloïse in live shows, and then later in studio recordings. But stability doesn't seem to be their thing, and Stan went to live in Canada for two years, which didn't stop them from putting out their first release, the EP "Éponyme", in 2018. In 2019 Stan went back to Avignon, but Chloé moved to Paris. Distance is clearly in the group's genes. After all this mileage, we have finally arrived at this album, full of inspiration and irresistible pop melodies, where the French trio shows off their taste for synth-pop. ALINE, LA MONJA ENANA, FREEZEPOP, THE PIROUTTES and DENIM are just a few of the influences that have led this trio to songs like the opening track, "Chanson Cathartique", a tremendously fun exercise full of echoes of "Amoureux Solitaires" by LIO and "Tombé Pour La France" by Étienne Daho. On it, we discover one of the group's greatest talents: approaching the dramas typical of so many love songs with a new perspective. In this case, the break-up song becomes the story of a person who starts reproaching their lover, until realizing that he, and not the lover, is the one who is doing everything wrong. Unable to explain and justify himself, he starts blaming his first love. The song has an exquisite development and is highly danceable, and has a surprising ending with choruses and bells. Because that is part of what this is about – compliments, twists and unexpected turns.
"Soleil Levant" unleashes disco fury, in a song that creates a really fun story about Stendhal syndrome. A French guy obsessed with Japanese film makers falls in love with a Japanese girl who loves Nouvelle Vague. To reconcile their passions, there is only one solution: "Hiroshima, Mon Amour". "Le Jardin De Nobuko" is a surprise within the group's sound, with its extra-sweet pop sound talking about the uselessness of nostalgia. Maybe it works because only children are able to enjoy the present in all its pureness and intensity. And to make their point, they have included the youthful voice of Mia. Delicious and very France Gall. "Coeur Cruel" was one of the first songs the group wrote, and a different version of it was included on their EP "Éponyme". "Coeur Cruel" shows off one of those perfect choruses (with a certain touch of ye-ye) that jumps to an even better bridge, to come to rest calmly in the melody that gives way to a new verse. This is pop, my friends.
"Agathe Agathe" is one of those songs that was used as an advance of the group's sound, because it is such a paradigmatic example: baroque and occasionally bizarre synth-pop, about a man who falls in love with a girl who is intoxicated. And all with an overwhelmingly naïve spirit. It is not often you hear of a group who is inspired to write a song based on a critique of their previous album. But that is just what they did. Someone became fascinated with the songs on their first EP, but misinterpreted the intention of the lyrics, thinking they were showing unconditional support for Valéry Giscard d'Estaing, former president of the French Republic in the 70s. And "Le Roi Est Mort" is a joke based on that anecdote, where our protagonists evoke the sadness of Marie Antoniette while they kill Luis XVI, with a sound washed in arpeggios and synthesizers that wouldn't even come from Giorgio Moroder. Tremendous!

"Vice Et Werther" was their first advance – a reformulation of "Werther" by Johann Wolfgang von Goethe, but in this case with Charlotte leaving Werther and justifying it by explaining that "the best friend is too close" and that "a good friend is important for life but love is just child's play". It is wild electronic pop, with an acid base, vocoders and cheap synths, and a thousand structural changes. "Palacio Ideal" is a nod to their Spanish musical influences (Stan's father played a lot of Elefant Records albums in their house). Chloé sings in Spanish, the lyrics talk about the famous story of the mailman Cheval and his "Palacio Ideal", which he built by himself over the course of his life for his daughter. "Désolé Je Ne Fume Pas" tells the story of a girl who fantasizes about a boy, and in all of her fantasies he is smoking. The problem is that the boy doesn't smoke. It is a silly challenge for the world health organizations with its synthesized punk-pop. Oh, and just in case you were wondering, no, COUR DE RÉCRÉ doesn't smoke.
The album closes with "A L'ombre D'une Jeune Fille En Pierre", referencing the work by Marcel Proust. A girl falls in love with a statue, because of the simple fact that it will never love her back, and the lyrics are inspired by the novel "La Vénus d'Ille" by Prosper Mérimée. The closing ballad, the final exit, as if it could by any other way, is beyond all the canons. It begins playing with atmospheric sounds by Badalamenti and then radically turns into a bizarre funk jam that could have come from "Dirty Dancing". Spectacular!

We are always so excited to release albums from new groups with something new to say. This is no exception, and the numbered-limited-edition, magenta-color vinyl for this "Cour De Récré" is definitely going to be one of the most remarkable albums of 2021. Simply because synth-pop lovers will adore it, because they have not heard synth-pop like what our French trio is making, and with the fantastic production by the multi-instrumentalist, composer, producer and founding member of the Parisian trio KEEP DANCING INC, Joseph Signoret.
TRACKLIST: 01 Chanson Cathartique 02 Soleil Levant 03 Le Jardin De Nobuko 04 Coeur Cruel 05 Agathe, Agathe 06 Le Roi Est Mort 07 Vice Et Werther 08 Palacio Ideal 09 Désolé Je Ne Fume Pas 10 À L'ombre D'une Jeune Fille En Pierre