05/10/2018
COOPER: Vinyl Reissues, Video-Clip and Tour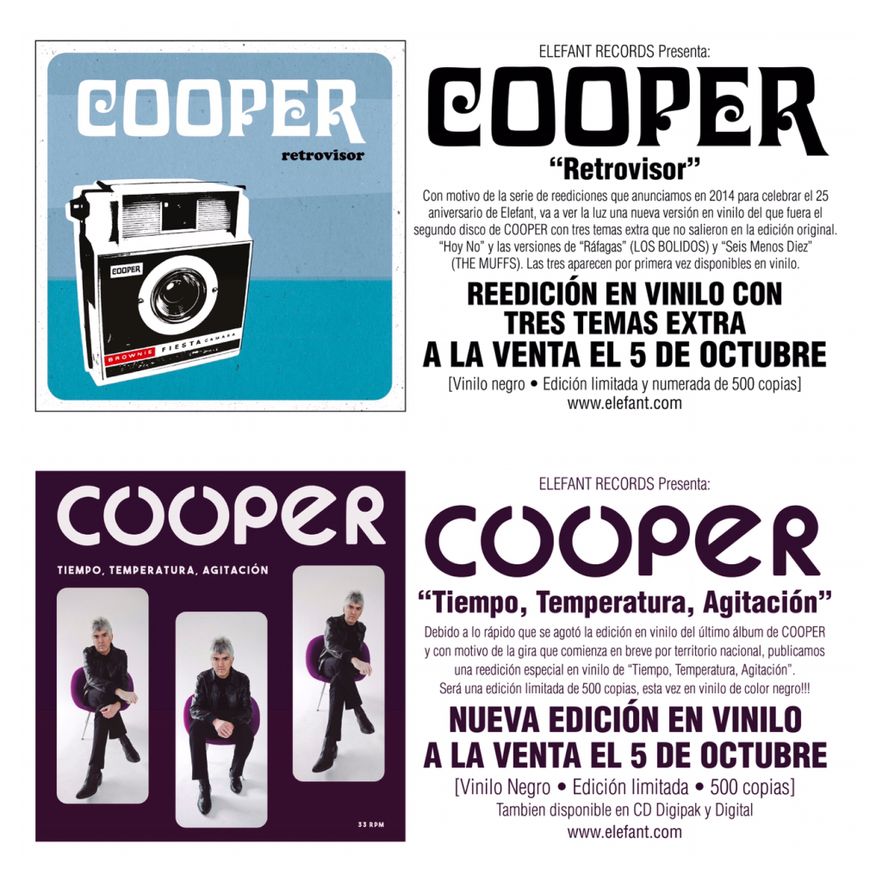 On October 5, two COOPER albums are being simultaneously re-released, two albums that were originally separated by nearly 14 years. Is this further confirmation that Alex Diez is a legendary musician who is timeless in the national pop scene, even beyond his career with LOS FLECHAZOS? Here, first of all, and due to how quickly the vinyl release of the last album, "Tiempo, Temperatura, Agitación", sold out, and because of the tour that will soon begin in national territory, Elefant is going to put out a special re-release of that album, as a limited edition black vinyl. It's a one-of-a-kind opportunity for those who didn't get a vinyl copy of the first edition, and at the same time it lets us celebrate a new opportunity to enjoy the band's stunning live show. On October 5, we will also release COOPER's new video, starring the song "Dos Grados Bajo Cero" - the most danceable and hallucinogenic song from "Tiempo, Temperatura, Agitación" - directed by Juan Marigorta (Estudios Tripolares) and in which we find the ecstatic dances of Lady Secuela and Alex's acting, bathed with psychedelic brushstrokes from the group's universe and from the album's graphic design.

On the other hand, and with the excuse of a series of re-releases we announced in 2014 for Elefant's 25th anniversary, a new vinyl version of what was COOPER's second album, "Retrovisor", is going to be re-released, as a 500-copy, numbered, limited-edition, with three extra songs that were not included on the original release. First, there's the cover of LOS BOLIDOS' "Ráfagas", which was previously released as the B-side of the CD single "Oxidado". "Ráfagas" is coming back out in physical format, and for the first time on vinyl. Another special inclusion is "Seis Menos Diez", the THE MUFFS' cover that appeared on the B-side of "Rabia", a CD single that they gave away with the purchase of concert tickets for the "Retrovisor" tour. And finally, one last rescue – this time from the CD single "747", another collector's item today: "Hoy No" will be included on the 2018 version of "Retrovisor" along with these other two fantastic covers.
Two exquisite rereleases that confirm that time does not go by for Alex Diez, that his songs continue to be as fresh as ever and his fans are still loyal to COOPER's bubbly, passionate and furious sound.
Merchandise
Elefant Records
Turntable Slipmat


Buy
view all products
Latest activity