Biography
COOPER is Alejandro Diez's new solo project, after the sad split of LOS FLECHAZOS, the mod band he led during more than a decade.
Till their last gig, during Purple Weekend Festival in 1998 (an event organized by themselves) LOS FLECHAZOS waved the flag of teenage pop for more than a decade, timeless melodies and elegance, and a prove of that was their considerable amount of fierce fans, with which they kept a very strong, close relationship, and their acknowledgement in countless international sixties meetings. But they weren't just a revival band: like DODGY, SUPERGRASS, LILYS or even OASIS, LOS FLECHAZOS evoked both the sound and aesthetics of pop's golden age, bringing them a renewed sensibility.
They were the main mod-beat band in Spain, since they gave their first show back in 1986 in León, their hometown. Through all these years they were under different line-up change, always led by Álex Diez (guitar and vocals) and Elena Iglesias (Hammond organ).
The complete story of LOS FLECHAZOS is too long as to be told here, so we will just say that they released six LP´s. The last two appeared in Elefant Records, and were also released in Japan. They toured many times around Spain, with morethan sixty TV appearances. In all this time they also did video-clips, recording sessions in England, concerts in festivals, and tours in Italy, Germany, France, Switzerland and the UK.
We could describe their music as 60's pop, a mixture between the mid-sixties, Shel Talmy produced bands (WHO, EASYBEATS, CREATION, KINKS...) and American blue-eyed soul sound (MC COYS, MAUDS, YOUNG RASCALS, STANDELLS...). The fact of singing in Spanish helped them to become so popular in Spain, and the two singles released on British label Detour Records, sung in English and with very good feedback, as well as the live CD released on German label Fourtune Records, managed to achieve them almost the same in Europe.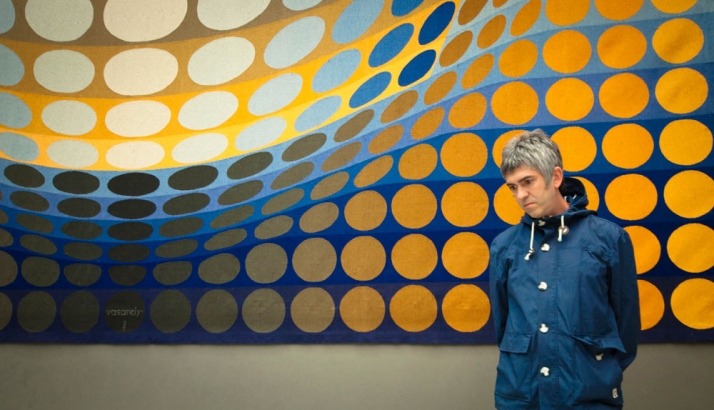 2000

Two years after the band's end, Alejandro comes back with new illusions and brilliant new songs. COOPER doesn't mean to be a follow-up to LOS FLECHAZOS; in fact it's not a proper band, only the way that enables Alejandro to express himself through artistically.
In November 2000 Elefant will release "Fonorama", COOPER's first album. The recordings took place in Madrid's Rock Soul studios. The session musicians that accompanied Alejandro are Carlos Torero (ex-RADIO FUTURA and owner of Rock Soul) on drums, Mc Cartney (ex SEX MUSEUM) on bass and Mario Álvarez (POPELS) on guitar.
Introductions being made, nobody should expect a too forced stylistic turn. Any FLECHAZOS fan would recognize the one that hides behind any track in "Fonorama", as the vocal style and the composing skills of Alejandro are completely unique. What happens is that, free from the stylistic constraints (self)imposed by LOS FLECHAZOS, this time Alejandro has had the opportunity of trying new ways of ORNAMENTING his songs: string arrangements ("Es tarde") or even a sampler ("El rascacielos").
Guitars are much tougher here, close to the current brit-pop acts which Alejandro appreciates so much; besides, one of the key elements in the sound of LOS FLECHAZOS -Elena's cool Hammond organ- is notably absent throughout the whole album. To cut a long story short, COOPER is not LOS FLECHAZOS, but COOPER is one hundred per cent Alejandro.
2001-2002

Alejandro tours for three months in Spain to promote this new COOPER album. Simultaneously a new single appears, containing two tracks from the album ("Vértigo" and "Rascacielos") plus two brand new tracks: "Sara tiene un secreto" and "Canción de cuna nº 2". A video shot by LES NOUVEAUX AUTEURS is also avalaible.
COOPER play in most 2001 Spanish summer festivals such as ContemPOPranea, Benicassim,Sonorama or Socarrat. In September they play BAM (Barcelona) and Lemon Pop (Murcia) Festivals. The end of the tour takes place in Leon (November 2001) with a special party with posters from the whole tour, slide projections and special Dj's, Alejandro himself included.
The band will take some rest and write some new songs. Meanwhile, Alejandro ends the year 2001 managing the Purple Weekend Mod Festival, taking place in December 2001 in León.
Alexdj's in Isladencanta Festival, Mallorca, June 2002.
2003

After a hiatus that was starting to be too long, COOPER is back with reloaded energies and excellent songs, as inspired and brilliant as usual.
On March "747" is released. This single means a new stage in the sound adventures of one of our best pop writers and performers; Alejandro has decided not to release an album again; "747" is the first of a series of singles which will be out during the following months. From now on, we'll enjoy his splendid songs in small pills.
"747" was recorded in January 2003 in Feedback Studios, León; Mario Álvarez (Guitar), Pablo Álvarez (Bass) and Antonio Pérez (Drums), complete the new line-up of COOPER with Alejandro Diez (Vocals and Guitar). The song "Sin respiración", another new COOPER song recorded during the same sessions, is included in the Elefant compilation "Modapop".
COOPER plays five very special gigs in May and June, in Madrid, Barcelona, Valencia, Vitoria y Coruña; as well as giving all their fans the opportunity to enjoy all the new songs played live, the audience was also given a CD with the ticket for the gig. This CD includes the brand new song "Cierra los ojos", especially recorded for this occasion, and is rounded up with "No matter what" (Pete Ham) and "Rascacielos", recovered from their live recordings for Radio 3 (spring 2002). This CD is NOT on sale.
2004

On January "Oxidado" is released, COOPER's new single includes four songs:
"Cerca del sol" One of the most complete songs in his career, a powerful tune supported by a catchy guitar riff and a brilliant chorus, a fresh and direct song, a new classic on Alejandro´s discography. "Cerca del sol" is COOPER´s new video clip.
"Silverstone" Another classic since its first hearing, possibly the most complete song of his new single, psychedelic pop with celestial choirs and a breathtaking melody.
"Oxidado" It is clear we've in our hands a brilliant single, songs such as "Oxidado" reveal COOPER´s excellent present situation, composing brilliant pop anthems with painstaking lyrics.
"Ráfagas" The band´s fans already know this brilliant cover from COOPER´s firsts gigs, quite a classic of the eighties Spanish pop by LOS BÓLIDOS, the best composition by this cursed band, made a success by LOS SECRETOS in 1982.
During may and june they present "Oxidado" on a tour that takes them to all the major cities in Spain, and they also go back to Germany. On june 6th they play the free open-air special show co-hosted by Radio 3 and the Festival Internacional de Benicàssim (FIB Festival) in Madrid's plaza de Callao, celebrating the station's 25th anniversary. The show is broadcasted live through Radio 3.
They play the main summer festivals: ContemPOPranea (Alburquerque), FIB and Lemon Pop (Murcia), showing once more their excellent and powerful live act.
The videoclip of the song "Cierra Los Ojos" is filmed, again under the direction of Miss Lucifer Producciones.
On november Elefant Records releases "Retrovisor", the second album by COOPER. However, the band has only recorded three new songs -keeping faithful to their compromise with immediacy and spontaneity, they still record in short sessions-, which have been compiled together with other tracks appeared in different formats during 2003 and 2004. Twelve tracks that act like a rear mirror of the band's immediate past, a retro-spective that shows itself graphically in the album's artwork by using the collage technique (images from different moments, formats and situations, in an analogy with the sound included in the album). The record also features the videoclips of the songs "747", "Cerca Del Sol" and "Cierra Los Ojos".
A limited white vinyl edition (600 copies) is released in a full-coloured sleeve that also includes the lyrics.
The record is presented by a series of acoustic sessions in the auditoriums of the FNAC chain stores in Madrid, Barcelona, Valencia and Oviedo, as well as at the Corte Inglés chainstore in León. In these concerts the band also shows all their videoclips, and among them they introduce to their fans their latest video: "Rabia", one of the newly recorded songs.
On november 22nd they play this record at the venue El Sol in Madrid, in a concert that is part of the celebrations for the 25th anniversary of both the venue and Radio 3 station. The show is broadcast live through Radio 3.
Following this intense promotional activity, they record live for the TV show Los Conciertos de Radio 3 (TVE 2), and make appearances in TVE 1, Tele 5, MTV and TeleMadrid.
2005

On January 11th they record a live session for the TV show Básico in TeleMadrid.
The "Retrovisor" tour takes place during the months of february-march-april 2005. During these shows, an exclusive CD-Single is given away with the ticket, featuring a new track ("Seis menos diez"), and a cover version from an original track by THE MUFFS adapted into Spanish by Alejandro, the original title of which is "Upside Down". This CD-Single is completed with the song and the videoclip of the song "Rabia".
During the summer, the band plays many festivals: Eco Pop, Contempopranea, Ebrovisión, FMIC, etc. and is ready to keep on playing indoor venues during the months of october and november.
On December 9th the bands plays at the Purple Weekend Festival in Leon (Spain). After this show, they stop playing live to concentrate on the recording of the new songs to be released on their forthcoming single, expected for release in the autumn of 2006.