Biography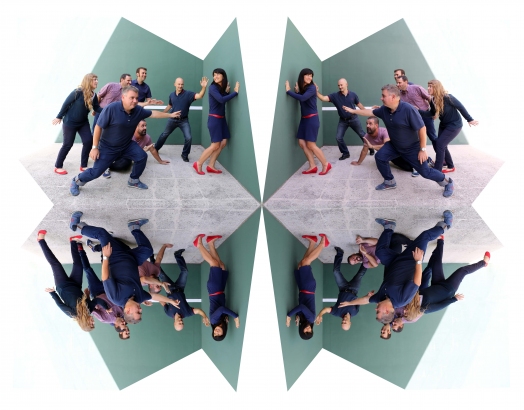 2001

COLA JET SET appeared just at the same time as LOS FRESONES REBELDES decided to break up. After 5 successful years of having been Spain's most representative and successful group of the most optimistic pop, the band that wrote "Al Amanecer" opted to split up on June 29th in Alburquerque (Badajoz), after their concert at the Contempopránea festival, and after realizing that there were many different ways to understand and live the music and the band. They left one of those magisterial and unrepeatable pieces of work behind, their debut album, "Es Que No Hay Manera!", an album full of freshness, looking for the light in every melody and chorus, an album that was a national milestone, selling more than 20,000 copies. And so they became the band of reference within Spanish pop music, with that form of making direct, fun music without prejudices. Their second album, "Exitos 99", released 1999, was also a great success, selling more than 20,000 copies, and showing a more unified group with a solid sound. But there were only a few scenes left in the history of a group that is fundamental in understanding what was going to happen to the pop music of this country.
Felipe (guitar) and Aarón (bass) from Zaragoza, as soon as their previous band disappears, that very night, decide to embark on a new project that begins to take shape that very moment. Just two months later, on September 30th, Ana (LA MONJA ENANA) joins the group as the lead singer and keyboardist.
Cristóbal (drums) is their first drummer, with whom they give their first two concerts in Barcelona (October) and Zaragoza (November), though by December, with Cristóbal's return to his native Sevilla, Roge takes over the rhythm section for the band. A few days later, Cristina, who was also an integral part of LOS FRESONES REBELDES and always in tune with Felipe and Aarón, joins the project as the second guitar.
2002

With the group members set, they record their first demo with "Cosas Que No Se Olvidan", "¡Ay, Amor!" and "Quiereme", songs in which the melodic abilities of their songwriting, their freshness and vitality can already be seen. Two of the songs, "Cosas Que No Se Olvidan" and "Quiereme", become huge hits in the COLA JET SET songbook. The radios declare it as one of the demos of the year and clamor for its release from a record company.
They perform in Madrid on March 2nd in the annual party for the radio program "Flor de Pasion" (RNE – Radio 3), just days before Felipe and Ana's wedding. The concert becomes a special and meaningful event, and is a complete success, an unbeatable beginning for a band fingered to do great things in the national pop panorama. They headline with NIZA and SOUVENIR.
Subterfuge, after having been LOS FRESONES REBELDES' label for a few years, release COLA JET SET's first CD-Single on a record label, "Cosas Que No Se Olvidan", which has the three songs, "Cosas Que No Se Olvidan", "Cancion de Luna" and "Acabar Bonito". The songs are recorded in the Barcelona studio From The Backyard with the producer Guille Milkyway (LA CASA AZUL), who actively participates in almost all the group's recordings. Critics like Jam Albarracín (La Verdad, Efe Eme) or respected radio DJ's like Juan De Pablos, see the same spark and freshness in these songs that they saw in LOS FRESONES REBELDES, a necessary continuation, though their music separates from LOS FRESONES REBELEDES with a greater stylistic richness, as will be later confirmed in their later releases.
There is an intense summer tour that takes them to cities such as Madrid and Barcelona, and festivals like Lemon Pop in Murcia, with VACACIONES, JUNIPER MOON or TENDER TRAP, among others. The legion of fans is growing and their songs, upbeat and danceable, spread through the avid crowd. Despite all of this, they find themselves obligated to take a break, one of the many that pave their career, due to Ana's commitments with LA MONJA ENANA.
2003

In August they perform in one of the "Operacion Bikini" parties organized by the Madrid concert space Siroco, with groups like JUNIPER MOON and LA MONJA ENANA; it is a concert that marks a new period of activity for the band, when they also start playing some of the songs that will appear on their debut album, an album still in the preparation process. In December they hold their own in the Tendencias FMI Festival in Hospitalet de Llobregat, with bands like LES PHILIPPES and EL COLUMPIO ASESINO.
2004

After leaving everyone with their mouths open and wanting more, the debut full-length finally arrives: "Contando Historias". Uniting talent and a love of the classics, from Motown to THE BEACH BOYS, but doting them with energy and young blood, their mix of surf, disco, punk, bubblegum and a lot of pop meld into an explosive cocktail that makes this disc more commonly prescribed than Aspirin. Guille Milkyway (LA CASA AZUL) returns to produce the album and also to sing on "Nuba". "Quiéreme" is chosen as the first single, causing a fury among old fans and new arrivals, and they also include a precious hidden classic of sunshine pop, "Love Is Getting Better" by THE GROOVE, here transformed into "El Amor Mejora". And, an interesting detail, they title the album "Contando Histories" as a wink at Todd Solondz. The last movie by the North American director, "Storytelling", had been translated in Spain as "Cosas Que No Se Olvidan", which was, curiously, the title of COLA JET SET's first single. So the gang from Barcelona decided to respond by calling their album the name Solondz's film should have been translated to.
As a celebration and inauguration for the new record label release, they perform again in the "Flor de Pasion" party, this time celebrating the 25th anniversary of Juan de Pablos' radio show, with other bands like LA CASA AZUL, LOS SOBERANOS, NOBEL or AIRBAG.
The tour grows more intense and they perform in festivals like Lemon Pop in Murcia (with NICE MAN, FANGORIA, THE LEGENDS and BOEDEKKA), or the Easy Pop Weekend in Andorra (with such bands as TACHENKO and COMET GAIN among others), where their music is received with open arms by legions of followers hungry for fun and energy. COLA JET SET consolidate themselves as a band and are considered by the press and public to set the standard for the new batch of fun pop groups.
At the end of the year they harvest the fruits of their labor. Webs like Alta Fidelidad or Surfer Rosa, among many others, place their debut album among the best of the year, highlighting songs like "Cosas Que No Se Olvidan" and "Quiéreme".
2005

Aarón, a founding member, decides to leave the group at the beginning of 2005 in order to dedicate himself to his new project REC, which causes Cristina to pick up the bass. Shortly after Sol from Murcia steps up to fill in on guitar.
Their concert activity is intense. Juan de Pablos returns to demonstrate his profound love and admiration of COLA JET SET's music and he invites them to the 26th anniversary celebration, this time in the Barcelona club Magic, with bands like FANTA and ZONA NEGATIVA (precisely Roge's parallel project). In April they perform in the Plastidepop Festival (Zaragoza) with, among others LOS SOBERANOS and CHICO Y CHICA. Additionally, they cover other points of the Spanish geography like Madrid, Valencia and many more cities.
In May, the group decides to stop its frenetic activity as Felipe and Ana's imminent parenthood approaches.
In June, the video clip for "Quiéreme" is awarded Best Work in a Video Clip at the IV Short Film Competition of the Council of Malaga. Directed by
Paco Casado and Richard García, of the production company Entrelíneas, "Quiéreme" shows the band in curious and original cardboard scenery, styled like a theater stage, or one of those childhood books that unfold into diverse landscapes. Wonderful.
Sol doesn't last long in the bosom of the band and she leaves that same summer. Alicia comes to take her place, arriving from Sant Cugat. The scarce activity and the arrival of the baby make many of the band's fans fear the end, which couldn't be farther from the truth.