18/01/2011
ELEFANT: new compilation SPACE ESCAPADE Unit 1Destination: Pluto - Sector 68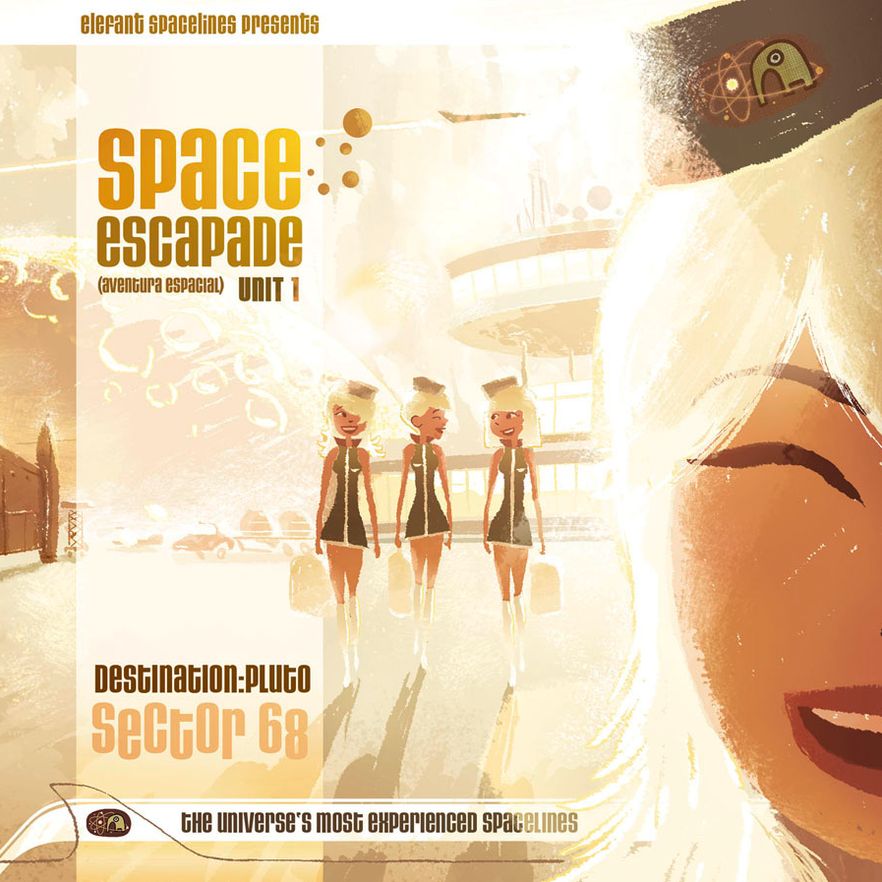 [Double CD [44 songs] Advance of the upcoming albums: LA CASA AZUL, HELEN LOVE, MODULAR, MILKYWAY... and exclusives tracks for this compilation: THE SCHOOL, FITNESS FOREVER, HELEN LOVE, GIORGO TUMA... ]
**Already available on our online store
Click here to listen to the album on SPOTIFY
Click here to listen to the album on DEEZER
Welcome, everyone, to the first journey on the recently inaugurated Elefant Space Airlines! We invite all of you to enjoy some of the most incredible journeys currently available, on board our amazing new space-yacht, "Lula 1", with everything necessary to make your experience unforgettable: a pool, a disco, a chill-out area, a high-end restaurant… The newest technology allows you to experience the most unbelievable things through the most distant planets in our Solar System, on which you can make friends while enjoying a fresh, robotic coconut (and if you don't want that, we'll clone whatever you do want), relax gravity-free in our invisible-light with narcotic effects, enjoy the thousands of digitalized pleasures we have to offer (in this case, audio, but in other journeys you will also be able to enjoy the video format) or enjoy our superstratopheric music - calmly, in the lounge, dancing non-stop on the dance floor, or intensely at a concert. Follow us on any of your devices; we assure you that the coming meetings will be of great interest.
This trip, the first of many that will take you to all those places you could never even imagine, has the exclusive destination of Pluto, Sector 68. Renowned throughout the galaxy for its environment where specters are instantly born, during the journey around this inimitable place we guarantee you that you will see and hear things never before known to man. In addition, we offer a complete range of side-trips, including our most recommended one that takes you to Pluto's surface, dressed in a vintage space-suit – an imitation of the one Neil Armstrong wore in his day. As you can see in our lovely explanatory pamphlet, designed exclusively by Jean Duprez, this trip is definitely unique, and includes, among many other activities, the following offers:

CD 1
01. Todas tus amigas (LA CASA AZUL) Advance of the upcoming album
What better to start with than a gourmet appetizer. "Todas tus amigas" will be one of the songs included on the upcoming disc from LA CASA AZUL, "La Polinesia Meridional", on which Guille Milkyway shows us once again that there is nobody in the world who knows how to mix pop, electronic and unforgettable melodies with the same ease that he does.
02. New boy in town (HELEN LOVE) Advance of the upcoming album
Another advance release, this time it's HELEN LOVE who will release their new album on Elefant. A mouth-watering example of Ramones-esque, hyper-addictive punk-pop. There's no better reason to make you jump around.
03. Way better now (SPEEDMARKET AVENUE)
One of those great songs that have lit up the recent Elefant catalogue. SPEEDMARKET AVENUE has been one of the great international discoveries with their second disc, of which this song is the title track, and which Steve Lamacq himself selected as single of the week for his program on the BBC.
04. Lloyd, I'm ready to be heartbroken (CAMERA OBSCURA)
This song became an instant classic and launched the group onto that year's best-of lists all over the world. CAMERA OBSCURA are still one of our favorite bands and the incarnation of so many of the things we like at Elefant, and this song, from the album "Let's get out of the country", couldn't possibly be left out of any space journey worth its weight in gold.
05. Is he really coming home? (THE SCHOOL)
Another group that represents so much of what Elefant loves about music, taken from their recent debut album, "Loveless Unbeliever". A solid demonstration of Northern Soul, decorated with great wind-instrument arrangements and full of sweet melancholy.
06. Zapatófono (MODULAR) Advance of the upcoming album
We had already witnessed the talents of the Argentinean group MODULAR on that compilation called "Fantasías de un robot psicodélico". Their new album, which will soon see the light of day, once again abounds in good melodies, the influence and collaboration of two members of STEREOLAB (Andy Ramsay on drums and Joe Watson on the control board), and, on this occasion, an homage to Maxwell Smart, Superagent 86. Vintage pop.
07. Bacharach (FITNESS FOREVER)
Few pop discs as luminous as "Personal Train" have been heard in the last decade. And as proof of this we have "Bacharach" which shows the good taste of Carlos Valderrama and company for sunny melodies, brighter and busier arrangements, like a great appetizer on the beaches of Nice in August.
08. Lo que me gusta del verano es poder tomar helado (PAPA TOPO)
Anthems are their thing. One of those groups that are called out to mark a period of Spanish pop, with their honesty and innocence. Adrián and Paulita are capable of rescuing two completely opposing views of summer that have filled the lives of each one of us. How not to relive those moments? How not to adore them as much as you can? Few summery portraits have been as appealing as this one, which was on the B-side of their sold-out and impossible to find single.
09. Gorni koala (GIORGIO TUMA) Exclusive track for this compilation
GIORGIO TUMA is about to release their new album with Elefant, and to celebrate it he is giving us this exclusive track, one of the high-points of this journey. Brazil, bossa, jazz and pop, the waves, the clouds in the radiant blue sky… all these things are there to enjoy on board our spaceship "Lula 1".
10. How many days in forever (MILKYWAY) Advance of the upcoming album
Yes, it is finally on its way. Guille will release his debut album as MILKYWAY in 2011. And yes, it's him, but no, it's not LA CASA AZUL. His melodies are there, his voice, his endless imagination… But here we have before us something more intimate, with a more classic sound, halfway between folk and soft pop with careful yet simple production. All of this is passed through the sieve and whipped together a la "MILKYWAY"; the pop, as always, is the most important thing and English becomes the principal language.
11. Wheel of fortune (NICK GARRIE)
One of the great gems of Elefant. The re-release of "The nightmare of JB Stanislas", one of those cursed albums in the history of psychedelic pop, had among its more precious pieces this "Wheel of Fortune" that goes from THE BEATLES to Billy Nichols. Truly marvelous.
12. Lo popular (ASTRUD)
There is no other group in Spain like ASTRUD. Nor had their ever been. Their album with COL·LECTIU BROSSA is exemplary of reinvention, rebirth, of imagination. Without losing even an ounce of their originality, nor the immediacy of their melodies. And "Lo popular" is one of the two new songs on the album.
13. De momento abril (LA BIEN QUERIDA)
LA BIEN QUERIDA represents Elefant's present in many ways. Songs like this "De momento abril" are already becoming points of reference of the new millennium's Spanish pop, and both the fans and the critics have endorsed her as warmly as they praised "Romancero".
14. Fotos (SINGLE)
Teresa Iturrioz is to Spain what Jane Birkin is to France. With that touch of eccentricity that hides behind her velvety character, her customary accent, with all her personality, and with that plus of imagination that the eminent Ibon Errazkin adds. This circus-like fantasy appears on their recent album, "Monólogo interior".
15. All our tomorrows (TREMBLING BLUE STARS)
The full-length format for the goodbye to Bobby Wratten and company couldn't have been better. "Fast trains and telegraph wires" is without a doubt on the podium of the best albums of their career and "All our tomorrows" is one of their greatest options. Its choruses are light but at the same time melancholy, the guitars are evanescent yet so real that you could almost touch them. Always yours, Bobby.
16. Nadie se dará cuenta (LINDA GUILALA)
They have the immediacy of JUNIPER MOON, with their electricity, and they gave it a touch of shoe gaze and techno-pop that works perfectly for them. "Nadie se dará cuenta", included on "Bucles infinitos", has the best of the noise and the urgency, of dance and intensity, and a chorus as catchy as a Tootsie Roll Pop.
17. Hyde Park (COOPER)
Alex Díez is a pop-music Peter Pan. The years pass and he continues to give us super-perfect songs down to the last detail: their sound, the arrangements, the melodies, the choruses. And on their last album, "Aeropuerto", "Hyde Park" has all of that eternal youth that his music is bursting with. Who isn't lifted up with a song like this?
18. Suena el teléfono (COLA JET SET)
"Suena el teléfono" could be the song that perfectly defined the career of our beloved COLA JET SET. The different versions the song has gone through, until getting to "Guitarras y tambores", explains the evolution of the group, to reach this sweet, detailed pop, happy but delicate and with so many influences of the golden era of pop, the 60s.
19. Esta noche sólo cantan para mí (LA CASA AZUL)
"La revolución sexual" was a point of inflection for our country's pop music, and it deserves a space on this journey. What better than to take Blossom Dearie, Karen Carpenter, Dusty Springfield, Astrud Gilberto, Kirsty MacColl and Nina Simone with us, led by the hand of Guille Milkyway? Euphoric nostalgia with a disco rhythm.
20. Lady Dilema (CARLOS BERLANGA)
Yes, we miss him, and we could never pack our bags without leaving a little space for him. His way of understanding pop was unique and revolutionary in Spain, and his lyricism was unrepeatable. "Lady dilema" is a great song, with crystalline arrangements mixed with lazy guitars and a sophisticated ambience full of irony.
21. Palma de Mallorca (FITNESS FOREVER) Exclusive track for this compilation
Once again the crew of Carlos Valderrama, this time exclusively for our passengers, with an homage to the city Palma de Mallorca, with those castanets that remind us so much of THE RONETTES's "Be My Baby", their ability to make pop luminous and dreamy, and their out of this world arrangements. From Pluto, of course.
22. 9.6 (Milkyway cute Mix) (LA BIEN QUERIDA) Exclusive track for this compilation
The art of the remix taken to the extreme. Once again, our Guille Milkyway, transforms that danceable surprise that "9.6" became into a completely new song. And what a song, exclusively here. An heir to rock n' roll, to the white soul of the 50's and the exotic music of orchestras in the 60's, LA BIEN QUERIDA's song ended up like a hit that Elvis Presley himself could have written. If he were a woman, that is.
CD 2
01. Oso Panda (PAPA TOPO)
What else can be said about this pop anthem? But you haven't heard about the video? A must, one of the songs of 2010, absolutely necessary luggage for any interplanetary traveling worth mentioning.
02. Edward, had you ever thought that the end of the world would come on 20.9.01? (MY LITTLE AIRPORT)
"Zoo is sad, people are cruel" hid one of the gems of the most desired techno-pop in the world. From Hong Kong, MY LITTLE AIRPORT, talk about the day to day things and they put it to music with such ease that you can't say anything less than appealing about it, and such honesty turns out to be deeply exciting. What will Edward think?
03. Yo soy como Portugal (BLA)
After L-KAN, Belén and Luis have undertaken a more mature, more open project with BLA, with better instrumentation and more elaborated. This doesn't mean that it doesn't enjoy its dose of irreverence, and "Yo soy como Portugal" is the best proof of that: pop without complexes but sharp, ungraceful, but wise.
04. Vestir Santos (CORAZÓN)
CORAZÓN's thing can't be called anything other than personality. Their way of understanding pop, just as they have done it on their second album, "Nuevo futuro", is nothing less than visionary, a mix of elegance and sarcasm, extravagance and seriousness. All or nothing.
05. Beautiful blank (Radio edit) (TREMBLING BLUE STARS)
With Beth Arzy's voice making its way through a delicate and contagious piece of pop, Bobby Wratten's band opened what would be their latest vinyl single for this label. Inspired by the book by Andy Warhol "From A To B", it is one of those solid and inimitable pieces that we expect from Bobby.
06. Agujeros en la arena (MIRAFIORI)
"No podemos volver a casa" showed a band that could notably put together what FAMILY, PACIFIC and ANOTHER SUNNY DAY left us with, that customary electronic pop, full of existentialism and life. "Agujeros en la arena" sketches one of those watercolors faded with time, but that opens the path toward hope.
07. Café Kafka (LA MONJA ENANA)
"Humo y espejos" is a landmark album LA MONJA ENANA's trajectory. A treaty of intelligent, attractive synth-pop, with lyrics brimming with references to movies, literature and culture in general. The nods to Lemony Snicket on "Café Kafka" make this song a luxury to bring to the chill-out area.
08. Future Trip (SUCRETTE) Advance of the upcoming album
An advance from their coming disc for Elefant, "Future Trip" introduces the duo from Kyoto, formed by Shiho e Hidetaka Okuda, to Spain, with a song that is pure techno-pop-punk energy, full of nihilism and passion for the dance floor.
09. I love indiepop (HELEN LOVE) Exclusive track for this compilation
HELEN LOVE are giving us this exclusive song, which it is begging to come with us, for the journey. "I love indiepop" could be at the level of the great national techno-pop anthems like "Eurodisco".
10. Tell me (THE SCHOOL) Exclusive track for this compilation
An exclusive song from Wale's THE SCHOOL. It is definitely a great gift, being one of the songs by the band led by Liz, once again luminous, happy, lively, danceable Northern Soul with marvelous wind instrument arrangements. That's the great thing about exclusive tracks.
11. Steph (COOPER)
"Steph" is another piece taken from "Aeropuerto", with a Beatle-esque air and an elevated romantic tone. A new gem as well cared-for as possible, as only Alex Díez knows how to do in this country.
12. Ups to you (ANNA & THE SPECTORS)
What Ernesto Ronchel did with that impossible soundtrack for "See you later, cowabunga" was something unheard of in the Spanish panorama. It was a demonstration of musical knowledge done without prejudice and with confidence, but with the inspiration of the great geniuses. This "Ups to you" is one of those decisive points of the disc, between Buddy Holly and THE RONETTES.
13. Bad guys (feat. Duglas T. Stewart on vocals) (LA CASA AZUL)
"La nueva Yma Sumac" was a collection of songs that came out before "La revolución sexual", but contained songs that justified their consideration as a unique and independent work. This "Bad Guys", English version of "Chicos malos", sung with Duglas T. Stewart (BMX BANDITS), brings together the best of Burt Bacharach in a clear homage to Chris Montez.
14. Doing our part (THE CARROTS)
THE CARROTS have only released a few vinyl singles on Elefant, great pop-soul songs along the lines of Martha Reeves and THE COOKIES. "Doing our part" goes from doo-wop to that jazzy break (Nina Simone in sight!) with a simply unforgettable chorus. We are anxiously awaiting their debut album!
15. À Hélène (LES TRÈS BIEN ENSEMBLE)
Yes, this is it. "Â Hélène" You'll have heard it a thousand times because for many years it was the star of the "Blancolor" campaign for El Corte Inglés. But beyond marketing questions, we have before us a velvety, sweet, incredibly pure song that distils affection and excitement, close to the great French masters (Gainsbourg, Brel) and the great ladies of chanson, like France Gall, Jane Birkin and Brigitte Bardot.
16. ...And three parasol stars (GIORGIO TUMA)
Did you ever imagine THE BEATLES out partying with Caetano Veloso, dancing on a terrace to the notes of Joao Gilberto and Burt Bacharach? Could there be a more contagious chorus than the one from this "...And three parasol stars" taken from his second album "My vocalese funfair"? Could there be a better song to wake up to on a sunny day?
17. El universo (SERPENTINA)
The Tamarit brothers have an adorable concept of pop. Their ability to construct dreamy melodies surrounded by fantastic arrangements, between LOVIN' SPOONFUL and LOS ANGELES, culminates with "El universo", with its chorus that is nothing less than an anthem, and its BEACH BOYS influence. To sing at the top of your lungs.
18. Playa biquini (MODULAR)
Spiral waves, the tuba marking the cadence, white noise, analog synthesizers and amazing string arrangements… A martini (two olives, please) on "playa biquini" (bikini beach) can be one the most desirable destinations on our space journey.
19. Llévame a dormir (SINGLE)
Teresa Iturrioz is not from this world. Who doesn't want to be held while listening to "Llévame a dormir"? Thousands of influences, from British electronic bedroom pop, with a bit of Eurovision and even a light breeze of Nikos Theodorakis for an artist who makes the difficult simple.
20. Super trouper (CAMERA OBSCURA)
This acoustic cover of ABBA came out on their single "Tears for affairs", and it pushes the more melancholy aspect of the Swedish band, which knew how to trace the lines of nostalgia after huge super-selling hits. Tracyanne's voice has seldom sounded so sweet and so gruff at the same time.
21. Twilight (NICK GARRIE)
The return, the necessary rehabilitation of an author the music industry had unjustly forgotten, was embraced by the effervescent Scottish scene, led by Duglas T. Stewart and Ally Kerr. "Twilight" is a delicate gem, with those colorful choruses and the romantic piano line.
22. Pasatiempos poéticos (IBON ERRAZKIN)
Yes, because on this journey, in addition to the physical traveling, our passengers will grow in a one of a kind "Escuela de arte" (Art school), and discover that the "Pasatiempos poéticos" (poetic pastimes) are like novelized crosswords: imagination and excitement, fantasy and elegance, light and color. Who would it be, if not our Ibon Errazkin? Enjoy the scenery.
Click here to listen to the album on SPOTIFY
Click here to listen to the album on DEEZER

ELEFANT: new compilation SPACE ESCAPADE Unit 1Destination: Pluto - Sector 68
picture: El nuevo recopilatorio de Elefant SPACE ESCAPADE [aventura espacial] Unit 1 Destination: Pluto - Sector 68
18/01/2011

ELEFANT: new compilation SPACE ESCAPADE Unit 1Destination: Pluto - Sector 68
picture: El nuevo recopilatorio de Elefant SPACE ESCAPADE [aventura espacial] Unit 1 Destination: Pluto - Sector 68
18/01/2011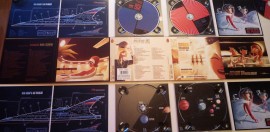 ELEFANT: new compilation SPACE ESCAPADE Unit 1Destination: Pluto - Sector 68
picture: El nuevo recopilatorio de Elefant SPACE ESCAPADE [aventura espacial] Unit 1 Destination: Pluto - Sector 68
18/01/2011