23/09/2013
BMX BANDITS: "Beautiful Friend" Single 7" [limited-edition, 23 Sep]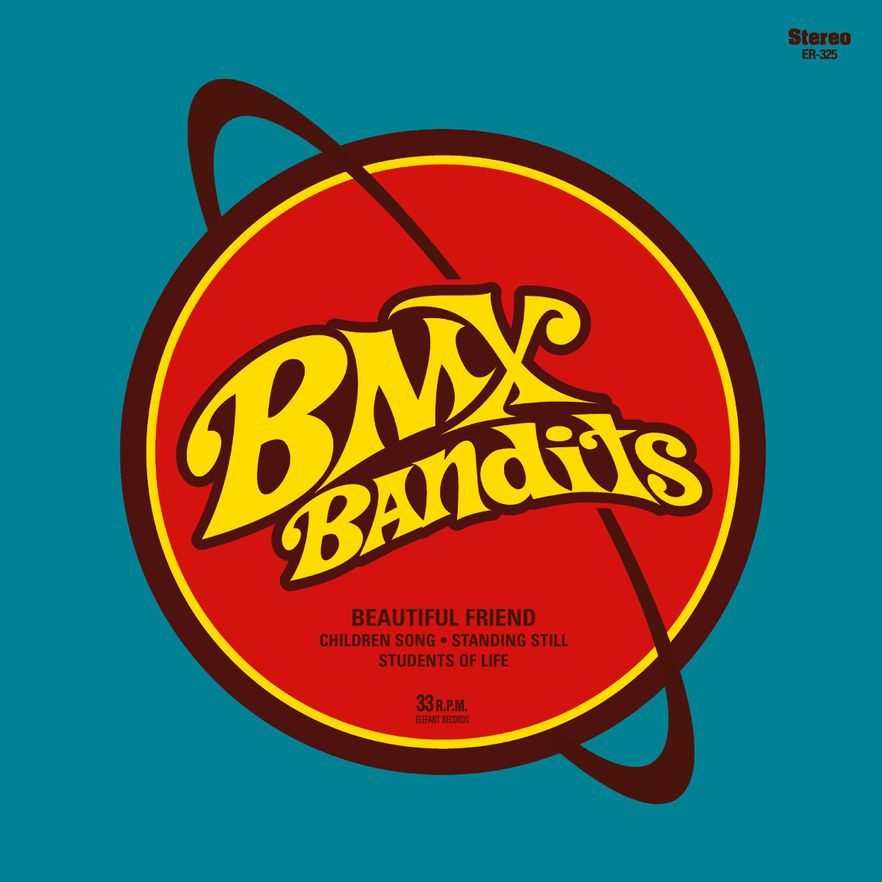 Release Date: 23 September, 2013
Preorders: 16 September on Elefant shop
SINGLE 7" [Yellow Colour Vinyl] [Numbered Limited Edition of 500 copies] / Digital Single • This vinyl includes a free digital MP3 download [320 kbps]
TRACKLIST: 01. Beautiful Friend 02. Children Song (With Miette-One) 03. Standing Still (With Yeongene & Tenniscoats) 04. Students Of Life (Live)
One of the stories that made up part of the puzzle that ultimately became that marvelous pop opera called "BMX BANDITS In Space" was the narration of an almost perfect night: a person feels his wounds begin to heal after meeting a girl at a BELLE & SEBASTIAN concert, enjoying the snow in Glasgow, and feeling enough warmth to get through it. "Beautiful Friend" hides real things and things that Duglas T. Stuart wishes were real; maybe that's why the song has become, after "Listen To Some Music" and "All Around The World", the newest single from the Scottish band's latest album. The single will be released by Elefant Records as a limited-edition (only 500 copies) yellow-colored vinyl, and it will come with an excellent video directed, with all the skill that characterizes him, by Chris Croft.
The title track's irresistible soul-pop touch gives way to three previously unreleased tracks that, as is to be expected from any of the singles in the infinite collection already sparkling in their discography, could be included on any of their albums, shining with its own light. "Children Song", which was co-written with the Japanese singer Miette-One, begins with echoes of Burt Bacharach and winds up embracing the baroque arrangements of HARPERS BIZARRE and THE LEFT BANKE, as well as the melodic elegance of Keith West. It is a beautiful song that tells the story of a love between two people who already have their lives set up and who, faced with the impossibility of living out their desires, recreate them in a virtual world that grows stronger every time someone hears their song. Yes, in case anyone still had any doubts, Duglas is a hopeless romantic, which is why, or one of the many reasons, we love him.
On the B-side we find "Standing Still", which was recorded in Tokyo, with the voice of Yeongene and the collaboration of Sayuri and Ueno from TENNISCOATS, the Japanese band so admired by Duglas. The recording was basically done live, with just two microphones, in Sayuri and Ueno's home, and it talks about the feeling of seeing how other people's lives seem to progress so quickly while your own feels like it stays constantly the same, immobile. "Students of Life" was released on that marvelous album that was "Star Wars". The song was almost left out, but it was recorded in the end thanks to the insistence of Francis Macdonald (TEENAGE FANCLUB, NICE MAN), and here we're releasing a live version of the song, recorded at the group's 25th anniversary celebration. It's a folk-pop delicacy that ends with a fun and eccentric ambiance of a bar with a player piano.
A new single to add to the extensive collection that BMX BANDITS already has amassed on their fans' shelves all over the world. And just like the rest, it can't be missed.