19/06/2013
NEW ADVENTURES IN POP: New releases [2013 June]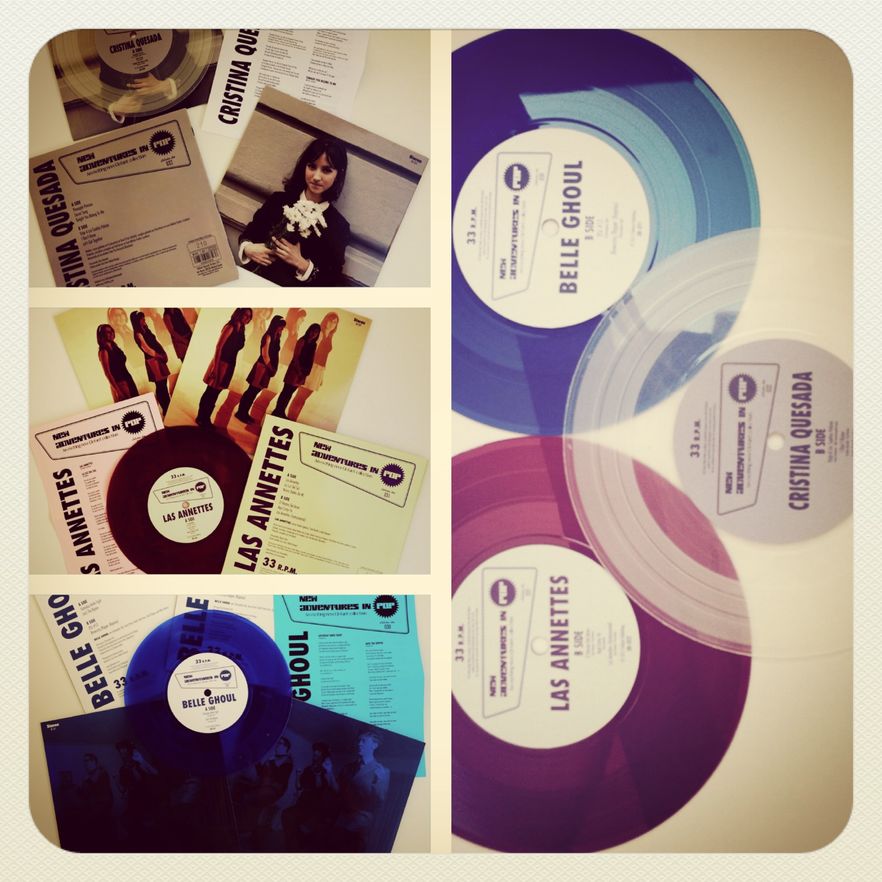 Already available on our online store

We keep adding to our collection of singles promoting new groups that we believe have a promising future in the national and international music scenes. Just because the groups are new doesn't always mean that the musicians are newcomers, as is the case with some of the singles we've released earlier in the collection, and as is the case with this latest release in the New Adventures In Pop collection. Starting today, New Adventures In Pop has three new releases under its belt. One of these is LAS ANNETTES, Ana Vaquero's (LA MONJA ENANA, COLA JET SET) new group, in which she plays with Violeta Iglesias and Estel Alcañiz (who, like Ana, also forms a part of COLA JET SET). They openly display their passion for girl-groups, sunshine-pop, and northern soul. Cristina Quesada, another of the three releases and one of those well-known secrets on the national scene, is finally debuting officially, with her sweet voice and ukulele. Finally, BELLE GHOUL are putting out their second release on the New Adventures In Pop collection with a new 7" on which Jesse Smith (Patti Smith) and Christopher Tait (ELECTRIC SIX) unleash their complex and precious vision of pop. All of them, as always, are limited-edition colour vinyl.
ARTIST: BELLE GHOUL
TITLE: SATURDAY KNIFE FIGHT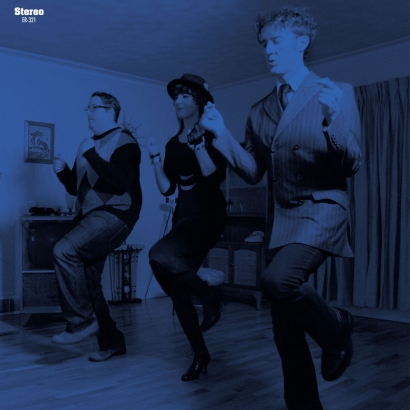 FORMAT: SINGLE 7" [Blue Colour Vinyl] [Limited Numbered Edition of 500 copies] / DIGITAL SINGLE
REFERENCE: ER-321 • This vinyl includes a free digital MP3 download [320 kbps]
TRACKLIST: 01. Saturday Knife Fight 02. Jack The Ripper 03. DSL #12 04. Blownzia/Ripper (Reprise)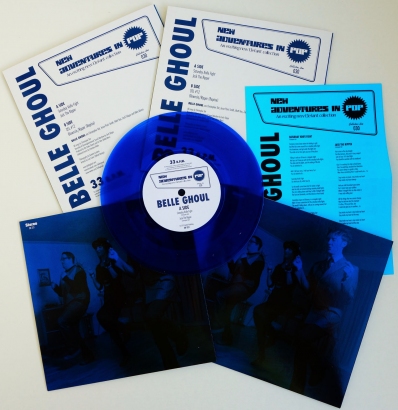 The group is formed by one of the most active and versatile members of ELECTRIC SIX, the daughter of Patti Smith and Fred "Sonic" Smith (MC5) and the musical director for UNCLE KRACKER could be called anything but predictable.The treasure trove of musical culture found between those two comes out to shine in this group's songs, and this is exactly what happens on their second release on Elefant Records and New Adventures In Pop. "Saturday Knife Fight" opens the limited edition 7" to the rhythm of northern soul, with echoes of Edwyn Collins. The song has a complicated but powerful arrangement structure that feels turbulent, but at the same time tremendously addictive. "Jack The Ripper" uses the metaphor of the well-known serial killer to talk about broken hearts, with a sound that falls somewhere between ambient electronic pop and melancholic indie pop, not too far off from our beloved TREMBLING BLUE STARS. "DSL #12" is solid proof of the project's complexity: a pop base with new-wave spirit fed by synthesizers with space-age arrangements, all of which comes together perfectly in this tremendously suggestive song, topped off with burning guitars. It's incredible. "Blownzia/Ripper (Reprise)" is an instrumental that tests the limits of BELLE GHOUL's universe: between dreaming and cabaret, between Danny Elfman and Kurt Weill, like a story that you could never guess the ending to. And we hope the story never ends.
ARTIST: LAS ANNETTES
TITLE: LA LUZ DEL SOL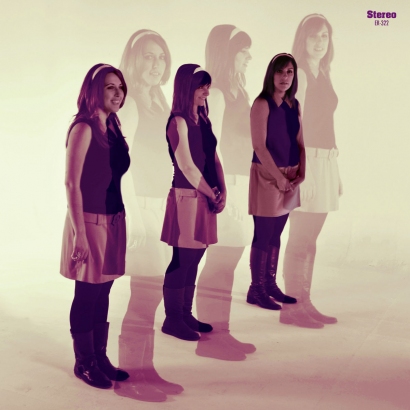 FORMAT: SINGLE 7" [Purple Colour Vinyl] [Limited Numbered Edition of 500 copies] / DIGITAL SINGLE
REFERENCE: ER-322 • This vinyl includes a free digital MP3 download [320 kbps]
TRACKLIST: 01. Las Annettes 02. La Luz Del Sol 03. Nunca Dudes De Mí 04. El Verano Del Amor 05. Aquí Estoy Yo 06. Las Annettes (Instrumental)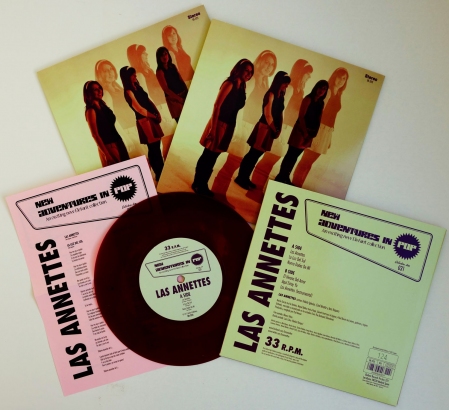 The stage name that this trio of ladies is behind invites us to imagine a fan of the fifties, but nothing could be farther from the truth. It's true that the songs of Ana Vaquero (LA MONJA ENANA, COLA JET SET) and Violeta Iglesias and Estel Alcañiz (COLA JET SET) have always had a touch of the spirit of THE RONNETTES and THE SHANGRI-LA's. But more current sounds like BELLE & SEBASTIAN, GUATAFÁN, LOS FRESONES REBELDES, and LA CASA AZUL are also predominant, as are musical styles like bubblegum and sunshine-pop, and all of this can be sensed right from that brief but delicious opening track. We're quickly caught by the addictive hit that is "La Luz Del Sol", as it moves between the mouth-watering arrangements of BAND À PART and the addictive pop of THE LEFT BANKE or ABBA, and tells the colorful, optimistic declaration of love and starting over. On "Nunca Dudes De Mí" we catch the clearest glimpse of the soul spirit of THE SUPREMES, with a contemporary sound that reflects bands like THE SCHOOL. "El Verano Del Amor" is irresistible, with a chorus you can't help but hum along to, its uncompromising slogan, and where you can hear, just like you can on the rest of the single, Paul Bevoir's excellent work on the arrangements. "Aquí Estoy Yo" is a powerful song with self-affirming lyrics and a soul-funk spirit (we could mention THE O'JAYS and GLADYS KNIGHT & THE PIPS) and brilliant pop forms. To close the single, they give us the instrumental version of their introductory theme song. It's an incredible way to finish off an excellent release, leaving you with the sense of all the palettes and styles touched upon, the arrangements and the lyrical inspiration. We know we are listening to a project with horizons open on all sides.
ARTIST: CRISTINA QUESADA
TITLE: PINEAPPLE PRINCESS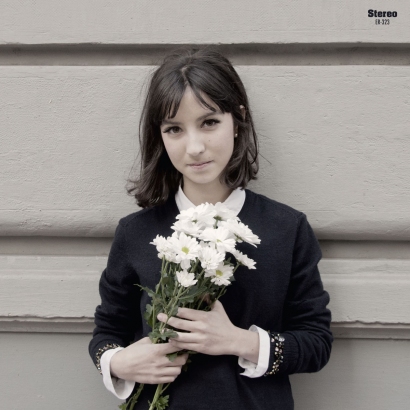 FORMAT: SINGLE 7" [Transparent Vinyl] [Limited Numbered Edition of 500 copies] / DIGITAL SINGLE
REFERENCE: ER-323 • This vinyl includes a free digital MP3 download [320 kbps]
TRACKLIST: 01. Pineapple Princess 02. Secret Song 03. Tonight You Belong To Me 04. Viaje A Los Sueños Polares 05. I Don't Know 06. Let's Get Together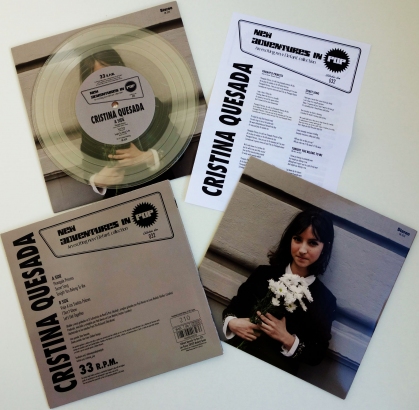 Cristina Quesada has been showing off the ukulele on stage in Elefant parties and online for a long time now, giving us little advances of her music and making us fall in love with her singular charm. That's exactly why we were so impatient to see what shape her record-label debut would take. A music-lover from a very young age, she studied music theory and violin starting at age 7, until at 13 she bought a guitar and began to play versions of her favorite songs. She broadened her artistic horizons, joining theater groups, which has led her to her current participation in a children's program on television in the Canary Islands called, "El Club De Archi". At 15 she discovered the unmistakable sound of the ukulele, which she thoroughly mastered, and which ultimately led her to record her versions. And this is how we got to the 7" that we currently have before us. The single opens with the well-known "Pineapple Princess", which pulls on the Hawaiian evocations of the instrument, surrounding her innocent voice and dreamy desires for a perfect love, in that song by the Sherman Brothers, made popular by Annette Funicello. "Secret Song", on the other hand, highlights the more intimate and melancholic side of things, among luminous harmonies and a delicate glockenspiel, on the first of her original songs. "Tonight You Belong To Me" is a version of a North American classic from 1926, written by Billy Rose and Lee David, that maintains all its delicacy and elegance under Cristina's trembling voice. On the other side of the single there is a poetic and bare revision of "Viaje A Los Sueños Polares" that shows the marvels of FAMILY's melodies without additives or flashy touches. "I Don't Know" was composed with Paul Bevoir, who was responsible for the arrangements and production of the single from London. He brings just the right details to adorn the songs without stealing the spotlight from Cristina's voice and her omnipresent ukulele. To wrap things up, we have another version. This time it's "Let's Together", which was made famous in the original version of that movie called "Parent Trap" and which was also written by the Sherman brothers, who were responsible for so many scores from the Disney factory, like "Mary Poppins", "The Aristocats", and "The Jungle Book". Is it a nod? Is it a declaration of intentions? What we know for sure is that we're still here, sighing for our beloved Cristina. You captured Pineapple Princess for us.