Camera Obscura
t
17/01/2007
If looks could kill
Camera Obscura Kick Off Tour, Share Single, Video
If looks could kill, the cover of Camera Obscura's new single could get the electric chair, what with our six Glaswegians looking so insufferably swank all up in there. Seriously, dudes and ladies, where's the party?
Merge delivers "If Looks Could Kill"-- the latest single from Camera Obscura's lovely latest full-length, Let's Get Out of This Country-- to North American audiences on January 23. As if one format weren't murderous enough, our European brothers and sisters get two from Spain's trusted indie pop imprint Elefant on January 29: CD and seven-inch, each featuring different B-sides. And if you really want to flirt with death, check out the video for "If Looks Could Kill", a fast-paced travelogue that will have you seeing double.
Finally, as previously reported, Camera Obscura take to the open road beginning tonight in Atlanta. After a whirlwind tour of North America, they embark for the significantly warmer climes of summery Australia for scattered dates and festival appearances. Getting out of the country, indeed.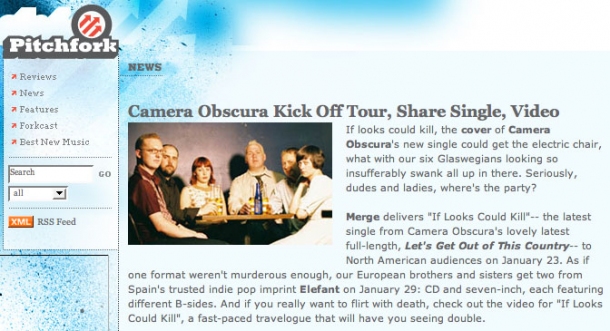 Camera Obscura [Pitchfork]
foto: Archivo Elefant