Biography
Ana Béjar: vocals
Alfonso Pozo: guitar
Ramón Moreira: guitar
Jose Luis Zabala: bass
Gary Ellis: drums
Miguel Dávila: keyboards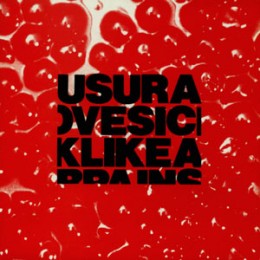 USURA is born in 1989, when Ana Béjar, Alfonso Pozo and Miguel Dávila start playing live shows with the only help of a beatbox. This line-up will be kept for half a year, a period in which several demo tapes are recorded. One of them wins a battle of the bands contest in Madrid in 1990. Howard Toshman joins the band as second guitarist; he had already been part of outfits such as WATERBOYS andTHE BELIEVERS. A year later and many shows in clubs in Madrid, Howard comes back to England. A new member comes in: drummer Gary Ellis, another Brit, who had played with bands such as CEMENT GARDEN y LA CUCINA. The line-up is completed with Ramón Moreira (guitar) and José Luis Zabala (bass), while Miguel switched to keyboards.
In 1992 Elefant Records releases the first USURA single, including five tracks. One of them ("Lovesick") is chosen by Rock de Lux magazine as the eighth best Spanish song of the year. The single would be airplayed in many Spanish radio stations, and would even arise some interest abroad.
On late 92 USURA joins one of the most important tours in Spanish music: "Noise Pop 92". Four bands (USURA, EL REGALO DE SILVIA, PENELOPE TRIP and BACH IS DEAD) that would play a crucial role in the revitalization of alternative music in this country. The closing show of the tour (Madrid, January 93) was recorded and broadcasted by Radio Nacional de España. "Diario Pop" radio show and Rock de Luxe magaizine both choose the show in Barcelona as the best Spanish live show of the year. USURA are also awarded as the best Spanish indie band by Madrid club Sirocco. Music Business International, probably one of the most prestigious British magazines, mentions USURA as the best Spanish indie band. They include a song in a compilation by UK's Fluff Records, plus in some other compilations from Germany, Spain or even Japan.
The band's second single would appear later on. It would feature "Maze", an advance track from their forthcoming album (plus an extra track called "Vals"). "Hake Romana", the album, was very well received by press and media. Fourteen tracks full of imagination. Midtempos, sped-up ones, Ana's vocals always on the foreground, precious arrangements, changes in pace, superb melodies...
Reviews were extraordinary positive: ABC, Ruta 66, El País, RDL, Spiral... an endless list, really. RDL chose it tenth best album of the year (seventh in readers' poll), Spiral placed it at number three... It was played in many radios in France and Uk. The band was featured not only in fanzines but in prestigious magazines.
USURA played lots of shows to promote the album, some of the most special ones were opening for YO LA TENGO and LUSH.
USURA's last show takes place in 25 February 1994, an acoustic show in "Sigue las Pista" Festival (Valencia).
After some years in London, Alfonso and Ana come back to Spain and form a new band called ORLANDO. Miguel and Jose Luis create another band called VENAS PLUTÓN.

Discography:
ER-107 "Come what may believe what I say" Single 1992
ER-1002 "Hake Romana" LP/CD 1993
ER-135 "Maze" Single 1993
Songs in compilations:
- "Bridge over lillies" in compilation LP Leganés Town Council 1991
- "The trial" in LA LINEA DEL ARCO #3 (ER-102 Single 1992)
- "Brainstorm" in MUNSTER DANCE HALL FAVOURITES VOL. V Lp 1993
- "Please eve with a bit" in BREEZE #4 (K7 Viwit, Alemania)
- "Declaration+Riding on the Equator" in A TRIBUTE TO FELT (ER-1001 CD, 1995)