01/04/2016
TREMBLING BLUE STARS: "Fast Trains and Telegraph Wires" Double-LP vinyl [Orange | Die cut album cover | Limited Edition] + 7" single with two songs [included]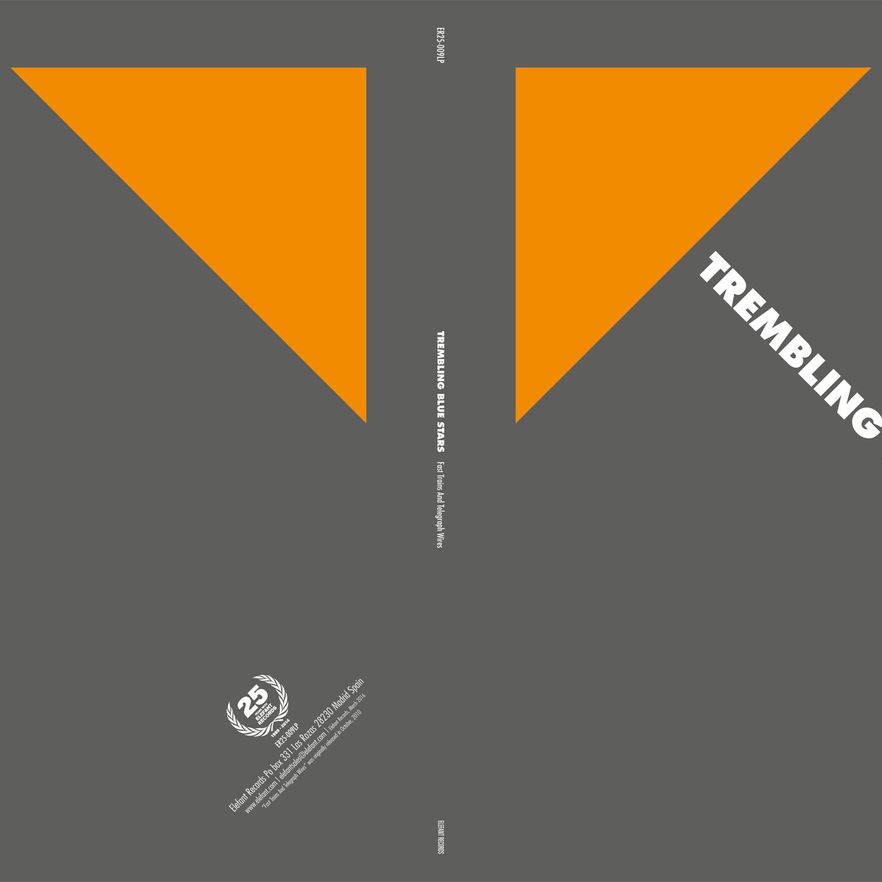 Elefant Records 25th Anniversary Collection
Bobby Wratten is one of Elefant Records' most significant icons. We feel, and we want him to feel, that Elefant Records was, is, and will always be his home. His sound and his songs represent us somehow where ever they are played, and we are tremendous fans of all his musical projects and his various collaborations: THE FIELD MICE, TREMBLING BLUE STARS, NORTHERN PICTURE LIBRARY, LIGHTNING IN A TWILIGHT HOUR, etc. That's why we absolutely had to include one of his albums in the diverse collection of recovered material that we are doing for the label's 25th anniversary. And for the occasion, we have chosen his last album as TREMBLING BLUE STARS, "Fast Trains And Telegraph Wires", in a very special format and, for the first time, on vinyl.

TREMBLING BLUE STARS began as a side-project of one of the members of the dearly missed THE FIELD MICE, the most important group from the Sarah Records label. But quickly, with the arrival of the marvelous "Her Handwriting" (1996), the comparisons stopped. The project clearly was its own entity – that of an artist who poured his feelings into each and every note, who went beyond creating a soundtrack for our emotions and actually turned the emotions into music. All of this was influenced by his break-up with Annemari Davies, his band-mate in THE FIELD MICE and NORTHERN PICTURE LIBRARY. Since then, there have been 15 years (from 1996 to 2011) of marvelous albums and unforgettable songs, always accompanied by amazing musicians like Harvey Williams (ANOTHER SUNNY DAY) and the constant production presence of Ian Catt (SAINT ETIENNE). In 2011, the group said good-bye with the EP "Correspondence" and definitively closed a brilliant, sparkling, and incomparable trajectory.

"Fast Trains And Telegraph Wires" was recorded with Jonathan Akerman, Beth Arzy (ABERDEEN) and Keris Howard (BRIGHTER), that indie-pop super-group, and with the special collaboration on vocals of Cath Carroll (singer in MIAOW, one of the groups that formed a part of the mythical NME tape called C86, and also a music journalist), on that sweet gem that is "The Imperfection Of Memory". And "Fast Trains And Telegraph Wires" enjoys all the parameters that tend to mark Bobby Wratten's work: the fantastic arrangements, the delicacy in the pristine, crystalline melodies, the cultural references and the idols (in this case, Derek Jarman, author of videos by the SEX PISTOLS, THE SMITHS and PET SHOP BOYS, is honored on "The Hidden Quarter"), the bossa touches, and, of course, a deep and intense melancholy, latent on practically every second of the music, even the lightest and poppiest moments, like"Cold Colours" and "All Our Tomorrows".

And of course, we couldn't leave out, as with the original release, the inclusion of "Cicely Tonight Volume One", the EP that came with the release's second CD, and which offered a more experimental and ambient facet of Bobby, with strong Brian Eno influences, and a cover of THE DREAM ACADEMY. Layers, textures, and sound-scapes that evoke bucolic and ethereal sensations, and look toward emotional contemplation.

It's all about this double-LP, orange vinyl, with the die cut cover, in a 500-copy limited-edition, that will also include a 7" single with two songs: "No More Sad Songs" (which was the CD's hidden and closing track), and a cover of "Lady O" on the B-side that was recorded for a tribute album to Judee Sill released in 2009 on the American Dust label, which included names like RON SEXSMITH, Beth Orton and Bill Callahan, among others. It's a beautiful release, with attention to every last detail, and above all with the best music from the genius of Bobby Wratten.