Biography
Bobby Wratten: guitar, vocals
Keris Howard: bass, guitar
Beth Arzy: vocals, bass, percussion
Jonathan Akerman: drums
TREMBLING BLUE STARS is a band led by Bobby Wratten, one of the most brilliant and prolific songwriters in the recent history of British pop music.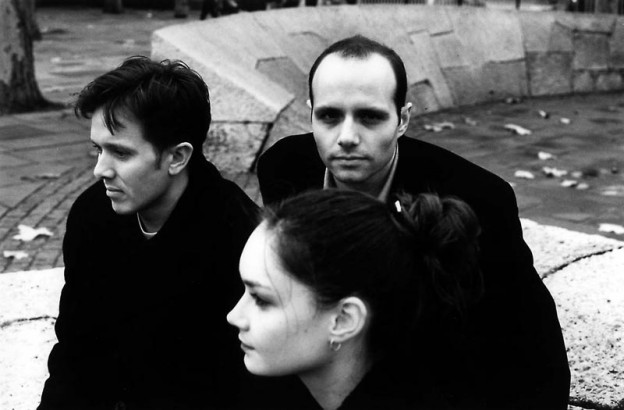 THE FIELD MICE was Bobby's first band. They began as a duo formed by himself on guitar and vocals, and Michael Hiscock on bass. They were school-friends from Mitcham, and released their first single ("Emma's House") on Sarah Records in 1988. Pretty much by word-of-mouth alone, it sold 5000 copies. They expanded to a five-piece (adding Harvey on guitar, Annemari on vocals/keyboards, and Mark on drums), recorded six more singles and four albums, and never ceased to confound people with their range of influences -initially, early Factory bands such as JOY DIVISION, NEW ORDER and THE WAKE, but later also the then burgeoning dance and ambient fields-. E.g. the 1989 mini-LP "Skywriting" featured the song "Triangle" (basically an eight minute sequencer solo) alongside the sample barrage of "Humblebee" (with its droning "Chocolate-Love-Sex" mantra - later a top-selling T-shirt), and the farewell 12" "Missing the moon" was described in the NME (who made it Single Of The Week) as heralding the long-awaited meeting of pop and acid-house...
THE FIELD MICE split at the end of a highly successful but increasingly acrimonious UK tour. On the final night, just before going on-stage at a packed King Tut's in Glasgow, Bobby announced his intention of leaving the band, and that was basically that. Their final show was a couple of weeks later in London, at the Tufnell Park Dome, where they concluded by playing "The end of the affair" and walking off-stage for the last time - Michael pausing just long enough to whisper "the end" into Bobby's abandoned microphone.
NORTHERN PICTURE LIBRARY was a less highly-strung project, involving Bobby, Annemari and Mark. NPL recorded two singles and an album for Vinyl Japan, and then returned to Sarah for their final two 7"s, "Paris" and "Last September's farewell kiss". Then they stopped, Bobby went back to Mitcham, and nothing was heard from any of them again - until Bobby sought catharsis from his recently dissolved relationship with Annemari in the guise of TREMBLING BLUE STARS, whose "Abba on the jukebox" - a list of recollected happy moments from a failing relationship, each somehow imbued with a melancholic foreboding of what was to come - was released in April '96, and sold out on the week of release.
1997-2002

All the songs on TREMBLING BLUE STARS' first album, "Her handwriting" - the title is a quote from The Go Betweens' "Part company"- were recorded in Mitcham, South London, in December '95/ January '96, with long-time FIELD MICE/NPL producer Ian Catt, also known for his work as producer/arranger/co-songwriter for ST ETIENNE (who covered a FIELD MICE song as their second single...). The album details the break-up of a relationship, from the numbed disbelieving reflection-in-tranquility of "A single kiss" ("and tonight it's as though she was just some wonderful dream...") to the anguished remorse of "To keep your heart whole". The album received universally good reviews - NME and Melody Maker ran pieces on the band, who were also invited to record a session for the Mark Radcliffe Show on BBC Radio 1.
Subsequent albums ("Lips that taste of tears", "Broken by whispers") would show us a band constantly improving their skills, combining their usual melancholy with transparent pop songs such as the "Dark eyes" single. "Broken by whispers" was released in the States by Subpop and it would be exceptionally well received by press and radios, topping various end-of-the-year polls. Later on, the band travels to the USA for a 3 week tour. This will be their second visit: a couple of gigs in New York and Washington DC earlier that year sold out immediately after they were announced. In the UK they're still releasing their records through Shinkansen (the label launched by Matt from Sarah Records). In Spain, Elefant Records has released all TREMBLING BLUE STARS albums and will end up becoming their main label.
In 2001 the fourth album appears: "Alive to every smile" features a new line-up with many ex-Sarah Records band members in its ranks: Keris Howard from BRIGHTER, Beth Arzy from ABERDEEN and Harvey Williams from ANOTHER SUNNY DAY. Harvey was also part of THE FIELD MICE, and has also released two albums under his own name. Annemari keeps on collaborating with the band, singing vocals in two of the tracks: "Maybe after all" and "The ghost of an unkissed kiss", the latter released as a single by Shinkansen as the first single out of "Alive to every smile".
As usual, the album is very well received in Spain: interviews are published in aB, Mondosonoro and Rockdelux, as well as a live interview in Radio 3's main morning show, "Siglo 21". The album is chosen fourth in 2001 "best of" poll in "Viaje a los sueños polares" radio show. "The ghost of an unkissed kiss" is seventh best single of the year according to the same show.
In February they visit Spain for the first time, where they play acoustic sets in Madrid, Barcelona and Coruña, taking part in the "Soft Pop Tour" along with LOVEJOY and HARPER LEE. During their visit they record an acoustic session for Los 40 Principales radio station's "Viaje a los Sueños Polares", as well as for Radio 3's "Disco Grande".
2003

"A certain evening light" is released: a compilation of songs that had only appeared previously as part of the singles the band had released from its beginnings up to now, 17 songs taken from limited edition vinyl singles, or in different versions to the ones on their previous albums. A basic record to understand Bobby Wratten's career. This album has a surprise bonus track, "Christmas & train-trips & things", which appeared on a Christmas compilation released especially to be given as a gift at the Shinkansen Christmas party. Elefant's is a special edition on digipack.
In November 2003 they enter the studio in order to record their fifth LP. Elefant Records will proudly release this album worldwide, after the band decided to leave Shinkansen Records.
2004

In March they visited Spain again as a part of the second edition of the "Soft Pop Tour", this time with THE CLIENTELE and LA CASA AZUL.
Before the summer a new single was released: "Southern skies appear brighter extended play" was the advance single of what was to become the fifth album by the band. This CD-Single features "Helen Reddy" as the main track, plus four previously unreleased tracks ("A beginning of a kind", "Open skies", "Hurry home through the crowds" and "One wish granted") which wouldn't be included on the album, "The seven autumn flowers". Production duties, as usual, were taken by Ian Catt.
During the week starting on November 24th, Bobby and Beth introduced on a daily basis the songs on the new album to the listeners of the radio show "Siglo 21" on Spanish nationwide radio station Radio 3. On this same station, the "Disco Grande" show chose one of their songs as Song of the Month.
On November 29th the album was released in the UK, among a great critical reception: the Sunday Times chose it as Album of the Week on their November 28th issue, and reviews were published in Uncut, Mojo, Q, Plan B, NME and the main independent magazines.
On December 6th they recorded an acoustic session for Gideon Coe's BBC Radio 6 show, and on December 11th they played the Winchester Club in Glasgow (the club run by Gavin from fellow Elefant Records recording artists CAMERA OBSCURA).

2005

The album was released in the Philippines through Universal Records; in the United States through Bar/None; and in Australia through Pop Frenzy. All these international licenses include as bonus tracks the four extra songs featured on the "Southern skies appear brighter" EP.
On February 21st they did a three-song radio session for Mark Radcliffe's show on BBC Radio 2, and on March 19th they played another radio session for Mark Riley's show on BBC 6.
"Bathed in blue", the second single taken from the TREMBLING BLUE STARS's fifth long player, was released in March. Although after checking the amount of new material they added we must better talk about a new EP that went perfectly along with the main album's sweetness and dreamy soundscapes. "Bathed in blue" is not your average single taken from an album, but much more. The song they took from the album has been remixed, improved and even extended, and along with these two versions of the main track we find four totally new, previously unreleased songs.
In April the band went out on a short mini-tour of Sweden, playing in Stockholm, Linköping and Lund.
In September Bobby Wratten gave us some sad news for many of us: the band says goodbye to live stages. Mind you, ONLY to live concerts, though! Bobby had been feeling uneasy with live shows for some time, and he finally decided to not play live anymore and concentrate instead on studio recordings. They will still record and make records, just not play gigs anymore (something already done in the past by another illustrious name from Elefant: our dearly loved LE MANS).
Finally, TREMBLING BLUE STARS ended their gig life with a farewell tour on the US East Coast, where they had always been very well received. On these concerts the British band played some of the classic tracks on their discography, and they introduced as well some of the tracks on their latest releases on Elefant Records.
These were the dates of their last ever tour:
Saturday, September 24th: Maxwell's, Hoboken, NJ
Tuesday, September 27th: Mill Creek Tavern, Philadelphia, PA (w/The Snow Fairies)
Wednesday, September 28th, DC9, Washington, DC (w/Sprites + The Positions)
Thursday, September 29th, Magnetic Field, Brooklyn, NY (w/Sharp Things)
Friday, September 30th: Rothko, NYC, NY (w/Sprites + Pas/Cal)
Saturday, October 1st: Popfest, Northhampton, MA (w/Sharp Things)

2007

Confirming what they had already announced about their continuing their life as a band in spite of stopping the live concerts, in April finally comes out "The last holy writer", sixth full-length album by the band.
"The Last Holy Writer" is a dark, intimate, melancholy and cloudy disc, but brightened by occasional rays of light and inspired melodies throughout.

The media's response to the British group's new album is really enthusiastic. The flattering reviews come one after the other from all over the world, especially in the UK, France and USA.

In September, they release "Exploring the Shadows", a CD-Single with four exclusive songs recorded as a part of the album sessions, as well as the 7-inch version of "Beautiful Blank".