Biography
THE YEARNING are one of the newest groups to sign to Elefant, where we continue to help give new bands a boost, both national and international ones. They were conceived as a studio project led by Britain's Joe Moore., Many will compare THE YEARNING to bands like THE SCHOOL or CAMERA OBSCURA, and although there are esthetic overlaps, there are also substantial differences in the way they conceive music and turn it into something very special of their own. Their sound is lighter, maybe closer to Phil Spector's wall of sound, and they give it a dreamy tone with accentuated innocence, some of their songs giving off the sense of young romance in a way that owes its debt to Irving Berlin and Brian Wilson. With the delicious voice of Maddie Dobie (only 15 years old) and the collaboration of Justyna Halas (vocals), Gordan Campbell (guitar), Mark Kiff (guitar) and Zoe Illes (cello), they are capable of evoking some of the greatest moments of Motown, somewhere between doo-wop, pop-soul and the classic sixties sound.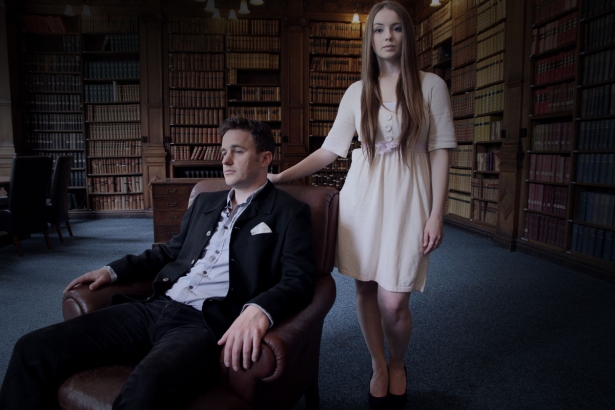 2012

In April release their first 10" Mini-LP entitled "Jukebox Romance" that really shows the best of all the good things THE YEARNING have to offer: innocent, exciting, hyper-melodic songs. This Mini-LP has A-side that stars three songs extolling the wonder of sweet, young love while the B-side is focused on the more bitter aspects of relationships. So, "You Make Loving' You Easy" preciously and elegantly unfolds all the sweetness of Dusty Springfield or Blossom Dearie. "Baby Be Mine" is closer to the immediacy of THE MARVELETTES, THE PARIS SISTERS or Little Peggy March, with its small echoes of doo-wop. "The Way You Love Me" closes the "positive" trilogy with a folkier tone, but with the special charm of Skeeter Davis, Sandy Posey, and Jackie DeShannon. "Boy Racer" opens the round of sad stories with a melancholy-laden air and marvelous arrangements in the tradition of the best of THE RONETTES. "Kiss You in The Summertime" accentuates the jazz and lounge tones with BEACH BOY-styled harmonies. "Don't Call Me Baby" brings things to a climatic close with its overwhelming, hyper-addictive, catchy chorus.
They take part in our Christmas album "A Christmas Gift For You From Elefant Records" . On it, they once again show their wonderful taste for arrangements and melodies on their incredible "I Just Wanna Hold Your Hand (On Christmas Day)".
2013

In March THE YEARNING release a digital single that opens with one of the best songs from "Jukebox Romance", "Baby Be Mine". "All Hung Up On You", the first of the single's previously unreleased tracks, full of marvelous arrangements, exciting and breathtaking. "Too Young", another previously unreleased song, is one of those songs that breaks your heart forever, where they sing of adolescent love and the passing of time that chips away at the innocence of those first pure feelings we're so nostalgic for. And the song does it as well as Dusty Springfield and Jackie DeShannon could have back in their day, winning us over with class, elegance and the strength of their performance.
In June THE YEARNING releae their second 10" Mini-Lp "Still In Love", a new Mini-LP where Joe Moore spreads his stylistic wings. This release is even more exciting than the last one, if that's even possible, and it gives even more solid proof of his incredible abilities as a composer and arranger, with his sights always set on Phil Spector.
2014

02/06/2014
THE YEARNING: Release "If I Can't Have You" as an advance single for their first album THE YEARNING's debut full-length will be here really soon, and to whet our appetites, Joe Moore and his gang are giving us a song as an advance digital single - "If I Can't Have You". The song is a summary of many of the constants that have caught our attention up to now: delicious melodies with fifties tendencies, prodigious productions along the lines of the masters like Phil Spector, Jack Nietzsche and Burt Bacharach, and lyrics obsessed with the two sides of sentimental relationships. And they do it again, with that opening drum line that's so characteristic, and those castanets adorned with heavenly choruses, evoking some of the best girl groups in history, like THE RONETTES and THE VELVELETTES. An absolute delicacy. As a gift with this release, a version of THE NOLANS' "Gotta Pull Myself Together", exclusive for this digital single, in which Maddie Dobie's voice once again dazzles us in that highly addictive chorus, while the guitar arrangement takes us to the limit. It's a teaser that heightens, if it is even possible, our impatience to get our hands on this first album that has us so excited, and that we've been dreaming about so much.
30/06/2014
THE YEARNING: Release their first album, "Dreamboats & Lemonade" After their previous singles and mini-lp's, we have been anxiously awaiting the full-length debut from Joe Moore and the rest of THE YEARNING. Their sweet melodies, dreamy arrangements, and passion for the sounds of the fifties, had us so excited, with our hands glued to the needle on the record player, waiting for the right moment to submerge ourselves in the grooves of their first full-length. That moment has finally arrived. "Dreamboats & Lemonade" plays again with the two sides of love (as their two previous 10"'s did) - the sweeter side and the more bitter side, each represented by the concepts that give the album it's name and preside over their respective sides of the record. And what better feeling to represent these two facets than the nostalgic melancholy that cradles the small resentments but sugar-coats painful memories. This feeling is the star of this delicious album, which moves between Phil Spector's wall and Burt Bacharach's elegance, and doesn't hide its love for a very specific era and style of understanding pop, decorated with reverb that fades out like Christmas lights...
2016
12/09/2016
THE YEARNING release "When I Lost You" Digital Single and advance Video-Clip from their new album. The single and video perfectly show off the deep romanticism and delicate sensibilities that THE YEARNING's new work contains. The album is full of majestic arrangements, chamber pop, and influences from the most sophisticated and melancholic French music. "When I Lost You" has echoes ofBurt Bacharach and his "Don't Go Breaking My Heart", and the fragile sadness of Dusty Springfield. Chris Croft, the director of the video-clip, takes control of the camera again and creates a document with pastoral tones, with those Victorian gardens and that screen division, reminding us of the stylizations of French Nouvelle Vague. We are totally convinced that "Evening Souvenirs" is going to be one of the albums of the year, and this song is solid proof.