Biography
Although the original line-up that THE PRIMITIVES started with in Coventry (England) included PJ Court (vocals, guitar), Keiron McDermott (vocals), Steve Dullaghan (bass) and Pete Tweedie (drums), before releasing their first and successful album, "Lovely", in 1988, Tweedie had already been substituted by Tig Williams, and Mcdermott was replaced by the platinum blonde Tracy Tracy, the band's true icon. Coming out of the independent scene that bands like THE JESUS & MARY CHAIN, THE WEDDING PRESENT, MY BLOODY VALENTINE and PRIMAL SCREAM came out of, this line-up found the perfect balance between the crystalline guitars of THE BYRDS, the agility and speed of RAMONES and the unforgettable melodies of ORANGE JUICE.
"Lovely" was preceded by three singles, "Thru The Flowers", "Really Stupid" and "Stop Killing Me", the second of which was recently recognized by the prestigious magazine, Mojo, as one of the 40 most important indie-pop singles of all times. Little by little they are beginning to get our attention and the first big push the got was when Morrissey appeared in public with one of their t-shirts on. The definitive moment for them came with their previously mentioned marvellous debut, and their great, unforgettable song "Crash", which reached the top 5 on the British sales lists and the top 3 on American rock sales lists, and catapulted them to a massive audience.

They sign with the multinational company RCA and release two notable albums: "Pure" in 1989 and "Galore" in 1991. But neither album reaches the same levels of success as their previous album, and this ultimately leads to the band's dissolution in 1992.
Paul Court and Tig Williams continue to participate in diverse projects (STARPOWER, HEDY), while Tracy brings her voice to other bands, like BAND OF HOLY.

The band reunited in their hometown of Coventry at the end of 2009, to pay homage to the recently deceased Steve Dullaghan, the group's original bassist. The success of their performance and the public's positive response after more than 17 years away from the spotlight led them to do a UK tour in April 2010 (where they headlined the Indietracks festival) and to play a few shows in Europe and the US, during which they stopped by Spain to blow everyone away at the Contempopránea and Lemon Pop festivals. In March 2011 they release two new songs and two covers of songs by dark-lensed, female-led sixties groups on their EP "Never Kill A Secret EP", released by the English label Fortuna Pop!. Both covers were the beginning of their much-anticipated new album, "Echoes and Rhymes", which gives itself over completely to this concept, with covers of artists like Dana Gillespie, Polly Niles, Olivia Newton-John, ADAM AND EVE, Sandy Posey, Laura Ulmer and REPARATA AND THE DELRONS. This covers album will be released by Elefant Records at the beginning of 2012. We're already impatient to get to hear this new material.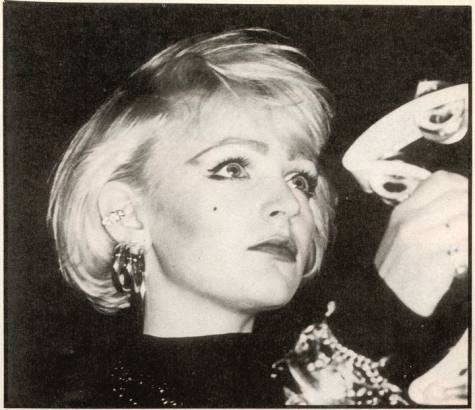 17/04/2012 THE PRIMITIVES: "Turn Off The Moon" Video and Advance digital single from The Primitives' new album "Echoes And Rhymes" 23/05/2012 THE PRIMITIVES: "Echoes And Rhymes" new album 10/12/2012 ELEFANT: Christmas Album "A Christmas Gift For You From Elefant Records"
13/02/2013 THE PRIMITIVES: "Lose The Reason" 7" with 2 new songs [18th February]
2014
01/09/2014
THE PRIMITIVES: Release 7" vinyl single "Spin-O-Rama" as an advance for their n…
The last vinyl single by THE PRIMITIVES that we released, Lose The Reason (which sold out in just a...
13/10/2014
THE PRIMITIVES: New album release, "Spin-O-Rama". THE PRIMITIVES have a new album, and this time, it's completely new material, which they've been letting us in on bit by bit. Time hasn't passed for this group, whose sound is just as fresh as ever and whose contagious melodies take us back to the end of the eighties, beginning of the nineties, when they released such renowned albums as "Lovely", "Pure", and "Galore"
2015
18/09/2015
THE PRIMITIVES REWORDKED BY MODULAR Elefant Records, in its constant search for new ideas and projects, is beginning a new collection of limited-edition Singles called "Reworked By Series". The main idea is that groups on the Elefant label appropriate, play with, and remix each others' songs. It's an explosive mix that can create (and has, in fact, already created) really exciting cocktails. The Argentinian group MODULAR has once again created a cosmic, spacey world based on Paul Court's guitars and Tracy Tracy's vocals, making "Purifying Tone" and "Lose The Reason" theirs
2017
05/05/2017
Release "New Thrills", a 10" vinyl Maxi-Single with 4 new songs. These songs sound as fresh as if they had been composed in the band's first year of existence. The release will be a 1000-copy limited-edition 10" vinyl.