Biography
1978-2007

There are very few groups which after 30 years of making music, can still continue to crank out terrific songs and even fewer who can come back with new contributions to the music world. TELEVISION PERSONALITIES is not just any group and Dan Treacy, the only steady member of the formation, is not just any musician. Savvy composer, cursed and admired in the early eighties and forgotten as the decade finished, Dan has suffered the troubles of other artists aspiring to be recognized for his music, not just by critics but by audiences, as well. Vanity. Yes-vanity. Vanity is the all-time sentimental companion for artists, whether you are a genius, mediocre or one in a million. But Dan can be pretentious, as confirmed by Alan McGee (discoverer of important acts such as OASIS, PRIMAL SCREAM or JESUS AND MARY CHAIN and head of the label Creation Records), as he has a prolific and privileged adolescent mentality. The best kept British pop secret continues to live in a marginalized world, although he has left behind his problems with drugs and alcohol so fans from all over the world are still hooked and captivated by the 60's legacy of three chords, on the cusp of abandoned punk with lyrics filled with tender, romantic, witty, tart and nostalgic pop cultural references.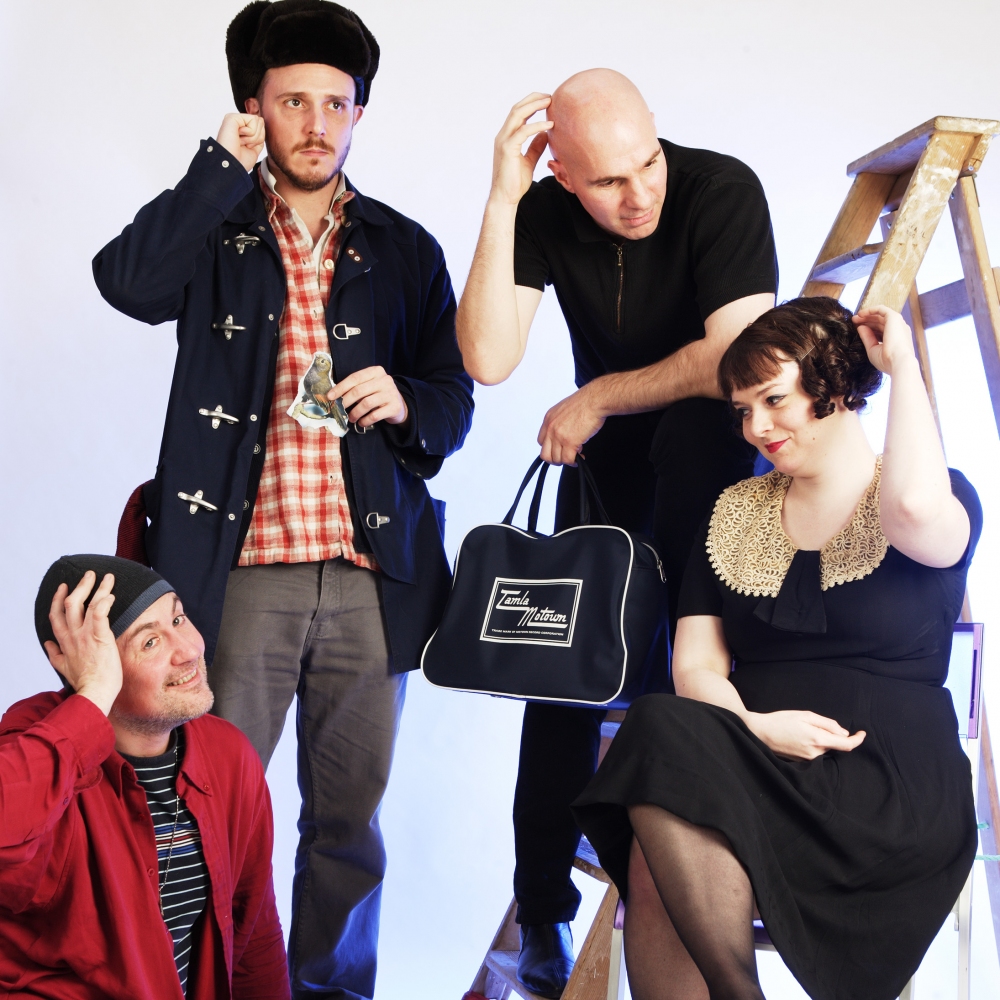 Dan Treacy grew up in the London town of Chelsea, where everyday was an event and the mods and rockers ruled the streets. His passion for pop music started there, when it was adored, shown and respected on television programs with groups of that era. It's hardly surprising that he decided to start a group which covered songs of THE WHO and PINK FLOYD, along with schoolmates, one of them being Ed Ball, who continues to form part of the actual band. At the height of the punk movement, Dan began to write songs, paying close attention to his favorite groups from the 60's and others of his time, such as THE JAM, THE BUZZCOCKS or THE MODERN LOVERS. They recorded their first single with their own savings, under the name TEEN 78. It was released in 1977 and John Peel ended up playing it on his program on the BBC on various occasions. The following year, Dan and Ed began to record songs which comprised "Where's Bill Grundy Now?" now under the name TV PERSONALITIES. This album released the classic "Part Time Punks," a story about guys and girls who listen to punk when their parents are not home. John Peel played the song again and again and in no-time, they sold 24,000 copies. This caught the attention of Rough Trade who then decided to sign them, republished the single and released the next one, "Smashing Time." In 1980, they returned to the studio as a three piece unit to record their first LP, "And Don't the Kids Just Love it," one of the must-have albums of essential British independent pop of the years to come; the tribute single to the late original member of PINK FLOYD, "I Know Where Syd Barrett Lives" is released, and is quite beautiful with birds chirping in the background. This first great album is a clear example of Dan's obsession with pop culture across the board, from cinema, especially free cinema, BBC programs, pop art, British literature and pop music.


In the same year they released the album, Dan and Ed decided to start up their own label, Whaam! (the name was taken from a painting of Roy Lichtenstein) where they released, not only their own music, but THE TIMES (side project of Ed), THE PASTELS, THE MARINE GIRLS (first musical incursion of Tracey Thorn, of the duo EVERYTHING BUT THE GIRL). Shortly thereafter, the second album, "Mummy You're Not Watching Me" was released and leads the band into psychedelic territory as they continue to compose tunes of their earlier years, such as "Magnificent Dreams" and "If I Could Write Poetry"-authentic tender and passionate pop gems.

At the beginning of 1982, Ed Ball decided to leave the band to concentrate on his project THE TIMES and they ended this era with a compilation with the ironic title, "They Could Have Been Bigger Than The Beatles"-including rarities, alternative cuts of songs on their previous albums and covers of THE CREATION. With a new line-up, Dan and company recorded the new album, "The Painted Word," darker than the previous releases yet more solid with the reinforcements. This album was the end of the relationship with Rough Trade, due to a controversy over the cover art of the single "A Sense of Belonging," which clearly criticized Thatcher's administration. Finally, the album was put out on their own label, Whaam! in 1984. During the remaining six years, the TV PERSONALITIES did not have a label and basically concentrated on playing live shows, only releasing the single, "How I Learned to Love the Bomb." Fire Records (where PULP, TEENAGE FANCLUB, THE PASTELS, THE LEMONHEADS, were put out, among others) offered them a contract for two albums of this first era: "Privilege" (1990) and "Closer to God" (1992). The first one, without a doubt, is one of their best albums (with the fun and psychedelic "Salvador Dali's Garden Party") and should have received massive acclaim; nonetheless, the group went unnoticed and Dan fell into a deep depression and fell to pieces. He was still able to pull himself together to record some confessional and desperate songs in solitary which formed "I Was a Mod Before You Was a Mod" released in 1995 by Overground, but also on the compilation "Don't Cry Baby, It's Only a Movie", three years later on Damaged Goods. After that, Dan was legally declared missing and various rumors moved about as to his state of being, none of them encouraging.

His whereabouts were not known until 2004. It was Dan himself which gave signs of life by sending a letter to one of his friends to make his whereabouts public. In the letter he stated that he was in jail but he would be out soon and also that he really wanted to start recording again because he felt better than ever. That letter, full of irony and good intentions, allowed his fans to breathe once again, and they were encouraged with the return of TV PERSONALITIES and hopes to hear the new songs Dan had written while in jail, as described in his letter. Two years later, the new album was released on Domino Records (home of ARCTIC MONKEYS and FRANZ FERDINAND) and Dan was accompanied with Ed Ball once again. "My Dark Places" is his personal exorcism, at times painful, desperate and other times tender, delicate in the origin, but always intimate and honest. Although it may not be the best album, it contains magnificent songs such as "Dream the Sweetest Dreams" and "She Can Stop Traffic," which all form a part of the catalogue of hymns created by this special and elusive artist. Furthermore, for the first time, Dan counted on the feminine voice of Victoria Yeulet, achieving sounds even more tender than imaginable. In 2007, unexpectedly, the 10th album of TV PERSONALITIES, "Are We Nearly There Yet" was released and it is far from being a collection of ruled out tunes and rarities. It turns out that as soon as Dan got out of jail, a benefit concert was held in New York to raise a sufficient amount of money to pay for the recording of the new songs. And that is how, with the new line-up, the same which recorded "My Dark Places," the songs were developed and with versions of Bruce Springsteen and THE KILLERS. More sober and a bit scattered, without a doubt, interesting samples of his work are concealed in this new period of Dan Treacy.
More TV PERSONALITIES cds are announced at the beginning of 2008 on Elefant Records. One of the first releases of the year will be a single on vinyl, titled "The Good Anarchist" which promises to be one of the most brilliant songs of this essential group needed to understand independent pop of the last three decades.

2008

In January, Elefant Records will put out the world exclusive new single of TV PERSONALITIES, "The Good Anarchist." One truly cries out in jubilation when listening to this song! Only true alchemists of pop can achieve producing sounds of such sensibility in just a little over two minutes. Echoes of bands such as VELVET UNDERGROUND, SHOP ASSISTANTS and CAROUSEL ring about on this single, as well as the voice of Swede Johanna Lundström for the first time and Dan playing the guitar. The B-Side sparkles with the fabulous "She's Always Been There for Me" with the classic TV PERSONALITIES (basically Dan and Ed Ball) although it includes an irresistible touch of Northern Soul and a catchy rhythm that makes you put on your dancing shoes and leave your Ben Sherman shirt soaking in sweat!

Discography in Elefant:
ER-256 TELEVISION PERSONALITIES "The good anarchist" Single 7" (December 2007)
ER-269 TELEVISION PERSONALITIES "People think that we are strange" Single 7" (April 2009)