Biography
Alex: vocals
Christophe: guitar
Jean-Baptiste: guitar
François: bass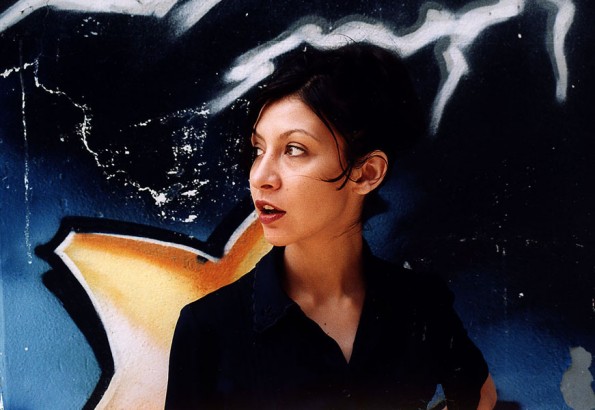 Paris, a sunny sunday morning, April 1993. They were sitting outside a cafe, smoking cigarettes and arguing about perfect clothes and tasty wines, strange movies and acceptable sounds. They were thinking of great pop trios, from THE SUPREMES to CODEINE, from Godard's "Band Of Outsiders" to THE JAM, from "Forever Changes" to "Some Velvet Morning" or "The Blow Up". Above all, they all came to smile when someone mentioned FELT. For all of three, the best band ever, The ultimate pop genius. Anyway, by this point, Alex, Daniel and Jean-Baptiste knew they had to join their talents.
Alex was born in Madrid and lived for some time in London before she moved to Paris. She has big green eyes, dark hair and perfect lips. She loves Laura Nyro, Dusty Springfield and MOOSE, she thinks Mark E. Smith is a genius and Lawrence (from FELT/DENIM) is God. She sings and writes the lyrics.
So the band was formed, and the name chosen was SPRING (taking it from an old Blue Note jazz record). One week later they held their first gig ever in the French capital: they played three songs and left the stage. Someone said they were the new VELVETS. Strange, since they just wanted to sound as the new FELT. Shortly after that they recorded an instrumental theme which they sent to Bob Stanley, and SAINT ETIENNE's leader thought that "Bob Cool", the song, was good enough as to be included on his label's compilation, "We Are Icerink". But before this important step on their musical career, SPRING had already supported MOOSE and THE DIVINE COMEDY in Paris (they would later play the support act for PULP and LUSH as well).
They all went to London, just to prove how punk could a semiacoustic band sound, and on those gigs they realized they needed someone else. So Christophe appeared into the scene, a funny guy who had already played with other bands and, even though it can sound weird, he had never heard of some Maurice Deebank before playing with SPRING. He loves English sixties pop and psychedelia. He plays electric guitar and writes some music as well.
So now they were four: walking, drinking "pastis" and thinking about songs, arrangements and shows. But nothing is easy, and Daniel leaves the band to become the manager of DARLIN' (better known later as DAFT PUNK). Afterwards François, a young man who's always happy, came to play bass in the band. He works as a fashion and costumes designer in Paris, he likes Gainsbourg and the bands from 4AD. His friends say he looks like Marlon Brando; the young Marlon Brando, of course.
Before Christophe and François were a part of the band, they had already recorded the three songs included on their debut EP "Something Beginning" (incidentally, some Thomas Bangalter engineered in this record), described as a pastoral mixture between FELT and Françoise Hardy, which showed too well their renown elegance and savoir faire. Elefant Records was the label to take it out, and is still releasing their records with pride.
Next step meant to go back to London, this time to work during eight days with producer Brian O'Shaughnessy, who had worked to this date with Peter Astor (THE WEATHER PROPHETS), MY BLOODY VALENTINE or the largely subvalued MOOSE. They took the name for what would be their debut album from a weird Japanese gangsters film from the sixties, which has had a very important influence on Quentin Tarantino's subsequent work: "Tokyo Drifter", seven new songs, a cover version of Françoise Hardy and a duet with MOOSE's Kevin McKillop. Shortly before they had released a happy experiment, the first release on new label Stereophonic Elefant Dance Recordings: a collaboration with French electronic avant-garde geniuses EXTRA LUCID and INDURAIN, on the CD-single "Be My Star", where trip-hop and pop join their ways naturally, in a dreamy and danceable way.
But their activity in 1995 wasn´t only dedicated to write and release their own splendid creations, but the band's members diversified their talents in fruitful collaborations: Alex brings her voice to the song "Regulo 7", on MOOSE's album "Live A Little, Love A Lot"; Jean-Baptiste sings some backing vocals on STEREOLAB's album "Mars Audiac Quintet"; and Michelle plays piano on HERZFELD (ex-McCARTHY) mini-album.
In 1996, SPRING honoured with their class and good taste Elefant Records' Singles Club, and they did it with a very special little jewel for its members: a pink vinyl seven incher, featuring three Spanish eighties pop classics. "Hansel Y Gretel" by GOLPES BAJOS, "Tan Lejos" by DECIMA VICTIMA and "No Sé Por Qué" by ALASKA Y LOS PEGAMOIDES, suitably named "Chante En Espagnol", as those dearly loved EP's from the sixties. It's not a surprise that some pop passionate Parisians know and love Spanish music, and the prove is their subsequent CD-single, "Matinées". After having released their album in Japan with good response, they released this new record with a title song taken from "Tokyo Drifter", three unreleased songs and a new cover of a Spanish band: "Como Un Aviador", by FAMILY, showing once again their faultless good taste (just check the delicious artwork on all their sleeves, by Magic Design/4UMAN).
Their friendship with the members of LE MANS helped them to meet Spanish DJ Javi Pez (from Spanish label Novophonic), with whom they have collaborated in a 10"/mini-CD, "Out Of Time", which showed quite well the way they were going to follow on their new LP, just released, "The Last Goodbye": exuberant arrangements, brass and percussions, samba and bossanova, but never leaving aside their charmingly relaxed, acoustic pop. But before, German label Bungalow released "Spring and Friends", a compilation featuring the complete sessions with Pez, plus some songs from the "Be My Star" CD-single and a cover of SHAMPOO's "Blisters And Bruises", which was also put out in Japan via Tokuma and got them a lot of press and radio play in the UK and Germany, where the band also played a couple of succesful gigs with MOMUS. They even sang together a cover version of Jacques Brel´s classic "Ne Me Quittes Pas". By the way, Tokuma Japan had also released "Tokyo Drifter", and such prestigious labels as L´Appareil or Escalator released compilations including SPRING songs.
In between all this buzz, the band suffered some difficult moments when Jean-Baptiste left, just after the recording of the new album. Nevertherless, with a new line-up based on the initial threesome (Christophe, François and gorgeous Alex) plus different additional musicians (Jean-Noël Dastugue, Thomas Boulard, Joan Vich and Javi Pez), played at the Alternative Eurovision Contest Eurobaschh 98, broadcasted in the UK via Channel Four. The jury was formed by such personalities as SOUL 2 SOUL's Jazzie B or Ultra Naté, and despite they didn´t win, their live rendition of "Chuck It Up!" conquered many hearts. After that they presented their new songs live in a London show, as well as in a festival in Brighton along with such bands as BROADCAST, BIS, HIGH LLAMAS, TURN ON, BUFFALO DAUGHTER, MAGOO or PLONE. Their appearance at this festival was acclaimed with some enthusiastic reviews in the UK press; the same happened with the Bungalow compilation : magazines like Mojo, Mixmag, Muzik showed its admiration for the album, specially for "Chuck It Up!", also released as a single; Melody Maker interviewed Alex; Miles Ahead placed her face on the cover.
SPRING ended 1998 by doing their longest Spanish tour yet, plus some club dates in France and a Rockomotives Festival appearance, with such bands as DAMON AND NAOMI or POOKA in the bill, coinciding with Wagram Music´s release of "Soft &Easy", a compilation also featuring CZERKINKSY, FANTASTIC PLASTIC MACHINE, JAY JAY JOHANSON or COMBUSTIBLE EDISON among many others. They also recorded a show for Spanish TV Channel 2.
Meanwhile "The last goodbye" was licenced to other labels in the world -JVC Victor released it in Japan in 1999, and March did the same in USA in 2000- SPRING started a long hiatus that has finished with the confirmation of the band's split.
2023


17/11/2023
SPRING "Something Beginning (30th Anniversary Reissue)" Single Digital

Let's admit it – thirty years later, SPRING still can't figure out why they sent their demo to two Spanish record labels, or how they knew the labels… But both answered affirmatively. They had to make a decision, and with the help of Ibon Errazkin they chose Elefant Records: Luis and Montse (and Talulah too). That was the beginning of six years of hard work, because the group was about to find themselves right at the center of a small cultural and independent revolution… There were trips back and forth between France and Spain, sleepless nights, so many kilometers, concerts with PULP, with SR. CHINARRO, with LE MANS, that first Benicàssim festival under the sunlight, songs recorded in London, Paris, San Sebastian, Madrid… There was laughter, tears, making plans for the future, breakdowns, reconciliations… And without them even really knowing it, just living every moment to its fullest, they were six years that these young kids would spend making memories to last a lifetime.
The adventure began not far from Paris's famous Latin Quarter, known for the Nouvelle Vague films and May 68, the area of "La beauté est dans la rue" (the beauty is in the street). That's where Alex, Jean-Baptiste, Daniel (later François) and Christophe, united by their passion for music, black and white movies, literature, and fairy tales, began to compose, rehearse, and meet other enthusiasts like themselves. But it was in Montmartre where they recorded their first demo, in the room of a boy who was barely a student. That first demo with four songs and some declarations of intentions, without even a trace of drums, but some influences: seventies songwriters, eighties English pop, the sparkling scene of the early nineties.
From that first demo, three songs were taken to be included on the original version of "Something Beginning", the vinyl single released by Elefant Records in March 1995. That first demo is being re-released today, thirty years after it was recorded, with an extra song, "Boogie With Martin D", that has remained unreleased all this time, with its title paying tribute to the genius of Martin Duffy (FELT, PRIMAL SCREAM, among others), who we lost too soon in December 2022. This demo is like the beginning of a journey that is all smooth sailing. It's an adventure that, right from the start, makes it feel like anything is possible – especially the impossible.
By Christophe Basterra (ex-Magic RPM / Section26)
Discography in Elefant:
ER-163 SPRING "Something Beginning" Single 7" (January 1994)
ED-001 SPRING "Be My Star" CD-Single (October 1995)
ER-1011 SPRING "Tokyo Drifter" LP/CD (December 1995)
ER-169 SPRING "Chante En Espagnol" Single 7" (May 1996)
ER-305 SPRING "Matinées" CD-Single (September 1996)
ED-013 SPRING "Out Of Time" Mini-LP 10"/Mini-CD (March 1997)
ER-1052 SPRING "The Last Goodbye" LP/CD (February 1998)
Songs in compilations:
- "My Face Is On Fire" in A TRIBUTE TO FELT (CD ER-1001, 1995)
- "L'Indifference (amarillo demo)" in Elefant Juice (CD ER-1018, 1995)
- "Shakin' Will" in Burnt Umber (cassette Bliss 021, UK, 1995)
- "Good Luck Charm" in ELEFANT RADIO (CD ER-1029, 1996)
- "El Dorado" in MARAWORLD (CD sala Maravillas, 1996)
- "Baby Blue" in New One (CD Escalator Records, Japan 1996.)
With CZERKINSKY, CHARLOTS, LESTER NOEL, SUPER...
- "Baby Blue" in Supermarket (CD ER-1051, 1998)
- "Skool Bus" in Soft & Easy (CD/cassette, Wagram Music, France, 1998). With CZERKINSKY, FANTASTIC PLASTIC MACHINE, JAY JAY JOHANSON, GENTLE PEOPLE, COMBUSTIBLE EDISON...
- "Lazy" in EUROMUSE CHART 99 (CD Euromuse, France, 1999)
- "Today" in VERANO DEL 99.-(CD, ER-1062, 1999)
- "L.O.V.E" in ELEFANTDIEZ.-(CD 1999)
- "Baby blue" in MOSHI MOSHI, POP INTERNATIONAL STYLE CD (March, Usa, 2000)
- "Lazy" in LOVE BALLADAS (CD, March Records, USA, 2000)
- "Skool bus" in CAFE BIZARRE (Primeros Pasitos CD 2000)
-"Today" in MOMENTOS PERDIDOS (ER-1115 CD, 2004)
Foreign releases:
- "Tokyo Drifter" (CD, Tokuma Japan Communications, Japan, 1996)
- "Spring And Friends" (LP/CD, Bungalow Records, Germany, 1997)
- "Chuck It Up!" (Cd-single, Bungalow Records, Germany, 1997)
- "Spring And Friends" (CD, Tokuma Japan Communications, Japan, 1997)
- "The Last Goodbye" (CD, Jvc/Victor, Japan, 1999)
- "Baby Blue" (Cd-single, March, USA, 1999)
- "The Last Goodbye" (CD, March, USA, 2000)