Biography
Before they became the spearhead of Spanish techno, before being remixed by such internationally renown acts as AUTECHRE or SCANNER, SILVANIA used to write bewitching tunes of ambient pop, which evoked with delicacy the best moments of COCTEAU TWINS or MY BLOODY VALENTINE. Theirs is an intelligent, totally coherent evolution, in tune with the current days, and always a few steps ahead of the rest (what has brought them many times to carry an undeserved halo of cursed band).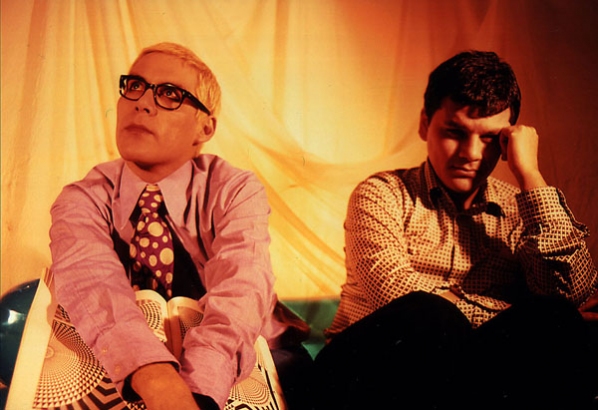 Mario and Cocó, two Peruvian guys who had already met each other in the underground ambients in their country of origin, set up SILVANIA in Valencia in 1990 with an aim to mixture pop and sound innovation. Looking at their all-time idols (COCTEAU TWINS, Brian Eno, ZOMBIES and BYRDS) they crafted a style in which the then overrated electric guitar passed on to become a generator of plenty of echoes and weird sounds through its technological manipulation, joined to ellaborated pop melodies.

As a result of this first years they got their debut album "Miel Nube Hiel" (1992), a maxi-single which would anticipate their increasing liking for new pop structures and "En Cielo de Océano" (1993), their first LP on Elefant Records. These two works consolidated SILVANIA as the only band in Spain which was able to join pop and ambient in a coherent way. They released their records to critical acclaim, and played gigs all over the country while they prepared their second album, "Paisaje III" (1994), the precious design of which, as on all their other releases, has an important participation of their own aesthetic ideas. They have such a clear concept of what SILVANIA is, that not only sound, but the image of the band is totally controlled by themselves.

Musical-wise, electronics get more and more space in their creative method, giving as a result a record of very different sides in which you can find winding melodies and delicate acoustic passages, along with electronic avant-garde. In February 1995 they record the single "Avalovara", in which guitars disappear virtually in favour of an exhaustive studio experimentation. Later on they would participate in the Festival Internacional de Benicàssim with a set based exclusively on noise and sequencers. They're called for the techno nights at the Barcelona Acció Musical (BAM) festival, in which they present an only 40 minutes piece between analogic electronics and most rhythmic isolationism, and they also played at Sonar, one of the most advanced, best festivals in the world's electronic scene.

By the same time they were preparing their remixes album, called "Delay Tambor", which is undoubtedly one of the more precise artefacts existing in the market to show the present and future of the world's musical avant-garde, besides of strengthening SILVANIA as well deserved members of that restricted elite of sound risk scientists. "Delay Tambor" is a remixes record featuring some of the riskier electronic acts of the present day working for SILVANIA: AUTECHRE, SEEFEEL, SCANNER, SCORN and LOCUST were chosen to remix songs from SILVANIA's first two albums, "En cielo de océano" (1993) and "Paisaje III" (1994); besides of the remixes, the record features three previously unreleased tracks by the duo.
After the release fo the single "Aero", and their latest maxi-single "Suprematiz", SILVANIA came back with their 3rd album, "Juniperfin". Ever more experimental and risky, Cocó and Mario have created a work of emotional, obscure electronic music, formally rule-breaking and daring, but with a pop heart in the inside. They still provoke admiration on fans and media all over the world, as it can be shown by the inclusion of one unreleased track -"Mini Mago" - on a cd compilation made by Italian fanzine "Losing Today"

In 1997 they took part in a show organized by the Gijon Film Festival, one of the most risky and innovative film acts in the country. The idea was to call some of the most important electronic Spanish artists - PEZ, MADELMAN, VANGUARD, IPD, ASTRUD - to create live soundtracks for several avant-garde short movies made by some of the most relevant names in the history of film-making, such as Eisenstein or Polanski. SILVANIA put music for Maya Deren´s wonderful "Meshes in the Afternoon". A year later, the Festival along with label Cosmos released the results of that brilliant idea on a cd.

At the same time, SILVANIA published their new album, "Naves Sin Puertos" -"Harbourless ships" -, a new step forward in their quest for beauty in abstract electronica, the one that joins Brian Eno and AUTECHRE. The album was critically acclaimed by most Spanish pop and techno magazines. They played some gigs to promote the album, including a show for Spanish tv.

In May 1999 Stereophonic Elefant Dance Recordings release a CD by RADIO, a collaboration between SILVANIA and Carlos Ordóñéz (PROZACK), in an attempt to blend the ethereal forms of the first with the martial rhythms of PROZACK.

On the same year SILVANIA take part in one of the projects of Land Art/El Apeadero operation center. In this environment several artists created assorted sculpture works along different points of the "Camino de Santiago" (Galicia). Among these artists we can find Virginia Calvo, whose project "Dríades" consists in the construction of iron sculptures fixed to the trees planted throughout a stage of the Santiago walk. SILVANIA created some music inspired in Virginia's sculptures; this music was released as a CD called "Campo de espirales, árboles y secuencias posibles".

Their collaboration with Spanish multimedia artist Ana Laura Alaez must also be mentioned. They start working together in 2000 when they write music for an installation by this artist in Madrid's Reina Sofía Museum. Since then SILVANIA have written several scores for Ana Laura Alaez's installations, some of them counting with vocals by the artist herself, like "Brothel" (Korea Biennal, 2000) or "Liquid sky" (Buenos Aires Bellas Artes Museum).

In June 2001 artists Ana Laura Alaez and Javier Pérez represent Spain in the 49th edition of Venice Biennal, the most prestigious art fair in the world. Ana Laura Alaez's contribution is composed of three installations, all of them featuring music composed by SILVANIA. They are vital architectures that blend themselves with lights, sound and space:
1) the aforementioned "Liquid sky": a big platform made of leds, as an inverted sky. It's structured thanks to the almost liquid sound.
2) "Rain room": here the sound of rain is pursued, as a sound model of a space both wet and mental. For this installation SILVANIA composed the score"Washing".
3) "Pink space": SILVANIA write the song "Floating" for this one. This score features vocals by Ana Laura Alaez herself. "Floating" mixes technology and melancholy with a strong pop ambient. Cocó, one of the members in SILVANIA, was invited by the Spanish Foreign Office to do a Dj session in the party host by the Spanish Pavillion in Venice's Biennal. The party took place in the Armanio College.

Cocó and Mario's plans are to leave the name SILVANIA for this kind of performances related to art and soundtracks, and keep on recording under a new name: CIELO. Their new project is much more pop-oriented, including the use of vocals after a long time of making instrumental music. CIELO releases two CD-Singles in Elefant during 2001; but their debut album ("Un amor mató al futuro") was out in Click New Wave, a new label created by the band.

Cocó dies in Madrid, aged 40, on September 29 2008.

Discography:
ER-1003 "En cielo de océano" LP/CD 1994
ER-1021 "Paisaje III" LP/CD 1995
ER-132 "Avalovara" Single 1996
ED-003 "Galax Trax" Maxi-Single 1996 (with remixes by LOCUST, VANGUARD and PROZACK).
ED-005 "Delay Tambor" CD 1996 (with remixes by LOCUST, SCORN, SEEFEEL, SCANNER and AUTECHRE).
ED-012 "Aero" Single 1996
ED-014 "Suprematriz" Maxi-Single 1997
ED-018 "Junipefin" Double-LP/CD 1997
ED-030 "Naves Sin Puertos" CD 1998
Radio discography:
ED-032 "Radio" CD 1999
ED-031 "El aire está vivo" LP 2000
Cielo discography:
ER-338 "Vamos a caminar EP" CD-Single 2001
ER-344 "2001-16 años (Patricia)" CD-Single 2001
Records in other labels:
- "Miel Nube Hiel" (Maxi-single Experience Records, 1992)
Dj Galax (Cocó) discography:
- "Ruido & coloristmo" (CD So Dens, 1999)
Songs in compilations:
- "El Día Del Cielo" in CERULEAN SKY (cassette Bliss Records 005, UK, 1993)
- "Un Bosque En La Memoria" in THE CHARMING TRIP (cassette Shiny Sunset Records, Italy, 1993).
- "El Alba Es Un Ala" in BREEZE 4A (cassette, Germany, 1993)
- "Se Girasol" in BREEZE 4B (cassette Germany, 1993)
- "Oval" in GARAGE FLOWERS (cassette fanzine Baby Talk, Germany,1994).
- "Pequeña Hélice" in GIVE ME MORE OF THAT SOUND (CD Spiral nº 12, 1994).
- "Trilce" in PLANET WEETABIX (cassette fanzine Baby Talk, Germany, 1995).
- "El Comenubes (92)" in cassette fanzine Happy (1995).
- "Niño Unicornio" in BENICASSIM 95 CD/MC (RCA)
- "Eva Sobre Eva" in VERMILION (cassette -Bliss Records 011, UK) 1995.
- "En Lineas Sin Fin (Vista Aerea Mix)" in ELEFANT JUICE, (ER-1018, CD 1995)
- "Bengala" in BENICASSIM 96 (CD RCA, 1996).
- "Eesal" in ELEFANT RADIO (CD Spiral 32, ER-1029, 1996).
- "FA Infin: Horizontal Drum Mix" (CD sala Maravillas, 1996)
- "MiniMago" in cd fanzine "Losing Today" (Italy, 1998)
- "Tarde Através" in "BSO" (CD, Cosmos 1998)
- "King of Spain part two" in SNOWSTORM, A TRIBUTE TO GALAXIE 500 (Double-CD ER-1038, 2001)