20/04/2018
PUTOCHINOMARICÓN: "Corazón De Cerdo Con Ginseng Al Vapor" Mini-LP 10" [New Adventures In Pop 042]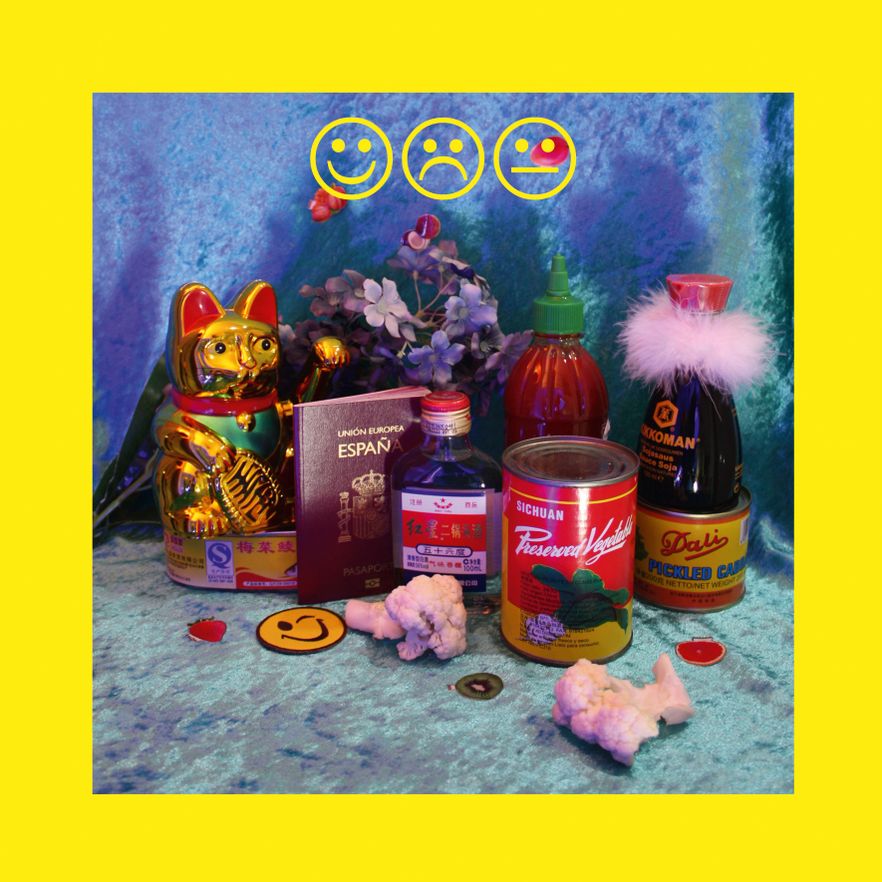 Our "New Adventures In Pop" collection came about as a way to give voice to new artists whose projects captivated Elefant Records (PAPA TOPO, TRONCO, DIE KATAPULT, AXOLOTES MEXICANOS...). But sometimes, some groups spread so quickly online and on social networks, and their songs and messages have such an impact that when their first songs are officially released they are already really well known. They've already been applauded by the media and stalked by the most unconditional fans. Such is the case with Chenta Tsai Tseng, better known as PUTOCHINOMARICÓN. A migrant originally from China, he is an architect, a musician, an activist, and a unique, inimitable character in love with pop culture from recent decades. Interviews in El País, La Sexta, El Confidencial, FantasticPlastic, Radio 3… Concerts where the audience goes crazy and songs that are authentic protest anthems for new generations… These have been his first steps in the music world.

Yes, like we are saying, this is his first record label release, but he has thousands of views on YouTube and has already given us so much to talk about… Some places actually say he is an "influencer" because of how intense his Instagram activity is. Some people will already be gritting their teeth. That's when PUTOCHINOMARICÓN rubs his hands together and sharpens his quill. His thing is to break down preconceptions and along these lines we already know before we start that our words are going to fall short.
He makes it clear from the first minute, on the song that introduces him and opens this Mini-LP, "Puto Chino Maricón". In just thirty seconds, he tells us exactly where he is coming from: "Puto chino maricón / La gente por la calle me llama así / No me robes mi trabajo / Vete a tu puto país" (Fucking Chinese fag / That's what the people on the street call me / Don't steal my job / Go back to your fucking country). How many migrant artists born in this country have we seen releasing albums? His answer is devastating: "there are barely any migrant artists because immigration policies don't offer equal opportunities".

On his Instagram it says he sounds like a trapversion of LA CASA AZUL. His thing is live techno-pop, with echoes of synth-pop, J-pop, disco and breakbeat, various brushstrokes of electric and auto-tunes. But what really gets him going is vitriol. Without holding anything back. He lays it out for us in "Gente De Mierda", one of his most well-known, and above all, most celebrated songs in his amazing live shows. His performance at the gay pride party was talked about a lot. It turned a celebration of difference into a critique of how part of the gay collective has sold its soul to economic interests. What he calls pink capitalism. He is a spirit that burns on "No Quiero Salir".

"Tú No Eres Activista" was already a megahit even before it was released in physical format. It's just another sign of the times. But the urgency in it made this almost a requirement. The song's critique of people who consider themselves to be activists based on liking things from their sofa.
"No puedes parar de pensar / En todo lo que hiciste mal / Y ahora quieres arreglar / Todo con tu falsa moral" (You can't stop thinking / About everything you did wrong / And now you want to fix / Everything with your fake morality).

Social critiquing is a constant in his songs. Even "Remedio Casero", which could be read on a more personal level, with that mix of melancholy and those evanescent keyboards, is a precious synth-pop exercise that ends up taking on a connotation of protest: "Siento que estoy perdiendo el tiempo siento que todo es artificial dame un remedio casero para volver a empezar" (I feel like I'm wasting my time I feel like everything is artificial give me a home remedy to start again).

And there's no need to explain it. There is more than enough bilis. "Que llevas Gosha Rubchinskiy porque todo está out / Que tú tienes los contactos para el Primavera Sound / Que los huevos que te cuelgan son tan grandes y pesados / Tu puta vida nos da un poco igual" (You're wearing Gosha Rubchinskiy because everything is out / You've got the contacts for Primavera Sound / Your balls are so big and heavy / We don't really care about your fucking life). "Tu Puta Vida Nos Da (Un Poco) Igual" is not to be missed; a collaboration with Ignacio Redard, one of the brains behind REDULCE, and the youngest, most prolific electro-pop producer to come out of Chile in recent years.

When talking about influences, Chenta references Guille Milkyway and HIDROGENESSE, but also makes it clear what has led him to create a character as subversive as PUTOCHINOMARICÓN: "El test de la Bravo y la Superpop / Nos indican quiénes somos con mucha precisión" (The tests from Bravo and Superpop / Tell us very precisely who we are). But when you're in the middle of enjoying the fun, when it seems like you're in the presence of something great, that's when the best part comes: "No Tengo Wifi". A reality check in every sense of the words. It seems surreal. It seems like a mocking critique. But it's a slap in the face that leaves the shape of the hand imprinted on your cheek, to an electro-Latin rhythm with stretched voices and a super catchy chorus that, once again, tells it to you straight to your face.

Chenta's thing isn't about an attitude; it's much more. You just have to spend a few minutes reading some of his many interviews to see that behind the character there is a person with a clear, concise discourse, not at all banal or superficial, that transcends the punk spirit to give it strength and substance. Someone who, in three lines, can quote Sylvia Rivera and Lotta Volkova.

And, after these eight whip cracks, you are left completely stunned. You don't really know how to react. It's understandable; you've never heard anything like this. The street sound between layers of ultra-pop melodies and twisted sounds, a burst of freshness that takes you from europop to the shibuya-kei sound. A 500-copy numbered-limited-edition 10". Or a Youtube url. You decide. Anything goes.