22/04/2022
PUTOCHINOMARICON "JÁJÁ ÉQÚÍSDÉ (Distopía Aburrida)" LP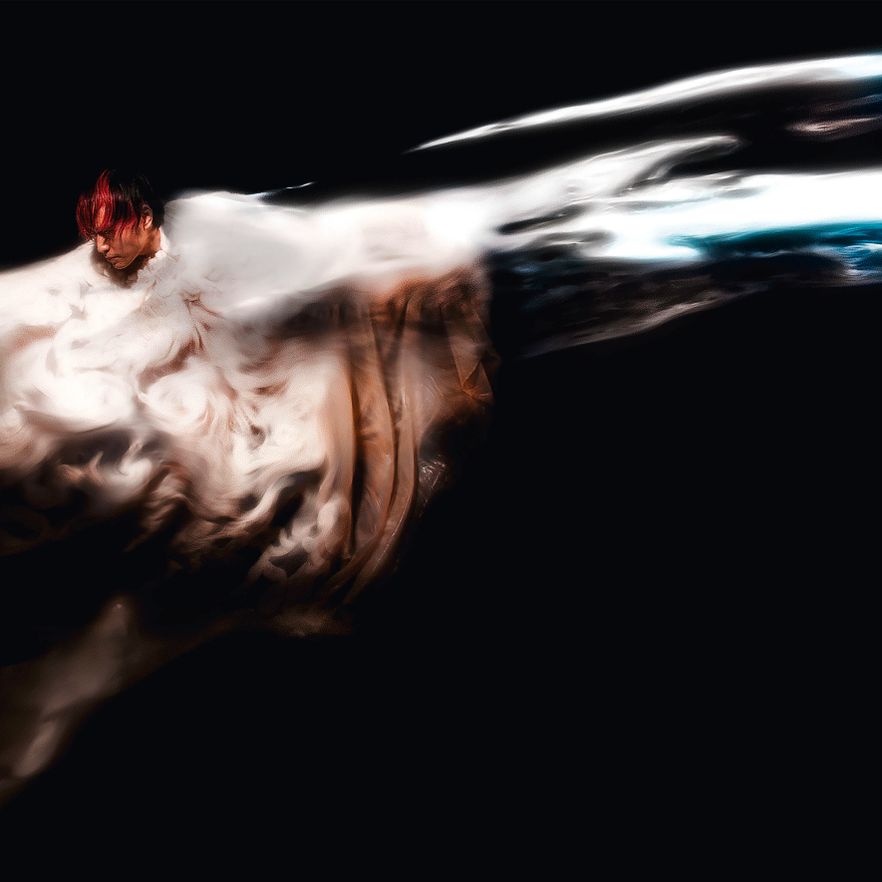 TRACKLIST: 01 Intro (Renacentista De Tutorial) 02 AliExpréss 03 Tamagotchi (Feat. GFOTY) 04 DM 05 Adulto Incomprendido 06 Internacional Call 07 Otra Fisicalidad (Feat. diana starshine) 08 Rubberhand (Feat. Tami T) 09 Chique De Internet 10 Traumas 11 Tu Foto De Perfil
Some albums are destined to become references, the reflection of a specific moment, a snapshot of the sounds and realities that move the world. And we wouldn't be wrong if we say that "JÁJÁ ÉQÚÍSDÉ (Distopía Aburrida)", the third pack of songs from PUTOCHINOMARICÓN, is one of hyperpop's / futurepop's album of reference. And it is one precisely because of the way it accepts its imperatives and stretches them out, twists them, pushes their limits and mixes them with thousands of other styles and influences. At this moment, and thanks to artists like Chenta Tsai, a sound or a musical movement becomes a style, an ingredient that can be added to any cocktail. That's what happens when we talk about JOY DIVISION and post-punk, or MASSIVE ATTACK and trip-hop, to give a few examples. And "JÁJÁ ÉQÚÍSDÉ (Distopía Aburrida)" does this with an immense and surprising collection of national and international collaborators who have made this album's sonic map so tremendous.
But if on top of this we're talking about a person like Chenta, it goes beyond that. They have such a multi-faceted, versatile, energetic personality with such a revolutionary spirit. And if "Corazón De Cerdo Con Ginseng Al Vapor" explored the idea of a double consciousness and deconstructing identity, "JÁJÁ ÉQÚÍSDÉ" is the definitive shift away from the concept of identity as a definition; it creates a fictitious place imagined by the author as a result of not finding a place where they belonged, of feeling, after spending some time in Taipei, like they're from "neither here nor there", and it is born of the desire to build a space where they can feel fully and unfragmentedly themselves. It is a space that ultimately becomes the space of an entire generation – misunderstood by a world that is still so conservative in the way it conceives of and defines itself. This is a complex purpose and it shows us just how restless and defiantChenta's mind is, with its complex, unique and revolutionary game of mirrors.
The development of the "JÁJÁ ÉQÚÍSDÉ (Distopía Aburrida)" project took place in the period between the confinement in March 2020 and their time in Taipei. In this period of time and this radical change, Chenta experienced a kind of earthquake, from the shifting of the diverse realities, complex and supported by these extremely digitalized times, which led them to face themselves and their environment from different perspectives.
We can divide the album into three parts. First, the songs that came about directly in response to contact with "online reality". "Tamagotchi" is a song inspired by digicore (have we talked about playing with styles?) and is about internet surveillance and censorship. Produced by Chenta, mixed and mastered by Ignacio Redard, and with the stellar collaboration of GFOTY (Girlfriend Of The Year), the song transmits that feeling of ambiguous anguish about being constantly watched, that clashes with the immediate pleasure that comes from online interaction. "Rubberhand" breaks down walls to get into sexual relationships using remote control devices, with the collaboration of Berlin-based Swedish producer, Tami T. Impressive, delicious, turbulent, with little echoes of jungle and electro-leaning ornamentations. "Chique De Internet", in collaboration with Andrea Guidi, aka UVCORE, describes the possibilities these other spaces enable the possibility to re- or de-construct yourself, embracing immateriality, far from your physical form. The metaverse comes in between beats of this hardcore digital exercise that we already got to hear as the advance. And "Tu Foto De Perfil" talks about the death of virtual identities when you block someone or when they are censured or blocked by social networks. Somewhere between techno, dream, and of course the most baroque hyperpop, with the collaboration of Galen Tipton aka RECOVERY GIRL. And then there's "Adulto Incomprendido", pure genius with echoes of jungle, a straight up confession, the fuse that feeds the creative rush that we find on this album. "No hay canciones con las que podamos identificar / No hay canciones con las que podamos gritar y cantar / Que hablen de nuestras angustias atrapados en nuestro Nunca Jamás" (There are no songs we can identify with / No songs we can shout and sing along with / That speak of our anguish, trapped in our Neverland). It is not a question of youth or condition. It is about being trapped in a reality that does not make you feel at home.
In the second part, there is the "offline reality", where your domestic space turns into a Streaming set, a portal that takes you to different virtual realities, full of machines that let you access those virtual spaces. In this group, we could introduce "Intro (Renacentista De Tutorial)", which talks about precariousness, the culture of hard work during a pandemic. An exercise in self-parody (how many articles and interviews have used the word "renaissance" to describe Chenta's multifacted personality?) where the participation of Ignacio Redard stands out again, along with the collaboration of that bedroom pop leader that is New Sylveon. The song is slippery, unclassifiable, full of ornamentation. "AliExpréss" (only Chenta could name a song that), co-produced with Matt Lockshaw, talks about a world that is incapable of taking itself seriously, flooded by the phenomenon of memes, where 5 minutes of fame become 15 seconds, and - thank you. "Internacional Call" is danceable house with echoes of J-Pop, fleeting and playful, about blurring limits, non-existent borders. And lastly, we could include "Traumas" in this group. It is a song about how to face all the unruly and disobedient things that surround us, how to integrate cynicism and the insensitivity that overwhelms us from all these realities, about how to run away from that constant need to label ourselves. It is a collection of explosions and implosions, radical dynamics (that make the song's certain impressionistic leanings clear) going beyond glitchcore and EDM, with the significant hand of SPACE CANDY (Alex Polanski).
And finally, there is the third "augmented reality" group, which lets us transgress the rest of realities and find the strength to redefine the world according to how we understand it, and not as other people tell us it should be. "Otra Fisicalidad", with diana starshine and the co-production work of Beverly Hensel is an incredible hit full of eighties echoes in its melodic base, that celebrates re-understanding our bodies in the virtual and other realities beyond the reality you feel closest too. The re-defining (once again) of what is known as reality. Or the already released "DM", a song about how Chenta learned, in their time in Taiwan, to accept part of their own identity by accepting their own community.
Despite the long list of collaborators, despite the mix of absolutely innumerable styles, despite even the collection of ornamentation each song offers, there is something that stands out above all of that, and that makes "JÁJÁ ÉQÚÍSDÉ (Distopía Aburrida)" an unforgettable album, one that marks a moment in time and in the music industry. Ultimately, it is the work of the immense persona that is Chenta Tsai, someone with a gift, with the capacity to strip down the world they live in and transgress it, not only conceptually, but using art – in all the disciplines possible – as a powerful scalpel. That's why "JÁJÁ ÉQÚÍSDÉ (Distopía Aburrida)" is an album about the times we live in, so difficult to understand (and thanks to this album we can be accept and interpret it better), and of course about the sounds that live in the ears of the post-millennial generation right now. This is a piece of work that could only be made by geniuses, unique personalities, who are so rare and so necessary. And we are lucky enough to live and appreciate one of them. Long live PUTOCHINOMARICÓN.