10/12/2021
PUTOCHINOMARICON "DM" Digital and Video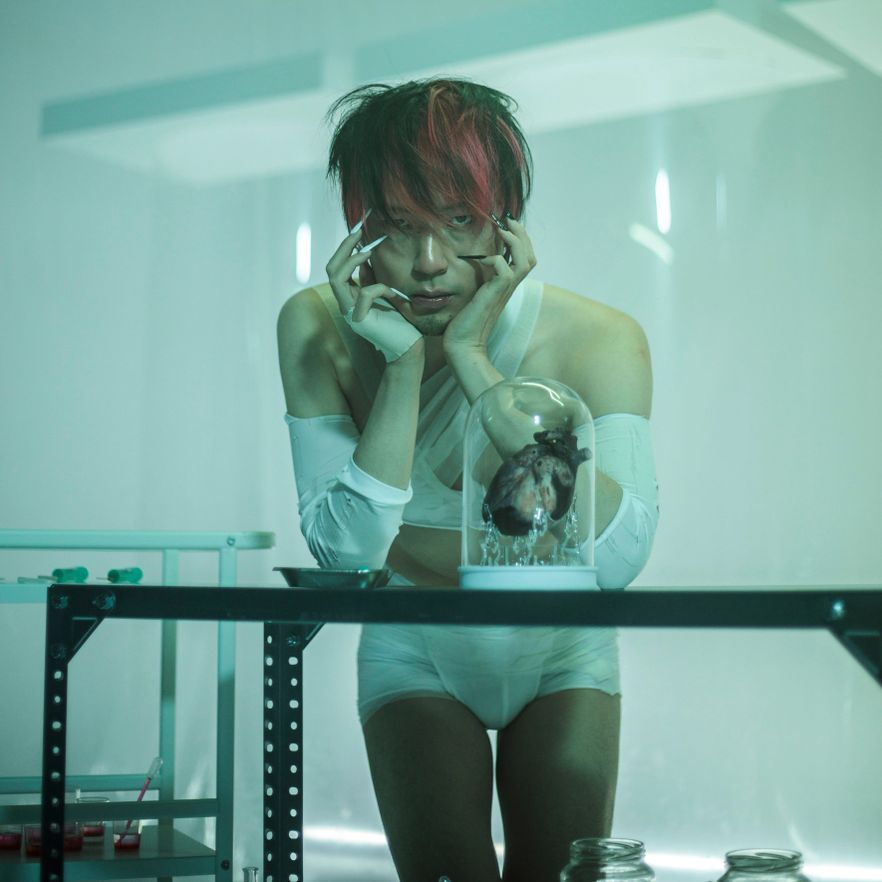 TRACKLIST: 01 DM 02 Chique De Internet


We have been anxiously awaiting news from Chenta Tsai. Yes, there are a lot of expectations about what this limitless and unpredictable artist is capable of doing. At the beginning of 2022, their new album, "JÁJÁ ÉQÚÍSDÉ (DISTOPÍA ABURRIDA)" will finally arrive. Maybe this is the album of a generation, the definitive hyperpop reference, but either way it is definitely going to stir up the music scene in Spain and in so many other places. A release like this needs to be savored little by little, to enjoy it the way it deserves to be enjoyed. And we will explain this new universe that PUTOCHINOMARICÓN has created piece by piece. JÁJÁ ÉQÚÍSDÉ is a fictitious place projected by Chenta that came about as a result of not being able to find a place where they belonged, of feeling like they were "from neither here nor from there", and the desire was born to build a space where they felt like they could be their true defragmented self. That's why we are bringing you a Digital Single with two advance songs, "DM" and "Chique De Internet", where we can see PUTOCHINOMARICÓN's obsessions: the reality of virtual emotions, communication in the XXI century and relationships in a digital world.
"DM" makes it clear that this new album has been cared for and tended to, to the last detail, with exquisite production that is defined by something that significantly characterizes these new songs: a legion of collaborators. In this case, we have RRÚCCULLA, which is to say, Izaskun González and her collection of sounds and blips that here create silky textures that serve a song about a romantic relationship that was formed virtually, with all its uncertainties. And that's where Chenta's genious shines especially bright, their capacity to carve away the excess and describe romantic relationships as they have been redefined in and by this digital world. The stereotypes have changed, expectations move in different environments. And the chorus is pure sugar. "Chique De Internet", on the other hand, dances between high-speed house and hard-core. The digital play is infinite, the sound of the new songs is like nothing else. There are filtered vocals, rap, vocoder, autotune… And the co-production work comes from the London-based DJ, Andrea Guidi, aka UVCORE. Here, Chenta transcends the post-modern esthetic to illustrate the longing of a small mass who are searching for references, who are looking to break away from everything that has existed until now, without looking back, always looking forward. Both songs were mixed and mastered by Ignacio Redard.
And to top things off, we have this spectacular video for DM, directed by our beloved Daniel Cuenca (LA CASA AZUL, THE PERFECT KISS, Soleá Morente, Cristina Quesada ...) with a very unique story. They introduce us to BAOBAE, the phenomenon of the moment, a boyband formed by five bois that goes viral from one day to the next, breaking the hearts of pubescent teenagers carried away by the idea of romantic love. What their fans don't know is that the five bois aren't really human, and are actually industry plants – man-plants built in a greenhouse laboratory by Man A' Ger, a selfish, greedy scientist whose Machiavellian plan is to make the perfect boyband to dominate the world through frequencies emitted in their songs which are generated through a machine called Main-x-treme. Man A' Ger holds the five bois captive, hiding their hearts in a crystal box. And that's all we can tell you; you'll have to discover the surprising end to this story for yourselves.
Come to these new PUTOCHINOMARICÓN songs with your ears and spirit wide open, as well as your heart. There are folx who already embrace them as those songs in which they finally feel represented and identify with them. And to those are just getting here, little by little, your minds will be blown. We are sure of it.