02/06/2017
MODERN COSMOLOGY: The new project from Laetitia Sadier with the Brazilian group MOMBOJÓ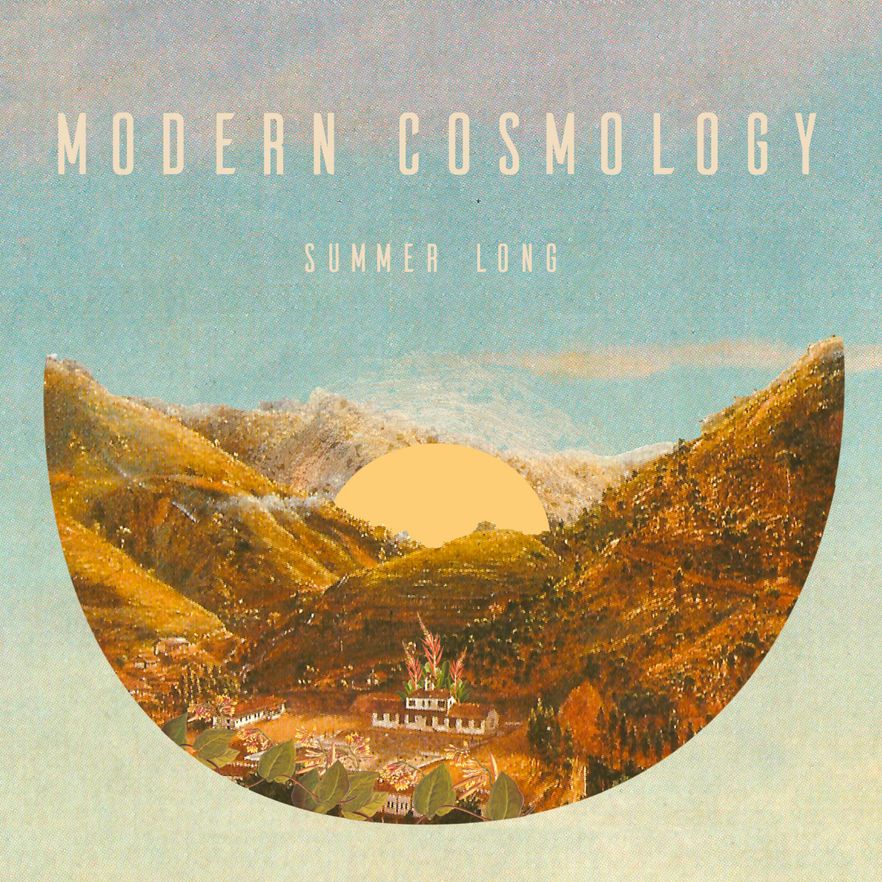 Our beloved Laetitia Sadier is still making great collaborations all over the world, broadening a songbook that is more and more complex but always highly beautiful. Here at Elefant Records we have been lucky to be witnesses to such work, like those with Giorgio Tuma, which were absolutely exquisite, or with Iko Chérie, and which were preceded long before that with appearances with MOUSE ON MARS, THE HIGH LLAMAS, FUGU, COMMON, LUNA, BLUR, ATLAS SOUND and TYLER, THE CREATOR, among many others, in addition to the long list of projects she was fundamental in (STEREOLAB, MONADE, MCCARTHY, UILAB, LAETITIA SADIER SOURCE ENSEMBLE, LITTLE TORNADOS... ). But this collaboration with the Brazilian group MOMBOJÓ, which is what finally brought about this new group called MODERN COSMOLOGY, is different than the rest of the collaborations in a lot of ways. And in order to tell you how this 1000-copy numbered-limited-edition 10" vinyl EP called "Summer Long" came about requires putting several things into context.

MOMBOJÓ started in 2001, in Recife (Pernambuco, Brazil). In 2002, they were already one of the big names on the line-up of the 10th edition of Abril Pro Rock. In 2004 they released their first album, "Nadadenovo", which garnered attention for its influence from the mangue bit movement that started 10 years earlier. In 2006, after signing with the Trama label, they released "Homem-Espuma". The band won two APCA (Asociación Paulista de Críticos de Arte) awards - in 2004, as the best band in Brazil, and in 2006 as the best album of the year ("Homem-Espuma"). Four years later, they returned to the indie world and released "Amigo Do Tempo", and then the following year they released a commemorative album for the group's 10th anniversary called, "11º Aniversário", in which the band re-recorded some of their work and hadNação Zumbi as guests playing "Justamente". They collaborated with people like Tom Zé,Fernando Catatau and Andreas Kisser, among others.

In 2012, our story begins. Laetitia Sadier performed in Brazil and met the band members. In a night of tug-of-war with English, the guys from Pernambuco, irredeemable fans of STEREOLAB, pulled a copy of "Homem-Espuma" – their hardest-to-find album - out of their hat (many still say they don't know where it came from), and gave it to Laetitia to seal the night of magical encounters. Two years later, social media did its thing and worked as a means for the French singer to get in touch with MOMBOJÓ again, and offer them the possibility of singing on one of her songs. The first result, made long-distance, is that dystopian bossa-funk song "Summer Long", which was released on the Brazilian band's 2014 album, "Alexandre".

But it didn't stop there. There is a special connection between them and a two-week artistic residence in a small house at the Aldeia borough of Recife, was proposed. They took Laetitia there to submerge her in a Brazilian musical environment. Avoiding the cold studio environment, they spend two weeks interacting and communicating and this brought about, almost three years later, the appearance of "Summer Long", the EP.

The album opens with "C'est Le Vent", a psychedelic and dreamlike journey that shows clearly the STEREOLAB influence on MOMBOJÓ's music, but with that elegant, syncopated touch of new-wave Brazilian music. "The Source" is disturbing, perturbing, driven continuously by Laetitia's brilliant voice and a dirty guitar, and a pop bridge that breaks the song in two is a straight-up wonder, pushing the song toward that chaotic end.

"Power Of Touch" dives head first into bossa-nova territory, where you can see a special connection between the two parts, with their obvious commonalities, though it was a territory that MOMBOJÓ hadn't entered since their first album, "Nadadenovo". Excitement, melancholy, and feelings of weightlessness arise on this cosmic bossa-nova close to the early duos of Gal Costa andCaetano Veloso at the end of the 60s. Finally, "The Berlin Friend" closes the release, breaking with all the earlier moods, somewhere between funk impulses and garage accents, with the evocative presence of synthesizers, arriving at an impossible merging of OS MUTANTES, NEU!, and STEREOLAB. Slippery structures, overwhelming fantasy and imagination. Highly suggestive.

This is not going to be the only release we are going to enjoy from MODERN COSMOLOGY, because this project feels like it is in for the long-haul. For now, here at Elefant Records, we are really excited to be able to release this EP for everyone, because it is where all of our passions come together: collaborations, Brazil, bossa-nova, pop, psychedelia, vinyl, and of course, Laetitia Sadier.