Biography
Amelia: vocals
Pete: guitar
Kathy: keyboards and backing vocals
Rob: bass
DJ Downfall: drums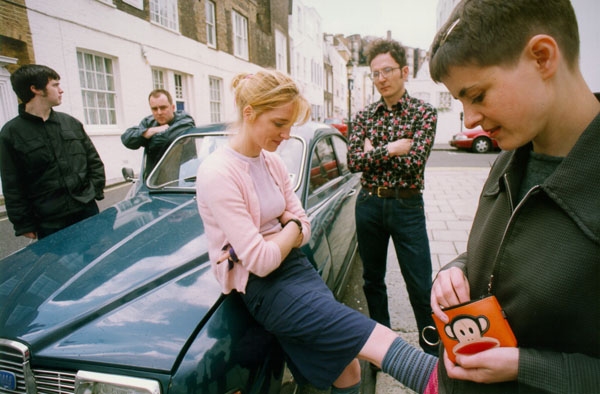 Although England's MARINE RESEARCH formed in early 1998, this band boasts an influential legacy of truly legendary proportions. In the beginning there was TALULAH GOSH, "crashpop" punk rock geniuses of the latter '80's who are widely referenced to this day as one of the 100 most influential underground bands ever. In 1990 HEAVENLY was born, yet another brilliant band instantly claiming extreme ecstatic reverence in the independent rock movement.
HEAVENLY set the standard for blissfully celestial upbeat pop meshed with deliciously harmonic vocal dynamics. After their untimely departure in 1996, underground music endured the loss of a truly original and talented act.
Never fear, because 4/5 of HEAVENLY comprise the revelation that is MARINE RESEARCH, a brilliant new perspective in modern pop music. Nods to HEAVENLY are present, but MARINE RESEARCH harbor an entirely new concept swinging with rich, aquatic clarity. The familiar ring of Pete's guitar chimes through, touches of French pop, subtle sounds which weave, almost subliminally, throughout the seams of their songs. Coupled with the beautifully juxtaposed harmonies of Amelia and Cathy, MARINE RESEARCH evoke the spirited sample-pop of BROADCAST and the colorful canvas of classic STEREOLAB.
"Sounds From The Gulf Stream" is a much more languid, complex, mature approach than anything HEAVENLY or TALULAH GOSH ever produced. MARINE RESEARCH have succeeded in threading a warmly oscillating tapestry of an album, music of immense crystal-clear purity, emulating the image of a lush underwater garden in a tidepool that shimmers with color, texture and mystery.
Elefant Records released the album in Spain, as it had been done with the latest HEAVENLY album and the compilation "This is Heavenly". The band premiered the album in the opening night at Benicassim Festival in 1999, where they shared stage with Elefant band VACACIONES among others. Later on that year they came back to Spain to play a couple of dates: in Madrid they were supported by VACACIONES and LA PEQUEÑA SUIZA; in Barcelona by LOS FRESONES REBELDES, LA CASA AZUL and VACACIONES again.
MARINE RESEARCH don't exist as a band anymore. Amelia, Rob and Dj Downfall have a new band called TENDER TRAP; in 2002 they release their first album, "Film molecules". Peter plays with WOULD BE GOODS.

Elefant discography:
ER-1064 "Sounds From The Gulf Stream" CD 1999
Discography in other labels:
-"Queen B" (single Where It's At Is Where You Are, UK, 1998)
- Split Single with BUILT TO SPILL (K Records, USA, 1999)
- "Sounds From The Gulf Stream" (LP/CD K Records, USA, 1999)
- "Parallel Horizontal" (CD-single K Records, USA, 1999)
Songs in compilations:
- "At the lost and found" en FIB 99 (CD, 1999)
- "Venn diagram" and "Parallel horizontal" in BRIT POP (DOUBLE-CD Arcade, 2000)