Biography
Ali Howard (Vocals)
Andrew Laidlaw (Rhythm Guitar)
Ivor Sims (Lead Guitar)
Paul Atkins (Drums)
Russell Grooms (Bass)
Art Terry (Keys)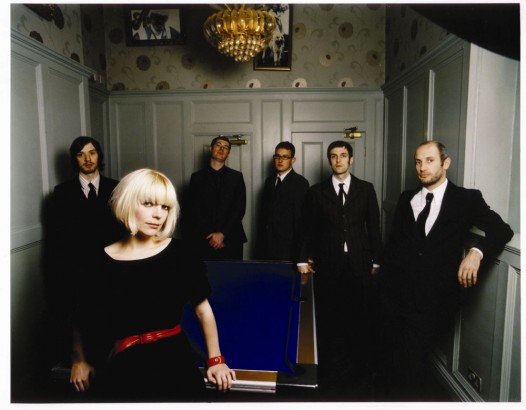 LUCKY SOUL are the most exciting thing to come out of Greenwich since time itself. This much is already clear on the basis of two sold-out limited edition singles, an EP and a series of stunning live performances, all of which have proved incapable of inspiring anything but excited superlative proclamations, whether in the press ("melodies as colossal, memorable and irresistible as a stampede of elephants bearing down on your tent" – The Guardian), on the radio ("what can you give me on them winning the Mercury Music Prize this year" – Colin Murray, Radio 1), on the blogs ("I personally am going to carry it around with me everywhere I go, and every now and then sneak a peek to check it wasn't all some kind of fantastical dream") or from your cabbie ("I like this - it's proper music").
But who are they? What do they do? Are they surfing the crest of some hipster krautrock revival? Are they ratcheting up the new rave fad by (yet) another notch? Are they experimental folk, or jazz-metal? Do they do minimalist electronica, toytronica, punk rock, alt-core, lo-fi or mid-core? No! Actually, what LUCKY SOUL make is a kind of pop. But pop, that is, in the original sense of the word – timeless, magic songs that are soaked in that strange musical version of déjà vu that mixes the elusive sense of "haven't I heard this somewhere before?" with the tricksy ability to burgle memories of certain times and places, when life is sweetly bitter (or bitterly sweet). They're the soundtrack to a pointless crush, or what comforts you as you wave goodbye through the train window on the 14.36 from Stockport to Euston, or the thing that gives you the guts to go and ask someone you've never seen before for a phone number (then shrug and get on with life if coldly rebuffed).
Based in Greenwich, LUCKY SOUL are fronted by the beautiful Ali Howard whose voice, with its interplay of fragility and power, brings to mind Sandie Shaw, Dusty Springfield, MAZZY STAR's Hope Sandoval and THE RONETTES' Veronica Bennett. But it is guitarist and songwriter Andrew Laidlaw's persistent faith in his art – and his ear for a direct, shimmering, irresistible melody – that is winning them their growing army of admirers, THE RAVEONETTES' Sune Rose Wagner amongst them.
2002
In 2002, Andrew was based in Glasgow, working nights as a supervisor in a sound engineering college. When no-one else was around he'd use the space to develop what would become central to the timeless and starry-eyed LUCKY SOUL sound, staying up for days on end writing songs, perfecting them – or rejecting them. He started working with drummer Nathaniel Perkins (the pair had originally met at Liverpool's Liquidation clubnight while at Uni, "the only club for miles around where you could escape banging house and actually listen to some decent old sixties stuff"), got a new job (dishing out 99 Flakes at a family-run ice cream shop) and began what was to be a 2-year period of incubation, performing and rehearsing his compositions with a prototype of today's band.
"It's soul music by small town dreamers who don't pretend to come from the Deep South," he says. "Beautiful and self-effacing, bittersweet. Like romance, it seems superficial but runs deep. It doesn't try to be clever: your guts aren't clever."
2004
It was towards the end of 2004 that LUCKY SOUL began to come together in its final form. Young guitarist Ivor Sims was recruited after Andy witnessed him cutting deftly through the middle-aged "hell" at a blues jam at the Spice of Life pub in Soho. Then, in a dramatic twist worthy of LUCKY SOUL: the Unofficial Biography, the original singer and bassist fell in love, had a child together and ran away. After four months of searching far and wide without success, a replacement bassist was found in the form of serial Brighton mod turned nurse Toby Fogell who, in the classic tradition of that-which-you-seek-being-right-under-your-nose, was the boyfriend of one of Andrew's friends. Meanwhile Ali Howard, who has since been described by the London Lite as having "the kind of presence that BLONDIE once possessed." was discovered in the pop psychology department of a well-known bookshop and made a perfect fit as frontwoman shortly afterwards. Towards the end of the summer of 2006 Malcolm Young, a friend of Toby's was brought in to play keyboards, the line up was completed.
2005
The summer of 2005 saw LUCKY SOUL swoop onto the live circuit to sparkling effect, rapidly gaining a reputation for immaculate, emotive performances that had the audience's hairs standing on end and, as the year moved on, singing along word for word.
2006
By the turn of 2006 they were being flown to Bangkok for single festival appearances where they were greeted like superstars (and served food pierced with LUCKY SOUL flags) and as the year went on they were approached to sign recording deals in places like the US, Japan, Australia, Germany and Sweden and a publishing deal with a US-based major. These first releases, meanwhile, have been put out on their own label, whose backers include a farmer and a powerful TV mogul, and is run by members of the band.
In summer 2006, they embarked on a lengthy studio hiatus with a producer by the name of George Shilling, who has also worked with BLUR, PRIMAL SCREAM and Bernard Butler.
2007
They have re-emerged with what could well end up being regarded as one of the finest independent pop albums of recent history. It's called 'The Great Unwanted' and was released on April 2007.
Discography in Elefant:
ER-1127 LUCKY SOUL "The Great Unwanted" CD (April 2007)
ER-1149 LUCKY SOUL "A coming of age" CD Digipak (April 2010)