Biography
Ibon Errazkin is one of the most creative, influential and respected names in the Spanish independent world. He's an exquisite guitarist and songwriter, and he's also worked as composer and arranger. Although he's mainly known for his work fronting one of the best Spanish acts of the nineties, the San Sebastian based five-piece LE MANS.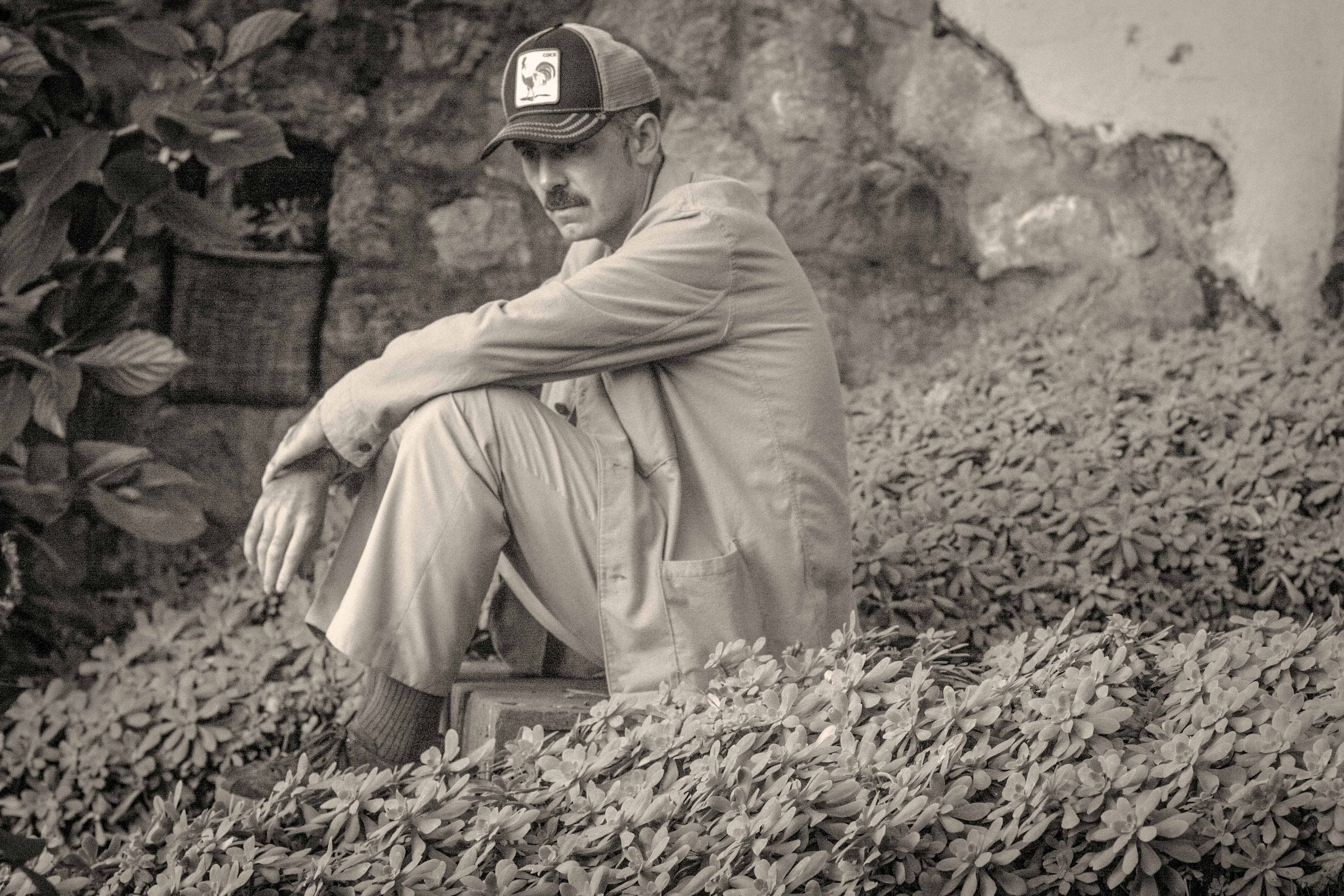 Ibon started his career in AVENTURAS DE KIRLIAN, a band that obtained a mythical status in Spanish indieland. Their eponymous album, released in 1989, turned out to be one of the most influent records in the last decades: their trail can be still traced in many of the new Spanish pop outfits.

Afterwards the band would change their name to LE MANS, and they would start a long and fascinating career, releasing four sensational albums: "Le Mans" (1993), "Entresemana" (1994), "Saudade" (1996) and "Aquí vivía yo" (1998); all of them overflowing with coherence and good taste. In LE MANS' music -mainly acoustic and relaxed- you could trace elements of jazz, Brazilian bossanova and tons of elegance, in a moment when those ingredients were not as easy to find in pop music as they are today. But the real outstanding thing in LE MANS was their ability to create a new thing out of these influences, always avoiding to being a mere copycat of their idols. They were also the first ones in Spain to make dance remixes of their songs, as the 1995 mini-album "Zerbina" testifies. In any case, their music was most of the times based on the gently strummed moods of Ibon's guitar.

Unfortunately the band split in 1998, just when their name was beginning to sound more than familiar to pop aficionados, not only in their country: their albums were released also in Japan and the States, obtaining enthusiastic reviews and becoming probably the best known Spanish band all over the world in the nineties.

Despite LE MANS being Ibon's main project during the last decade, we shouldn't forget to mention his many other musical activities: between 1990 and 1996 he fronted DAILY PLANET, an instrumental outfit with many influences from bands with a fragile sound, such as FELT or ORANGE JUICE; formed by members of LE MANS and LA BUENA VIDA, they released two EP's ("Vacaciones en Roma" in 1993 and "Rollerball" in 1994), a 10" ("Calypso", 1995) and a CD/LP ("Romance", 1996) before they split up.

He's also, along with Javi P3z, a half of INSTRÜMENTAL, a project more oriented towards experimental dance-y music with records published on the Novophonic label between 1994 and 2000 (a 12", "Is taim", and the single "All shück up") and collaborations on the 12" "Jonathan Jeremiah" by LE MANS (remixing "Lucien") and the compilation "Café Bizarre" (with the song "Lección 47"). Their first EP ("Ües time") was chosen EP of the year by Rockdelux magazine. In 2004 the label Üm released a CD-R by Instrümental titled "MiSiSolReLaMi6".


Besides, Ibon included a song ("Expo Tenerife") in Mike Alway's prestigious "Songs for the Jetset" compilation, under the moniker SOUTHAMERICAN GETAWAY.

With Javier Corcobado and Ana D he produced the debut album of the latter, "Satélite 99" (1997), in which he also took part as musician and composer; in fact, his guitar is more than present throughout the whole album. He accompanied Ana D as a guitarist in her first Stateside tour in October 1999. We must also say Ibon produced the last album by Carlos Berlanga, one of the most respected and popular pop composers in Spain, and he did the same with the third album by all-girl band NOSOTRÄSH.

2000

In May 2000 Elefant Records released Ibon Errazkin's first solo album, in which he gets far away from the sound we were used to expect from him in the LE MANS' years. Instead, he offered a completely instrumental album featuring a lushy cocktail of influences, as varied as attractive: reggae, New Orleans music, country, rock or even hip-hop, though all these styles are only starting points from which Ibon creates new and original music.

2001-2002

A vinyl single including two new songs ("Ikastola" and "Sequía") is out on March 2001. The sleeve features Ibon accompanied by Teresa Iturrioz, writer of LE MANS' lyrics. Meanwhile, Ibon is busy writing the score for a film called "Gente pez", directed by Jorge Iglesias. He visited Buenos Aires (Argentina) in October 2000 (accompanied by Teresa) in order to promote the release of "1993-1998", a LE MANS compilation put out by Argentinian label Indice Virgen.

In June, Ibon composed a twenty-minute music piece for the installation "Telón 20" by artist Alvaro Machimbarrena, presented at the Festival Plaza at the Kursaal (Donosti) and unreleased to this date.

In the summer of 2001 "Gente Pez" is premiered. The original score of the film has been written by Ibon. This music is released on CD by Pias Spain in November 2001. The album is formed by a collection of very short pieces moving in very different directions, quite apart from the ones shown on the album "Ibon Errazkin".
In 2002 he also wrote the soundtrack for the short film "Barro", by José R. Maniega, and in 2003, the soundtrack of another short film, "Amigo no gima", by Iñaki Peñafiel.

Also in November, Ibon collaborates in an album by FANGORIA, a Spanish band led by Alaska, very famous singer and media star. On this album Ibon plays guitar in "Déjame llorar", a song composed by himself and Teresa Iturrioz.

Ibon spends December 2001 writing songs for his second album and producing the new album by Spanish band NOSOTRÄSH; meanwhile, Elefant releases a compilation of AVENTURAS DE KIRLIAN, Ibon's first band.

Ibon is also an excellent Dj. His datesthat year included a session along with Carlos Berlanga in Barcelona's Mond Club, and an appearance in Socarrat Festival in August 2001.

On September 2002, Ibon starts recording his second album, "Escuela de arte".


Ibon Errazkin's unmatched wide musical culture, imagination and sensibility are all present in this record. All the tracks were written by him except "I come stand at every door", by Turkish poet Nazim Hikmet, which was recorded by THE BYRDS for their "Fifth dimension" album; and we must also mention the track "Up against the wall", inspired by the eponymous song that DAVID PEEL AND THE LOWER EAST SIDE included in their album "Have a Marijuana".
"Escuela de arte" bears a coherence that reveals that this record was meticulously conceived down to the last detail; months of hard work and very clear ideas hide under the disguise of simple "jams". The album was recorded in different sessions, between September 2002 and January 2003. The contributors to the recording are well known musicians from the Spanish underground scene: Murky (guitar) and Guillermo Monje (drums) from PATRULLERO MANCUSO; Olaf Ladousse (bass and doo-rag pedals) from SOLEX; and Antonio Galvañ (piano and synthesizer) from PARADE.
2003

"Escuela de arte" is finally released in May. The front picture and the sleeve design are by Javier Aramburu, who has designed all his works since AVENTURAS DE KIRLIAN.

Text written by Sergio Delgado [sound engineer during the recording and mixing of "Escuela de arte"]:

"After a pretty hard season of work, during which I hadn't bought any records, I called my friend Rocky to ask him about new releases. He recommended the first solo album by Ibon Errazkin. I never had LE MANS as a reference name, so I was slightly wary when buying the album; but when I listened to it I was pleasantly surprised. I found out a new sound that I had been searching for a long time, and above all, some fresh air came to my ears. I listened to it many times, and I found new sonic textures in every new listening. No doubt I really liked that album.
I first met Ibon in 2001, while working at Eurosonic, when I was assigned the recording of the soundtrack of "Gente pez". Throughout three weeks of intense nightshift work I had the chance of getting closer to Ibon's particular musical universe: quiet and gentle, but also intense and complex. When this work was over, Ibon offered me the recording of his new album. I obviously agreed, and that's how I got involved in Ibon Errazkin's second album, which is what I was wishing somehow.


When you start working on the sketches of the songs for any album you always have a certain idea of how it will end up sounding like. That's not the case with Ibon. Each track comes to life and escapes any external control except Ibon's. l wonder how he manages to organize so many elements in his mind, elements that apparently have no relationship among them. The truth is, when the mix is over everything makes sense. As an example: one of my favourite tracks, "City Vips", contains so many different things that it can surprise you in every new listening, and I'm saying this after having listened to it for more than a hundred times, no kidding. When we were giving the mix its final touches I kept on finding something new, and I perfectly knew all that was into the song.


"Los Pasatiempos" is another personal favourite, minimal pieces full of sense. "Rock de las Aves del Paraíso" takes me to the North of Africa without using any African instruments at all. I could tell thousands of different sensations drawn from each track, but I think this work will reveal very different sensations to every listener, and this can't be said of too many albums, my friends. To sum up, I'm really proud of having taken part in this album, and I hope this can be appreciated in the final result. Sergio Delgado."


2004
Ibon also does brief instrumental passages to be used on TV commercials. He has composed original music for Ikea, Bimbo, Terra, Gas Natural, etc.
On the compilation "La legaña sinfónica", released by Spanish label Alehop! (directed by Murky, his guitar player), Ibon remixed the song "La doble", originally by SOLEX (Olaf's band). INSTRÜMENTAL are also featured on this comp with the song "Mi".


"Spanish Trojan Sound Box" is a compilation featuring 25 Jamaican jewels chosen by Ibon and Kurando (internationally renowned Japanese DJ, specialized in reggae, dub and raggamuffin). Both started sporadically djing together in a club session at Babylon on thursdays that became a classic of the Madrid nights.

In June, Ibon wrote a 47 minute music piece ("5 Km/H") to be listened to every evening during the month of June in Madrid's Huertas street, as a part of the "Photoespaña in the streets" section of the PhotoEspaña festival.


2005

Teresa Iturrioz from LE MANS has come back to the limelights with a new project named SINGLE, for which she has the invaluable help -as composer, producer and arranger- of Ibon Errazkin, although he's not a part of the project but prefers to stay behind the curtains.

In October comes out "Su recuerdo", the second EP by SINGLE. Again, Ibon is in charge of writing, producing, arranging and directing the recording.