Biography
HELEN LOVE is one of the bands who have better used the pop aesthetics and the fascination we all have for the colourful icons in pop culture, and we love them for that. We love them since they came out more than ten years ago, when the riot grrrl sound was going on strong, with their first single and their tributes to Joey Ramone. The three girls from Swansea (lead by Helen herself, of course) were going to split up after they released the first single, but here they are (around twenty singles and four albums later), turned into one of the sensations of the international underground punk-pop scene. Purveyors of catchy melodic candies, exploding disco-indie-punk cut'n'paste, HELEN LOVE have been favourites of John Peel and Joey Ramone (who even invited them to play in New York, and to sing with him on one of his solo albums), their songs have been covered by ASH (they have even played with Tim Wheeler on a Peel Session) and they've been supported since they started by Everett True (Melody Maker, CTCL, Plan B).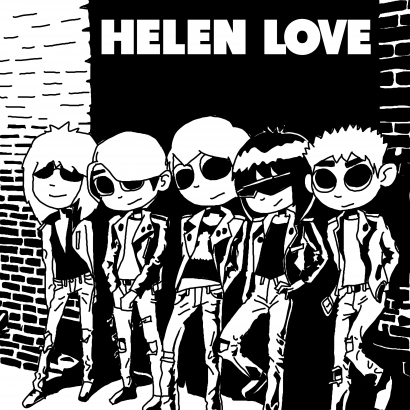 2006

Their relationship with Elefant began with a single in two formats: CD-single and 7" vinyl (pop music's own format); both in limited editions and luxury packagings (CD on digipack and pink coloured vinyl).
On this single HELEN LOVE came up with three wonderful songs: infectious bubblegum-pop for fun and all-night dancing. "Junk shop discotheque" is a glam-rock, punk-pop bomb with a disco flavour and vocoder vocals (with echoes of Suzi Quatro, DENIM and LA CASA AZUL), which will fill up dancefloors all over the globe. Even more frantic dancing is found on the remix of "Debbie loves Joey" (a love story between Debbie Harry and Joey Ramone, the original version of which appeared on the "The bubblegumkillers" EP, which was released on American label Sympathy For The Record Industry), whilst "Shut your mouth", the third song that completes this fantastic single, is a powerful melodic, guitar-pop pill.
The cover on the single is by Punk Boy Jamie (who is usually behind the band's characteristic and immediately recognisable artwork, and their website, too), and the three songs have been mastered by Xavier Alarcón to guarantee you the best possible sound.
After the release of this exclusive single, the news we got at the end of 2006 was much more important: HELEN LOVE sign to Elefant Records!
2007

Many months have passed ever since HELEN LOVE was signed onto Elefant Records and put out their first single on our label and the endless waiting for the arrival of new songs has been far too long for the group's fans. We have anxiously awaited for this moment and are finally able to announce the release of the new single, a splendid and explosive appetizer of the imminent brand-new album, "It's My Club and I will Play what I want to", the fifth album of their musical journey, which will be out at the beginning of 2008.
"It's My Club" (the new single and the tune which will open their full-length) is an absolute hit and a declaration of principles which perfectly define the spirit of HELEN LOVE; Bubblegum-indie-punk-rock-disco fast and catchy; a boundless night dancing under the stars until sunrise in a dreamy club with amazing dance floors, gigantic video screens (with the RAMONES live in 1976, of course), laser rays, strobe lights, multicolour light shows and the best pick of music, courtesy of our hostess Helen, just to enjoy the magnetism to the fullest on a great summer night in a special Club. Two exclusive songs are also included on this special limited edition single; "Boots On" with a tribute of the classic late 70s song "Video Killed the Radio Star" by THE BUGGLES and "Jennifer Hanley" a rock star which every adolescent kid on the planet dreams of. In short, three excellent songs of pure punk-pop which demonstrate the exclusive and singular universe of HELEN LOVE, an authentic pop feast, a colourful world of eternal youth.

2008

On January the album "It's my club and I'll play what I want to" comes out. Guille Milkyway [LA CASA AZUL] is one of their most unconditional fans and he writes the promotion text :
"I will never forget the interstellar high I got when I first bought and played "Punk boy" by HELEN LOVE, their third single, on my record player. The first time the needle made contact with the single, it became my single of preference of all time. Although this was more than 10 years ago, it's still my favourite. I finally discovered what it was like to not be alone in the world knowing that there were other people out there who understood punk, who "got" the RAMONES, who appreciated bubblegum the same way that I did and would never want it to cease to exist. Each and every HELEN LOVE album gives me another chance to experience this instant euphoria over and over because their albums still tend to be the best albums of the year. The new songs could all possibly be immediate classics. Jam-packed with colourful pop icons and brilliant endless nostalgic memories of the history of pop: 60's bubblegum pop personified, the omnipresent Joey Ramone, a tribute to "Jet" by the WINGS, referencing Rodney Bingenheimer and countless others. The product has scintillating melodies, poetic fun, biting guitars and playful synthesizers. Although it sounds like such a cliché, I must say that the new HELEN LOVE album sounds just like HELEN LOVE. Without a doubt, this makes the latest HELEN LOVE release, my album of the year".
2009

We're in luck - HELEN LOVE are back! Our favorite Bubblegum-disco-punk group is better than ever and they have a splendid collection of new songs that half the planet is going to go crazy over. The single "Calm Down Dad" is pure energy, catchy indie-punk-pop that talks about the differences between a father and his daughter. She wants to have fun, go out at night, sleep with a boy, dress up like a vampire without being looked at strangely at home, travel the world, try new things and even sing like Kate Nash, but with a more working class accent. Like a mix between Jilted John and THE WAITRESSES, on this limited edition, orange colored vinyl single HELEN LOVE jump from punk to pop to indie, with realist, sarcastic and fun lyrics. The melodies are as sweet as candy, but an orange flavored candy that's as bittersweet as real life.
The single is finished off with two fast-beat, punk-pop songs. "John Peel Roadshow" talks about how to work up enough courage to give your demo to a radio show host. HELEN LOVE, loved and supported throughout the years by John Peel, recorded a "Peel session" in 1997, which was, for them, one of the high points of the group's history, as was the summer afternoon on which John Peel, after playing "Does Your Heart Go Boom", said with a sardonic laugh, "That's HELEN LOVE... the sarcastic bastards"'. "Candeelips" closes with a sweet story about a boy with the sweetest and most desired lips in the neighborhood!!!
"Calm Down Dad" won the Rebel Playlist on Steve Lamacq's 6 Music show!
2013

01/07/2013

HELEN LOVE: "Atomic" advance single from their album "Day-Glo Dreams"
22/07/2013

HELEN LOVE: "Day-Glo Dreams" Album That advance single "Atomic" already let us in on the secret: HELEN LOVE's new album, the sixth in their career and their second on Elefant Records, is new proof of their almost insultingly youthful energy, this time with a special focus on synth-pop. The almost six years we've had to wait to be able to enjoy a new full-length have been totally worth it to get to "Day-Glo Dreams". The album makes their personal, unmistakable style more and more their own, mixing punk attitude (Joey Ramone will always be in their hearts), bubblegum melodies, and disco-dance rhythms.
2014
01/09/2014

HELEN LOVE: Release "Pogo Pogo", a limited-edition, red-vinyl single [1-9-2014]
Here at Elefant Records, we are absolute fans of HELEN LOVE, and it's no secret. It's n...