Biography
Carlos Andreu: vocals, bass, drum and keyboard programming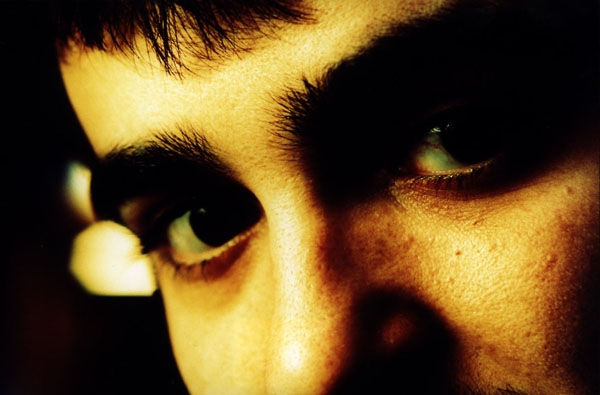 Carlos Andreu is the vocalist and main composer in GASCA (in fact that is his second surname). Before that he had been part of a lot of bands, playing guitar or bass. He was always quite unsatisfied by the results, so he started composing alone, with his computer, songs like "Estratosfera" or "Mal Ladrón". His neighbour David Rodriguez (BEEF, TELEFILME) encourages him to send a demo tape to Elefant, and the label gets enthusiastic about his music.
Carlos confesses himself a fan of eighties techno pop, and his favourites are OMD, DEVO, NEW ORDER, HUMAN LEAGUE, not to forget the much name-dropped KRAFTWERK. His two favourite albums are THE BEATLES "Greatest Hits Vol II", and THE CURE's "Staring At The Sea".
Next step is the recording of his first CD-Single, which took place on February 99, produced by Pere Boada, who has worked with many Spanish bands like BEEF, LOS FRESONES REBELDES o TELEFILME, just to mention some of them.
The record would be finally released on May 99, under the title of "Estratosfera". At that point GASCA has turned from a solo project into a band of four members, with the addition of Frank, Oscar and Francesc. The release would coincide with GASCA's first gig in Madrid, which turned out to be his first ever live appearance. He plays with a band including guitars, keyboards and even a brass section.
The band hasn't played too much live yet, though there are some gigs to mention, specially two supporting British act POLAK (ex-ADORABLE) in Madrid and Barcelona, and at appearance at BAM Festival in Barcelona.
GASCA releases their first album, "Telescopio", in March 2001. It features new renditions of old songs like "Estratosfera" or "Nube gris" plus some brand new tracks, like "El barco que describes" , "Lugar soñado", "Nunca vas a volver" or "Vacaciones"; a video of the latter is shot by Les Nouveaux Auteurs. Some songs are enriched by female vocals, in contrast with Carlos' deep vocals. The band play several gigs in Spain to promote the album, including a live gig for Spanish TV Channel 2 and a support act for DAMON AND NAOMI in Barcelona. In August 2001 they play in Benicassim Festival. In March 2002 they play in Otros Mundos Pop Festival in Leon, with local band GALÁCTICA.
On summer 2002 they play in Madrid's Siroco club with NIZA and ELLOS, as part of "Operacion Bikini" gig series. On July 2002 the song "Nube gris" is included in a compilation from Phillipines called "I'd spend my day with you"; the comp features songs by THE CHERRY ORCHARD, CLUB 8, TREMBLING BLUE STARS, BIRDIE, THE CROONER, MY FAVORITE...
Discography:
ER-319 "Estratosfera" Cd-Single 1999
ER-1078 "Telescopio" LP/CD 2001
Songs in compilations:
- "Mal ladrón" in VERANO DEL 99.-(CD, ER-1062, 1999)
- "Viaje entre los pubs" in ELEFANTDIEZ. (CD, ERDL-001, 1999)
- "Lugar soñado" in ELEFANT DOSMILUNO -(ER-1083 CD 2001)
- "Vacaciones" In FIB 2001 (CD 2001)
- "Nube gris" in I'D SPEND MY DAY WITH YOU (CD Phillipines 2002, with THE CHERRY ORCHARD, CLUB 8, TREMBLING BLUE STARS, BIRDIE, THE CROONER, MY FAVORITE...)
- "Mal ladrón" in LOOKING FOR CHENCHO B.S.O. (PIAS CD 2002)
- "Vacaciones" in ELEFANT 2002 (CD Suave, Mexico, 2002)