Biography
FUTURE BIBLE HEROES began with the fortuitous meeting of Stephin Merritt and Chris Ewen on a miniature golf course in the late 80's. They formed a bond through their mutual love of chanteuse Yma Sumac, composer John Cage, and the collecting of exotic instruments and Tiki art. After many years of friendship and musical rapport, the duo bring forth their first album together, "Memories of Love."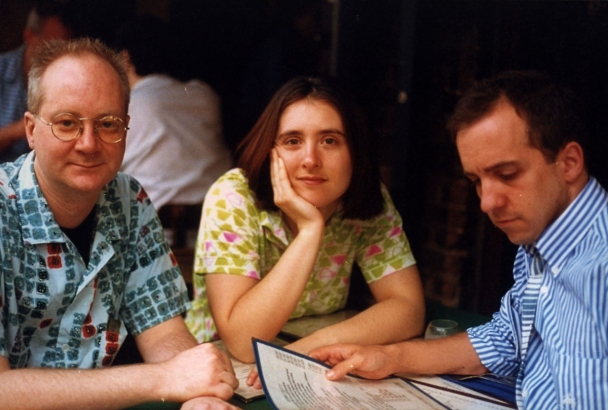 "Memories of Love" may be their debut as a pair, but Merritt and Ewen individually are established musicians. Merritt is the ringleader of the magnificent pop band THE MAGNETIC FIELDS and also the all-star band THE 6THS (featuring Lou Barlow, Amelia Fletcher...), and Ewen is the former keyboardist for the 80's alternative rock band FIGURES ON A BEACH (Sire Recs). After that band dissolved, Ewen focused more strongly on composing in his home studio. At night, he studied all the forms of dance music by working as a DJ at a prominent Boston, Massachusetts, club, and soon became an aficionado of all styles from 50's lounge to 90's synth-pop.
FUTURE BIBLE HEROES is the fruitful product of Ewen's exotic electro-pop instrumentation, replete with samples ranging from Hawaiian birds to computer printers, overlaid with Merritt's exquisite pop songwriting and brilliant, often humorous lyrical style.
Vocals on "Memories of Love" are provided by Merritt, whose somber baritone is also to be heard on three of the five MAGNETIC FIELDS albums, and Claudia Gonson, a mutual friend of the boys, whose high flutey vocals offset Merritt's low Leonard Cohen-esque style. Departing from her usual behind-the-scenes role of band manager and MAGNETIC FIELDS drummer (and live drummer with the HONEYBUNCH), Gonson joins the FUTURE BIBLE HEROES to embark on the multifarious career path of pop singing.