Biography
Isol: vocals
Sebastían Carreras: songwriting
Gabriel Lucena: programming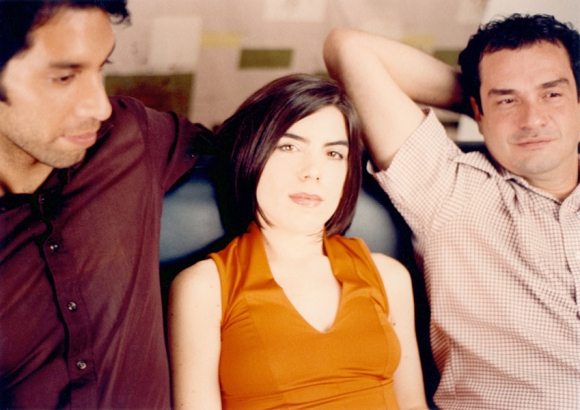 2000

During many months that year, Argentina is extensively featured in the news due to the chaotic and extreme situation the country is going through. Meanwhile, this three-piece from Buenos Aires called ENTRE RÍOS sent us a gentle sound postcard, a collection of placid, delicate songs; music to dream to with your eyes wide open.

ENTRE RÍOS (literally "between rivers", but also the name to an Argentinian province) is formed by Sebastián Carreras, Gabriel Lucena and Isol. Sebastián is the owner of indie label Índice Virgen; through it, Argentinian audiences have managed to know some Elefant bands such as LE MANS or Ana D. He writes the songs and the lyrics. Then Gabriel (who works as a sound engineer for a living) transforms the songs into awesome electronic landscapes, full of ideas and extreme good taste.

To top it all, Isol incorporates her ethereal, hyper personal vocals, and a very attractive Argentinian accent (or, as their debut album title implied, her "soft language"). She is involved in different artistic activities, like writing children stories for Mexican publishers or working as an illustrator for big Argentinian newspaper "Clarín"; she's also a lyrical singer, though she moves in a purely pop context while in ENTRE RÍOS. Her sweet, unaffected moods could remind us of Spanish sixties folksinger Jeanette but there's something in her mysterious, distant tone that is really distinctive: there's no use trying to compare her to anyone else, we'd better surrender to her natural charms.

Sebastián and Gabriel started working together under the name of TUS HERMOSOS and released a CD entitled "Anatomía de la melancolía". Meanwhile, Sebastián met Isol and invited her to sing in "Dame", a song that would be released as TUS HERMOSOS but would really mean the end of that band and the beginning of ENTRE RÍOS.

Índice Virgen released two EPs by ENTRE RÍOS, which were acclaimed by the media in Argentina as a really innovative, singular offer, being placed on top of the avant-garde pop scene of their country. The band's very peculiar conception of live shows is an amazing surprise as well: on stage, Sebastián and Gabriel play no real instruments but mix the different tracks that form the song, just on the spot; by proceeding this way, every new show provides new, everchanging versions of the songs; over them, the live vocals of Isol prove to be as mesmerizing and haunting as on record. There is no silence between songs; they blend one into the other, as in a DJ session.
2001

In March, Elefant releases "Litoral", a seven inch single for the now legendary Elefant's Single Club. This brings the music of ENTRE RÍOS to many new audiences; among them, BBC Radio One's DJ John Peel, who played their music several times.

2002

"Idioma suave", the debut album by ENTRE RÍOS, is formed by thirteen songs that show the band's talent at its very best. A true display of elegance, personality and beauty. The visual aspect of the album is equally stunning, thanks to the wonderful design work by Javier Aramburu.

In November, ENTRE RÍOS visit Spain to showcase the songs from "Idioma suave", also advancing the new material that would appear in "Sal", their second album. These gigs were an absolute success of attendance. The Spanish crowds enjoyed their electronic and delicate pop as well as Isol's charming voice. Two thirds of the band visited Spain: Sebastián (on acoustic guitar and programming) and Isol (on vocals). Their shows were extraordinary and exciting, with an acoustic first half, only with guitar and vocals, specially prepared for these gigs in Spain, and a second part, more electronic and closer to the kind of shows usually offered by the band. ENTRE RÍOS played at the Madrid, Barcelona and Valencia FNAC stores, and along with NIZA, in one of our Elefant parties at Barbarella Club in Madrid.
The video clips for "Si hoy" and "Sirenas", both songs to be included in "Sal", were shot during their stay in Spain. Indie film studios Entre Líneas produced both videos.
2003

In April, Elefant releases "Sal", which boasts an impeccable production work that almost organically joins pop songs with electronica, an increasingly important aspect of their creative methods. This produces an album full of wide registers, in which there's plenty space for sweet melodies and placid pop voyages, as well as a clearly electronic and avant-garde language. ENTRE RÍOS had created an album of electronic and emotional music, but with their eyes set on a pop horizon without having to lose the fantasy language that appeared on their first album, "Idioma suave". Once again, the cover design is by Javier Aramburu, as inspired as usual.


The Argentinian edition of "Sal" is chosen among the best five albums released in 2002, according to Rolling Stone magazine (Argentina).

In September the band flies back to Spain to play at the Lemon Pop festival. During this stay, they also record TVE-2's and Radio 3's live concerts (broadcast on October 1st) and Telemadrid's La Otra Unplugged. They also played gigs at the premiere parties of the Elefant MODAPOP compilation, at Madrid's Clamores Club and Barcelona's Mond Club, along with NIZA, LA CASA AZUL, CAMERA OBSCURA and LES TRÈS BIEN ENSEMBLE.

2004

By the end of the year they include their song "Litoral" on the CD compilation that goes along with the book "Curvas Peligrosas", a compilation of drawings and comic strips by renown Argentinian author Maitena. On this record she chooses the music she likes to listen to when she's drawing, and ENTRE RÍOS share this honour with such artists as Ana D, Juana Molina or Axel Krygier.
Taiwan's Avant Garden Records release "Idioma Suave", joining Darla Records in releasing the band's music in other territories. Darla had already released both "Idioma suave" and "Sal" in the United States.

2005

Mexican label Zafra Música releases a compilation of the band's first stages, and the band travels to Mexico to promote this release with a tour.
Canadian label Endearing Records releases a split single by ENTRE RÍOS and American band MY FAVORITE, within their Intercontinental Pop Exchange series. This series is about split singles joining artists from different countries playing similar styles, as is the case with ENTRE RÍOS and MY FAVORITE. Other artists featured in previous deliveries of this series have been SPEARMINT, THE LESLIES and ORWELL.

"Onda", third album by ENTRE RÍOS, is released on May 30th, again with a beautiful cover by Javier Aramburu. "Onda" will be released at the same time in Spain, Argentina (via Índice Virgen) and the USA (via Darla Records).

By the end of summer, the band suffers an internal change: Isol leaves the line-up, being substituted by new vocalist and keyboard player Paula Meijide.

The quarterly magazine MINIInternational, published by the MINI car model company as a branding effort, showcased the city of Buenos Aires in their latest issue of 2005. This issue number 18 came out with a CD, the first song of which was "Solo sonaba", taken from "Idioma suave" by ENTRE RÍOS.


Elefant discography:
ER-234 "Litoral" Single, 2000
ER-1099 "Idioma suave" CD, 2002
ER-1103 "Sal" CD, Abril 2003

Indice Virgen discography:
IV-012 "Litoral" CD-Single, 2000
IV-019 "Temporal" CD-Single, 2001
IV-021 "Sal" CD, 2002

Songs in compilations:
- "Si hoy", in MODAPOP (CD ER-1094, 2003)
- "Un poco de sed", in MODAPOP (CD ER-1094, 2003)
- "Pasa por mí", in MOMENTOS PERDIDOS (CD ER-1115, 2004)
- "Litoral", in MAITENA, Curvas peligrosas (CD, 2004)
- "Si fuimos", in THIS IS MY COUNTRY (CD JAB 2029, 2004)