Biography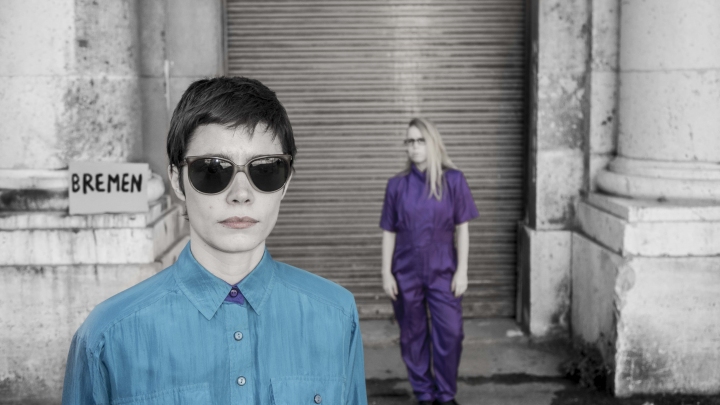 2015
25/09/2015

DIE KATAPULT: Release their debut album "Kristall Reinheit", a 10" Mini-LP for our vinyl collection "New Adventures In Pop"
A quick listen to the debut Mini-LP by DIE KATAPULT quickly places this duo in the outskirts of Berlin. The war-like quality of their sound and the roughness would make us think so, but if we pay just a little more attention, there are melodies that don't fit in so easily with that profile, and there are small sparks of a sonic, acidic, dirty sense of humor that promises that there is something more going on here. If we look at the credits on this this 10", 500-print limited-edition, white vinyl, we understand the secret of this new New Adventures In Pop release. DIE KATAPULT is a Spanish-Swedish duo based in the Sants neighborhood of Barcelona, formed by Anna Fredriksson (vocals, vocoder, and keyboards, and also of LOS GANGLIOS) and Elena Comas (voice and bass, and also of NELEONARD). And we've had to coin a new term to define their music: Mediterranean kraut-pop.
But let's take this one step at a time, or better said, one song at a time. "Braun" is the color of humbleness, of opening, of KRAFTWERK playing in the background, and why not, of OVIFORMIA SCI making their presence felt in the attitude.
"Schweinsteiger" could jump right onto a STEREO TOTAL album; the lyrics are full of references to Bayern Münich's midfielder, but above all it has an impressive kraut force, somewhere between bizarre and solemn. "Kristall Reinheit" puts a little twist on things, bathing itself in dub rhythms, and clearing the dust (never more accurately said) off an ode to a cleaning product (Kristall Zambo Rein) that has something that is also present on almost all DIE KATAPULT's songs - contamination and turbulence. "Hallo Punkten" is STEREOLAB with synthesized filters. They play with vocals and melodies to set the stage for an apocalyptic game of "Space Invaders".
The B-side opens with more electro-pop rhythms with "Frieden", a song based on a scientific book about musical waves. It is musical expressionism with a prodigious chorus; indescribable, undefinable; somewhere between CHICKS ON SPEED and Andreas Dorau. "Deutsche TV" takes it down a notch to create an interstellar ode to Major McLane, the star of the German TV show from the sixties, Space Patrol Orion, that had a fantastic soundtrack by Peter Thomas. It is RHEINGOLD twisting the potentiometers, stretching the nerves. On "Euromillionen", the dream of winning the lottery leads into the usual resignation of knowing that it is almost impossible. And to wrap things up, as if we expected anything less, there is a a declaration of intent. "Die Katapult" breaks down barriers, leaving room for fresh air, catapulting toward space.
The language of DIE KATAPULT is definitely surprising; they are optimistic nightmares, space travel full of shrapnel, melodic belligerence. It is a universe made of cuts, tears, and black and white dust, but that also has a strange touch of of something dream-like... Sometimes it is can be hard to talk about music. Didn't they say talking about music was like trying to dance about architecture? Well, then, let's dance.
2019
Release "Bäckerei" Digital" Single Digital and video. They've had a luxury producer, Ian Catt (SAINT ETIENNE, THE FIELD MICE, SHAMPOO, THE SCHOOL, ALPACA SPORTS...) with whom the band have formed an exceptional partnership for what will be their imminent debut LP "DKXD" and from which we now present the first Single: "Bäckerei Digital" ("Digital Bakery") an immediate hit that is in some ways reminiscent of Italo disco. "Bäckerei Digital" (which - in addition to being sung in "Google Deutsche - has Italian and Japanese versions) will have even greater international diffusion thanks to being included on the soundtrack of the second season of Netflix's hit series "Élite".
Besides being polyglots, DIE KATAPULT are two retrofuturist and Eurosonic superheroines that have come to save Europe with their music, which is sure to bring the party and have every listener dancing!
2023
26/04/2023
DIE KATAPULT: "Waschmaschine / Mücken" Double Digital Single
We have big news for fans of that very special duo formed by Anna Fredriksson and Elena Comas. DIE KATAPULT are reuniting for a performance in the Scenica festival in Sicily on May 12, and are simultaneously releasing two Digital Singles, with two different songs produced by Ian Catt (SAINT ETIENNE, TREMBLING BLUE STARS, THE FIELD MICE, SHAMPOO, THE SCHOOL…), and two different album covers.
The first is "Waschmaschine" which dives right into their catalog of pedagogical songs: step by step instructions to learn how to use the washing machine, with the approval of Karl Bartos, Florian Schneider and everything that at some point had something to do with KRAFTWERK and robots. Even Isaac Asimov would give his blessing to an exercise like this. Have you ever imagined dancing disco while doing the laundry? Well, if you haven't then you clearly have a problem. Thank goodness we have DIE KATAPULT to solve it. That problem and all the others too.
The second is "Mücken", probably one of the craziest songs never released by the band, insistent, martial, moshable, with the buzz of a mosquito included. How many choruses have you heard that cry "Hay que fumigar / Sin pesticidas" (We need to fumigate / Without pesticides)? A cry for environmentalism. And with an exquisitely fun melody.