Biography
Carlos: vocals
Nando: vocals, guitar and programming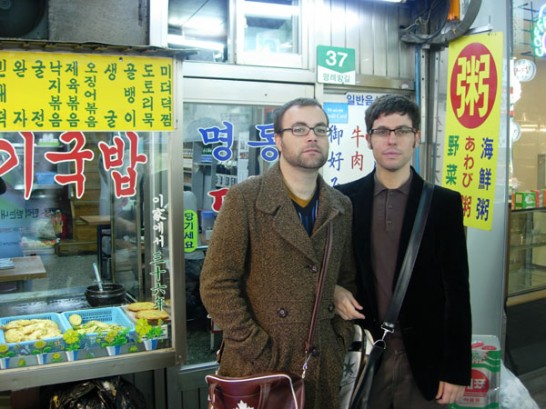 CORAZÓN is a romantic, melancholic pop duo, which counted their fans by many hundreds even before recording this album, among them people like Radio 3's DJ Juan de Pablos or Guille Milkyway from LA CASA AZUL. Their first demo tape (recorded at a friend's with the only help of a Play Station and a four-track recorder) was chosen as best demo of the year by the listeners of Viaje a los Sueños Polares radio show, and CORAZÓN was chosen as well as best newcomer band in 2002.
CORAZÓN is Carlos (vocals) and Nando (vocals, guitar and programming). They met in February 2001 in Padova (Italy), whilst studying Psychology with an Erasmus fund. Soon they started writing songs with a guitar and their two voices, and that's how their first songs were born, songs like "María del Mar" and "Esto ya no es lo que era". Music influenced by soft-pop and folk from the 70's, like Spanish cult artists VAINICA DOBLE, JOSÉ Y MANUEL, SOLERA, international acts like Françoise Hardy or SIMON&GARFUNKEL, and current artists with whom they share a similar aesthetic approach, such as PARADE or LADY AND BIRD.
After recording their first demo, they move to Madrid and send the demo over to their favourite labels and radio shows. They got an enthusiastic feedback from radio shows like Flor de Pasión, Toxicosmos and Viaje a los Sueños Polares, as well as from fanzines like C is the heavenly option and Le Touriste, for which they participate in a tribute CD to the Spanish new wave. In March 2003 they debut as the support act for MILKYWAY in a party organised by the Annika label at Barbarella club in Madrid, and from then on they play sporadically at Siroco club in Madrid, often invited by Juan de Pablos to his mythical radio show celebrations.
In the summer of 2003 they record a second demo, which they decide not to distribute since they will soon start recording their debut album. Meanwhile, in December that same year they're invited to participate in the tribute to FAMILY CD, distributed by Rockdelux magazine.
At least, in the summer of 2004 they start recording their long-awaited debut album, featuring some songs which have already become true classic songs among their many fans. In the album, recorded in Valencia with Dani Cardona, they have collaborated with some indie Spanish acts such as SERPENTINA, PARADE, LOS MAGNÉTICOS, Sir Edward or LA CASA AZUL.
On November 14th 2005, Elefant released "Melodrama", the long awaited debut album by CORAZÓN ("heart", in Spanish): eleven songs featuring some early hits in the Spanish independent scene as their indie anthem "No quiero cambiar".
On November 28th they play a short acoustic set at the "Diario Pop" show on Radio 3, and they also talk about the album in two other shows of the same station, "Siglo 21" and "Disco Grande".
They premiere the album with two acoustic shows in the FNAC stores in Madrid and Barcelona, and in December 9th they play with NOSOTRÄSH in El Sol, one of the main indie venues in Madrid.
They prepare the repertoire for a full Spanish tour in April-May 2006.
The first videoclip taken from "Melodrama" is that of the song "Padova", directed by Entre Líneas (the filming team behind other videos for Elefant, such as those by NIZA, ME ENVENENO DE AZULES, ENTRE RÍOS or LA MONJA ENANA).
The next video to be prepared will feature the song "Jugando con el corazón", and is directed by Gabe Ibáñez (director of the videos by LE MANS and SINGLE).
2006

"Melodrama" ranks among the best Spanish albums from 2005 according to Spanish influential magazine Rockdelux, and the song "María del Mar" is placed in the third position in the best Spanish songs list on the same Rockdelux polls. Months later, "Maria del Mar" is also included on the CD compilation comprising the readers' choices for that year.
"Melodrama" is also chosen as best Spanish album from 2005 in the polls from radio show "Los 39 sonidos", directed by music journalist Juan Vitoria.
In April they play the South Pop Festival in Seville, sharing stage with THE WEDDING PRESENT, THE ROSEBUDS, TARWATER or Dominique A. They also play at a series of concerts named De Prop, held at the Sala Gaudí in La Pedrera building in Barcelona, and they play with LA CASA AZUL at an Elefant party in Madrid venue El Sol.
In May they record a show for TV program Los Conciertos de Radio 3.
Between May 14th and 18th they travel to Korea for three live shows on a double bill tour with LA CASA AZUL.
To begin with, both bands play on May 14th at the Naini Island Festival, a free entrance open air festival that goes on during two months in an amphitheatre in Naini Island.
The next show takes place on May 16th as a part of the Latin Music Festival, coorganized by the Spanish Embassy in Seoul and the Spanish Department at the University of Korea: a benefit show for orphan children and teenagers. LA CASA AZUL and CORAZÓN are the special guests at this festival held at Inchon Memorial Hall, a thousand people capacity pavilion in Koryo (University of Korea). On this festival, hosted by two renown TV presenters from public broadcasting channel KBS, and recorded and broadcasted by nationwide public channels KBS and EBS, there are different contests (there's even a prize given by the Real Madrid Foundation!), concerts by Korean bands and, finally, the guest star shows by CORAZÓN and LA CASA AZUL.
The last show is a new free entrance show by both bands on May 18th, at the University of Yonsei Auditorium.
After the videoclip of the song "Padova", "Jugando con el corazón" is the song chosen for the second videoclip taken from "Melodrama". The videoclip was directed by Nacho Martín, from Spanish visual collective User T38 (responsible too of the videoclips by LE MANS and SINGLE), and it's inspired in the life of British painter Francis Bacon (1909-1991).
Especially, the new video is inspired in Bacon's relationship with his couple, George Dyer, as told in John Maybury's movie "Love is the devil" (1998).
In July, CORAZÓN play the Benicassim festival in Spain, and in August they play the Nocturama Festival in Seville.
They also play at Piccadilly in Valencia on December the 6th.
Whilst they work on the songs of what will be their second album, to be produced by Ibon Errazkin (LE MANS), Carlos and Nando record the song "El regalo" for the Christmas compilation "Cuentos de Navidad", the fourth volume in the series "Teoría y práctica melódica" released yearly by Spanish label Jabalina, where they appear along other Elefant artists as LA CASA AZUL, MIRAFIORI or LA MONJA ENANA.
2007

CORAZÓN played in the series of concerts "Madrid.06 - Música nuevos creadores", dedicated to the independent record labels based in the city.
The night dedicated to Elefant Records was January the 6th, at Neu!Club. CORAZÓN play with new signing LINDA GUILALA (ex JUNIPER MOON).
On March 2nd they play at Siroco in Madrid as a part of the party of radio show "Flor de Pasión" (Radio 3), along with SERPENTINA, BIG CITY, UNDERWATER TEA PARTY and DJ Polar.
2009

On March 30th "Nuevo Futuro" this second album is finally released. "Nuevo Futuro" shines with the fantastic production of Ibon Errazkin, who is responsible for other classic albums on the Elefant label like NOSOTRÄSH's "Popemas", Carlos Berlanga's "Impermeable", ANA D's "Satelite 99" or the albums of SINGLE and LE MANS. Additionally, there are stellar collaborations from Teresa Iturrioz (SINGLE) and Malela Durán (NOSOTRÄSH, GRANDE-MARLASKA) on the choruses, or Rafael Guillermo of POP TOPS on the piano. Errazkin achieves a jeweled masterpiece with varied and distinct sounds and original textures, looking for spaces to make the songs special with details and extraordinary arrangements. But the best thing about the album are the twelve superb songs. The compositions are outside the limits of any one style, they are full of elegance and good taste – delicious pop with charming harmonies that could sound like standard light music with someone else's voice. It's all feeling, with beautiful and sincere lyrics. CORAZÓN dares to make classic melodic pop, bolero-pop and sentimental melodrama; they reinvent the artistic spirit of VAINICA DOBLE with their own originality and baroque arrangements and give us radiant soul-pop hymns worthy of LA CASA AZUL. It's an album that will go down in history as one of the great classics of Elefant records.
In April, a very positive review of the album is published on the website of the prestigious American magazine All Music.
May sees the debut of the video-clip of the song, "Nuevo Futuro", directed by Nadia Mata Portillo and Federico Strate Pezdirc. The video is a perfect reflection of the group's aesthetic style and is named by Rockdelux as one of the best video-clips of the year.
"Vestir Santos" is chosen as one of the best songs of the year by PlayGround.
2011

In November released a digital single that incluyes 3 songs,with a cover of a Roberto Carlos "Me Quiero Casar Contigo" belongs to the Brasilian singer's early period, the song keeps the catchy spirit of the original but also adds a playful perspective and is full of fantasy. "Un Final Feliz Para Este Cuento" is an apology turned into song, sent in code to the person who understands the message. Closing the single is "La Fiebre de Carlos", a song that already appeared on the farewell compilation for the Annika label.