04/04/2012
COLA JET SET: At NYC Popfest 2012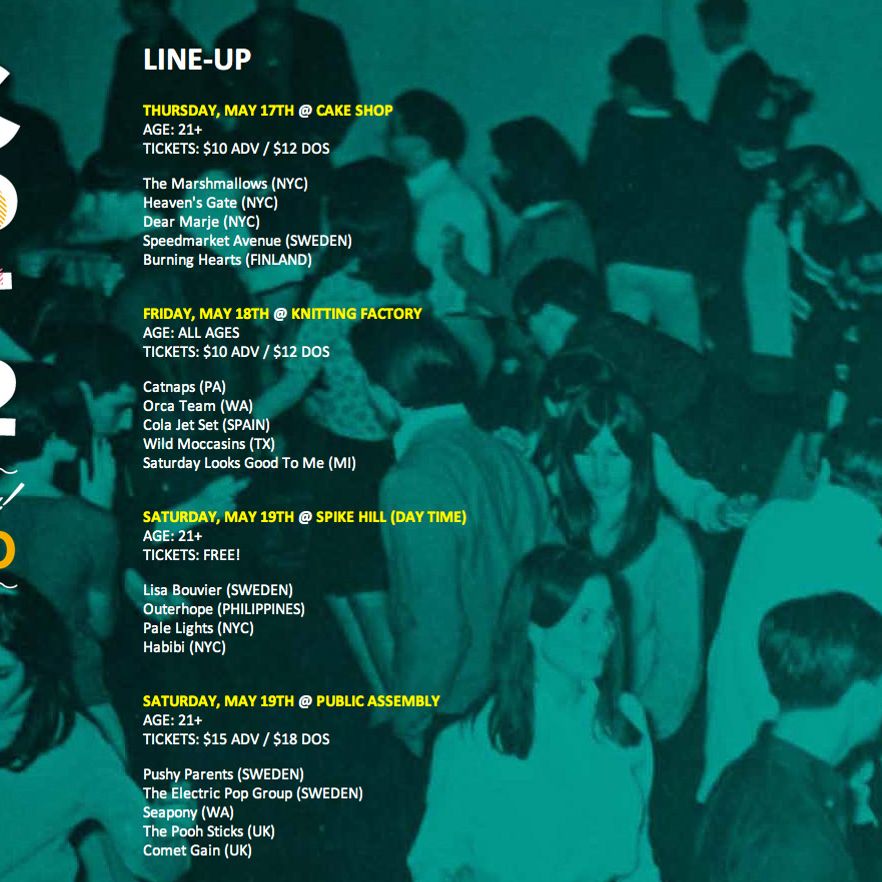 COLA JET SET At NYC Popfest 2012 with the presentation of "Listen and Repeat" with their new line-up

After their stop at Popfest in Madrid, Berlin and Glasgow in 2011, COLA JET SET have been invited to participate in New York's (USA) Popfest this year. The 2012 NYC POPFEST will be held from May 17th to the 20th in various theatres and clubs in Manhattan and Brooklyn. Groups likeTHE POOH STICKS, COMET GAIN, LADYBUG TRANSISTOR, PUSHY PARENTS (Elefant Records), WHITE TOWN, SPEEDMARKET AVENUE (Elefant Records) and THE WAVE PICTURES, among many others, will also be present, in what will clearly be a dream ensemble for any indie pop devotee.

It's the perfect occasion for COLA JET SET to introduce their new EP "Listen and Repeat" to the U.S. The EP was recorded in English as an homage to all the British and American friends they've made through social networks and their concerts in Liverpool, London, Glasgow and the 2009 Indietracks festival in Derby.

It's also the perfect occasion to introduce the group's new line-up: Ana and Estel are leaving CJS to focus on their work and their families, and Alicia is taking over as lead vocalist, but without leaving the guitar or the keyboards behind. Ruth (acoustic guitar and backing vocals), Dani (electric bass), Manel (piano and organ), Joan (drums) and Felipe (electric guitar, backing vocals) are all staying on, as is Gerard (sound technician).

Before all of this, people in Barcelona will have two chances to meet the new COLA JET SET, at two live shows: April15th at La Confitería and the 28th of the same month in the XL festival where they will play with groups like GERARD CIVAT I ELS CIVETS, MEGAFONÍA and DOBLE PLETINA. They will play already known and beloved songs as well as some new ones from their upcoming LP, which stays loyal to the classic pop they made on "Guitarras y tambores". There is also one concert confirmed for Madrid on May 5th in Elefant Club, with LOS BONSÁIS and THE SILVER FACTORY, and COLA JET SET will play a really special, semi-acoustic concert.