05/12/2011
LINDA GUILALA y COLA JET SET: New single!!!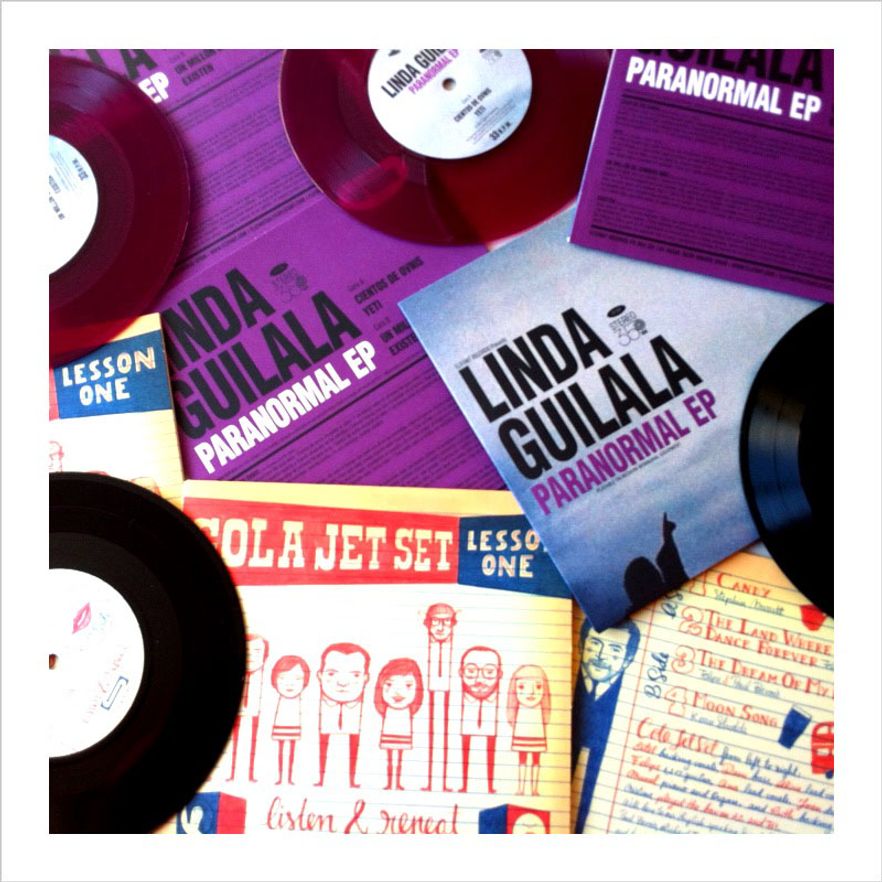 Cola Jet Set "Lesson One: Listen & Repeat"
Single 7"
Includes a free digital MP3 download [320 kbps]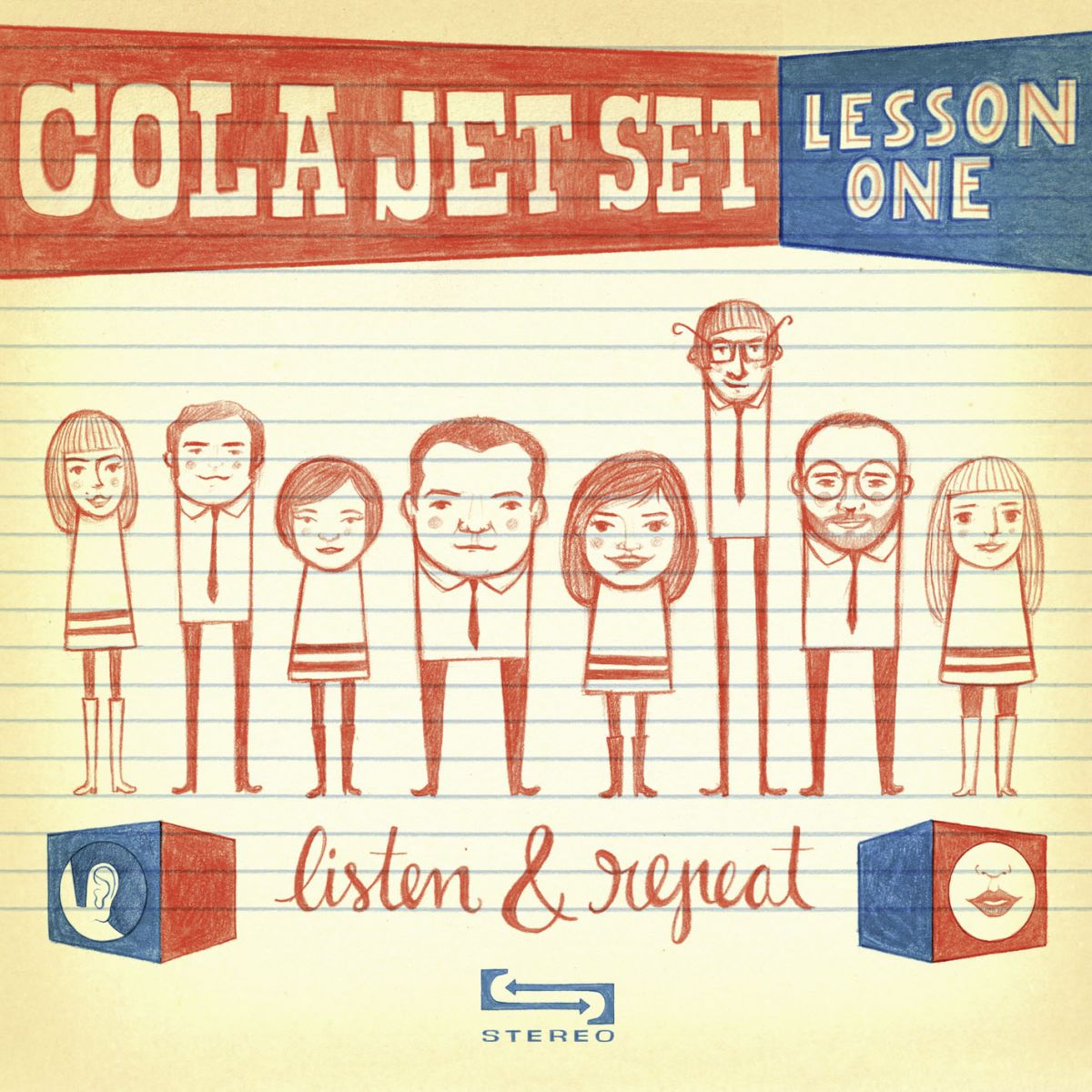 Design and illustration by Ruth Valencia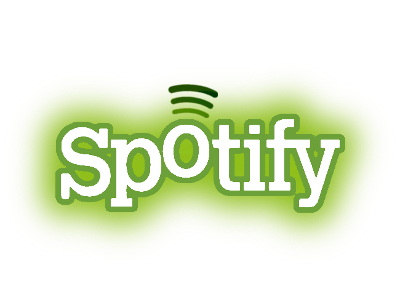 COLA JET SET is one of Elefant label's national groups that are creating the greatest legion of fans in the Anglo-Saxon public, as anyone could see in their recent shows in the UK. That's why, as a special present to their English fans, they are releasing a single with some of their most well-known songs translated into English, as well as a few covers of foreign groups. The band from Barcelona with a constantly growing roster of band members, which currently includes Ana (voice), Felipe (guitars), Ester and Ruth (backing vocals), Dani (bass), Alicia (voice and guitar), Joan (drums) and Manel (keyboards), gives a different nuance to their music with English phonemes. We can rediscover "En Esta Pista Ya No Se Puede Bailar" under the new title, "The Land Where We Can Dance Forever". They maintain their highly danceable disco-pop spirit and their marvellous arrangements, somewhere between THE JACKSON 5 and THE SHANGRILA'S. And there's also "El Sueño De Mi Vida", this time "The Dream of My Life", which, in this format, could be considered one of the hits from THE SCHOOL's discography or one of THE PIPETTES' first singles.
But there are also huge new things for the group's followers, because this single includes two marvellous, previously unreleased covers, from two of our favorite groups. On one hand, "Candy", by THE MAGNETIC FIELDS, which is revisited under a sixties prism, with a twelve-string guitar and the precious play of voices flooded with emotion for every second of the song, turning a song that we had previously associated with its original author into something that COLA JET SET created themselves. On the other hand, they released a version in Spanish of MY BLOODY VALENTINE's "Moon Song on their first single, "Cosas Que No Se Olvidan", which they have now rerecorded in its original language, leaving it like a luminous, addictive, sunshine pop delicacy.
Sometimes it's interesting how something as simple as the language the song is being sung in can make such a difference in how the song turns out. And with "Lesson One: Listen & Repeat" we have rediscovered a new COLA JET SET, just as catchy, with the same pop spirit, but somehow different. We don't know which we should keep. But, do we really have to choose?



Linda Guilala "Paranormal EP"
Single 7"
Includes a free digital MP3 download [320 kbps]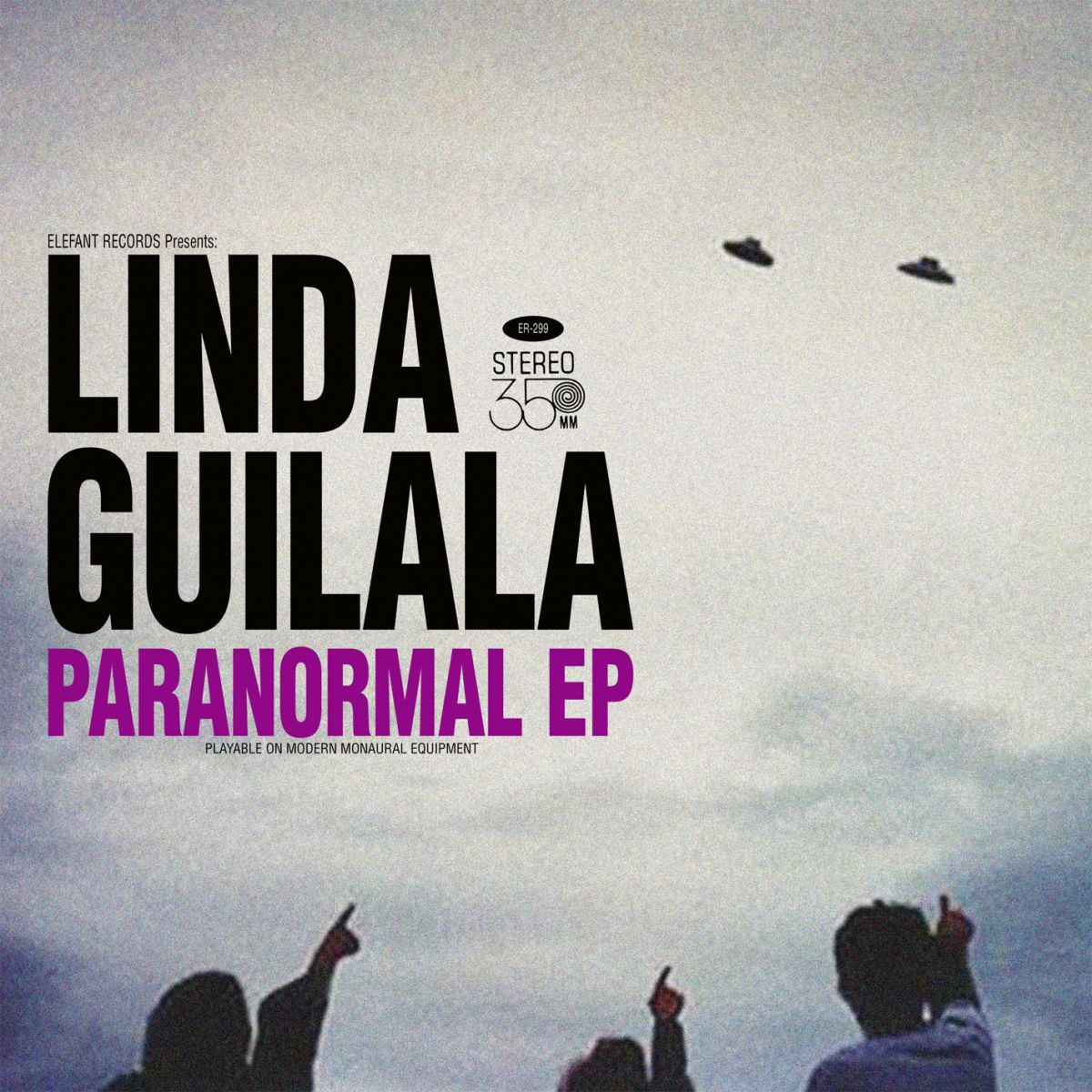 Artwork by Luis Calvo [Elefant Design]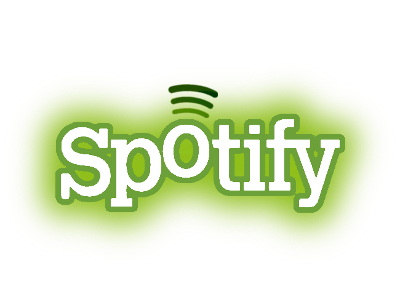 After that wonderful album, "Bucles Infinitos", which gave us so many energetic songs full of cosmic sounds and loud guitars, we have been anxiously awaiting news about LINDA GUILALA, the band formed by Ivan and Eva after JUNIPER MOON. And this new release couldn't be more comforting. The EP will be released on purple-colored vinyl, and will have four songs that follow the theme of the fantasy, terror and paranormal genres in general. Ivan and Eva have always been fans of B movies, and on the "Paranormal EP" there are UFO's, abominable snowmen, zombies and all kinds of extraordinary creatures, and their music remains true to its punk style, pop spirit and fondness for noise and distortion.
"Cientos de Ovnis" opens the new EP with an undeniable electro-pop hit fit for the mosh pits. It is proof of their admiration for unidentified flying objects that winds between burning guitars and fantastical keyboards, and has a tremendously catchy chorus – a house specialty. After that song, it's time for "Yeti", a fascinating song about loneliness and the cold, which moves under the influence of THE JESUS & MARY CHAIN and the spirit of the Creation label, and makes for one of the more exciting songs of this EP: "Y que nadie sepa si existes en realidad / para que nadie pueda hacerte daño nunca más / .. / Con el hielo y con la nieve es mucho mejor / Es mucho mejor, protegerse el corazón" (And nobody knows if you're real / so no one can ever hurt you again /…/ With the ice and the snow everything's much better / It's much better to protect your heart). They have made us tremble, literally, in every sense of the word.
The B-side opens with "Un Millón de Zombies Más", which maintains a certain shoegaze ambience somewhere between RIDE, LUSH and THE TELESCOPES, and which continues to deal with the feeling of loneliness, this time in the middle of a crowd: "Lo sabes bien que solo estás con un millón de zombis más" (You know perfectly well that you're alone with a million more zombies). High emotional voltage using images of terror, once again with echoes of eighties-styled synthesizers and layers upon layers of guitars. To close, "Existen" opens with more evocations of THE HOUSE OF LOVE and THE WEDDING PRESENT, putting the cherry on the top of a solid EP, clinging to all these unearthly beliefs (among which, why not, is the idea of perfect love) above all other much more insufferable realities: "Existen al menos en mi cabeza" (At least they exist in my head)is one of the more exciting choruses of the last months.
Four songs with an incomparable rhythm, immensely agile, that make this new LINDA GUILALA release something that will play on repeat on your stereo. It's undoubtedly something out of the ordinary. By the way, have you tried playing the record backwards?