Biography
Band À Part consists of Javi Román and Coral Rodriguez. Influenced by the Nouvelle Vague of Godard and Gainsbourg, but also by J. D. Salinger and the twee-pop of Sarah Records, and by Stereolab, Beach Boys and The Love Generation, the grabbed their guitars, melodies, and xylophones, and threw themselves into songwriting in 2006.
Inquisitive and self-sufficient, not only do they record songs in their own studio, but Javi and Coral have a very strong visual aspect to their music that shows up both in the graphic design of their singles as well as in their own videos, which they direct and produce themselves in the "Band À Part" Laboratory".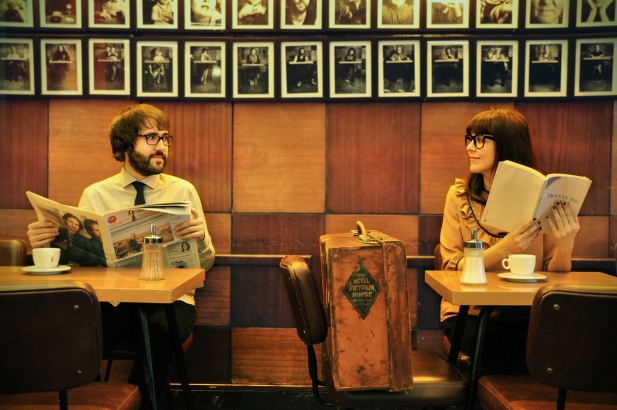 2010-2013

These last few years have been a whirlwind for BAND Á PART. Their two singles have flown out of stores; they've played in festivals like Indietracks (UK) and Contempopranea, lemon Pop; they've brought their music to cities like Berlin (as part of the line-up of Berlin PopFest), Cardiff to take part in the indie festival, "Wales Goes Pop!".

They're even making music for a Kellogg's commercial in the United States (there's nothing better for cereal than Javi and Coral's delicious melodies).
In March BAND À PART release their first 10" Mini-LP [orange vinyl] "La Aventura original". Things kick off with a huge hit, a song that will definitely be played endlessly in all the indie clubs on the planet. "Verano Azul, Invierno Nuclear" is an incredible song that moves from the calypso of Harry Belafonte to electronic pop, somewhere between PASSION PIT and LA CASA AZUL, capable of reflecting the contrast between optimism and reality, fantasy and apocalypse, in one bright chorus. It's amazing
""Franny Y Tú" [Single 7"] comes from "La Aventura Original" and it celebrates BAND À PART's best qualities: light, agile songs; high energy; so many influences that showcase their extensive musical culture; and intelligent, emotional lyrics. On this special occasion, we have a story of youth and of summer that talks about lives that drift apart only to be brought back together later, though in a very different way; all with Coral's sweet voice reminding us of the elegance of our beloved NIZA. "David y Claudia" is a delicate version of the LOS PLANETAS song that was released on that fantastic "Pop"
2014
Release "Maravillas De La Ciencia", a compilation that covers their early years. "Maravillas De La Ciencia" is like a summary of all of this and much more, a compilation of their singles, their Mini-LP, songs from other compilations, and even a few previously unreleased tracks as little gifts.
2020
BAND À PART are finally back with new songs; "Templos y Neones" is their highly anticipated new album LP. Javi and Coral are back with their suitcase full of stories, melodies, and images. Now we just have to give them our hands and let them lead us.