11/05/2015
EL AVIADOR DRO Y SUS OBREROS ESPECIALIZADOS: "Otros Mundos, Otras Estrellas [1979-1982]"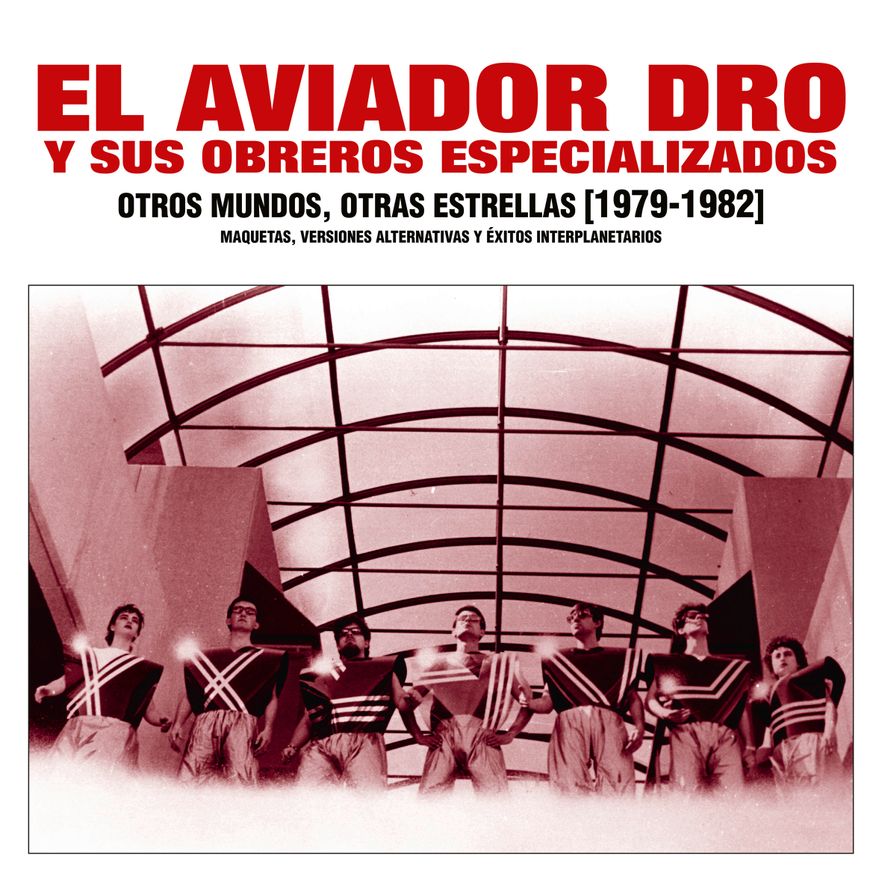 Available for ORDER on our website!
EL AVIADOR DRO Y SUS OBREROS ESPECIALIZADOS "Otros Mundos, Otras Estrellas [1979-1982]"
AVIADOR DRO, the group conceived by Servando Carballar and Arturo Lanz, is without a doubt one of this country's most important groups, and they are true electronic music pioneers, under the influence of bands like DEVO and KRAFTWERK. That's why it is an incredible honor for Elefant Records to be able to release, as a part of our "Recuerdos Que Olvidé" collection, this double album that includes demos, previously unreleased versions, rarities, and big hits from the period before the release of their second album, "Síntesis: La Producción Al Poder", in 1983. What's more, many of the songs included on this album have never been released on vinyl before.

We can find a few songs from their first album, "Alas Sobre El Mundo", two songs from the Maxi-Single "Programa En Espiral", and one song from the Single "Nuclear Si", which was the first release on DRO (Discos Radioactivos Organizados, the label AVIADOR DRO created to release their albums after their brief period with the Movieplay label). All of these releases are practically impossible to find nowadays in their original format, and they are real collectors' items. "El Nacimiento De La Industria" comes from the DRO compilation "Navidades Radioactivas", which also included Christmas carols from other groups like LOS INICIADOS, DERRIBOS ARIAS and GLUTAMATO YE-YÉ. On this compilation we can also find their versions of the SEX PISTOLS' "Anarquía En El Planeta" and KRAFTWERK's "La Modelo", as well as the theme song they wrote forJesús Ordovás' program on Radio 3, the legendary "Diario Pop". "No Tengo Boca" was previously released on the album "Maquetas", a compilation released by MR Records that included original covers of other bands like LOS MODELOS, PISTONES and ÚLTIMO SUEÑO.
The result is an archaeological milestone in music that reflects an effervescent era in the life of a group. Hyper-roboticised, with their post-nuclear, post-industrial aesthetic, their impossible syncopation, their gritty but at the same time hyper-melodic atmospheres. It's a sound they will always be a reference for and that they will always be pioneers in, as they called it, the beginning of the man-machine. The music is like something from another galaxy, and to get its bearings needs to find names from another musical planet, like THE RESIDENTS and SUICIDE. It's a small gem that isn't only an element for fans to complete their record collections, but something that shows the state of grace of a group that at the time, between 1979 and 1982, was taking their first steps - steps as fresh as they were daring, and as irreverent as they were inspired. Enjoy it.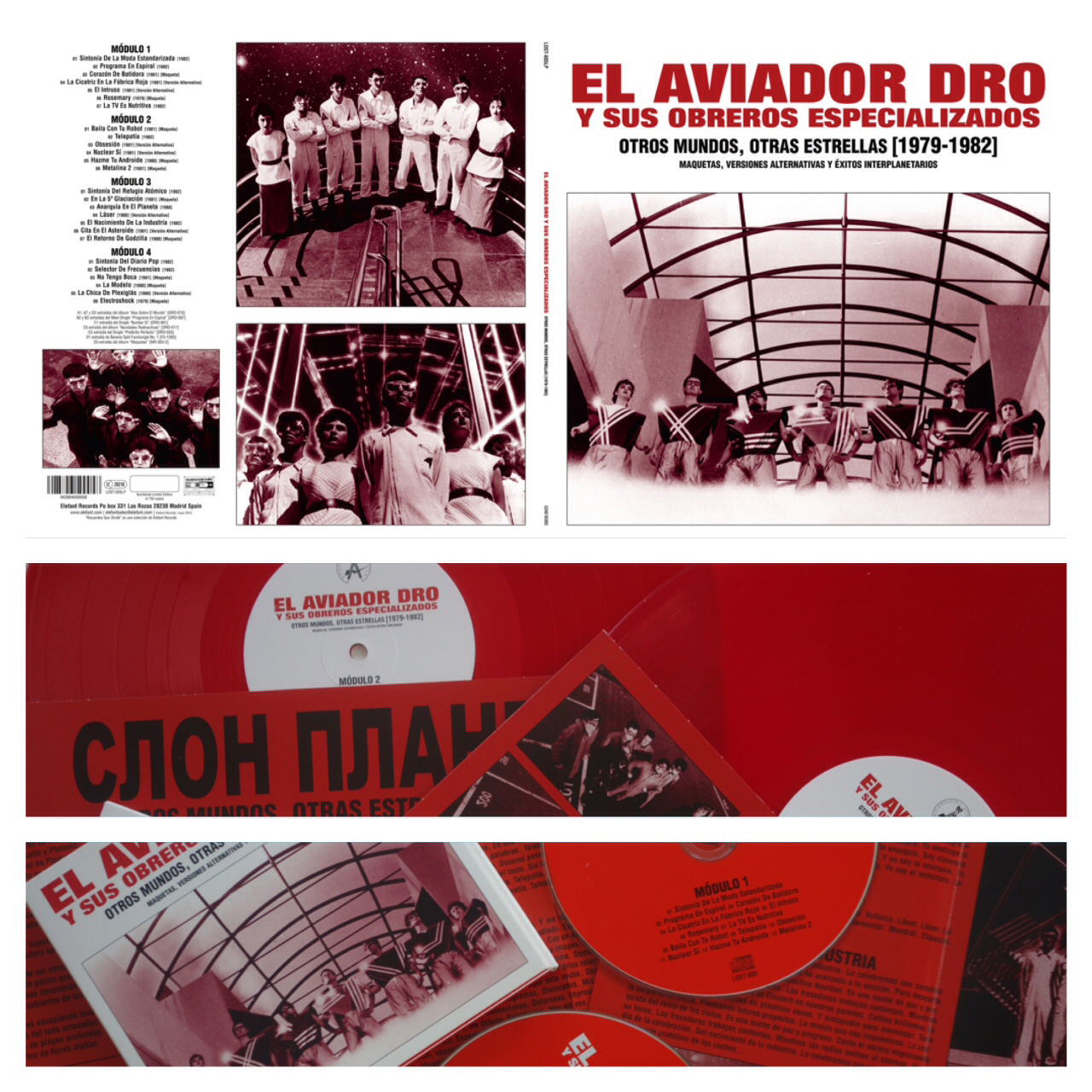 DOUBLE-LP [Red Colour Vinyls] [Numbered Limited Edition of 750 copies] / DOUBLE-CD DIGIPAK / DIGITAL ALBUM • The vinyl includes a free digital MP3 download [320 kbps]
TRACKLIST: LP/CD 1: 01 Sintonía De La Moda Estandarizada (1982 - Instrumental) 02 Programa En Espiral (1982) 03 Corazón De Batidora (1981 - Maqueta) 04 La Cicatriz En La Fábrica Roja (1981 - Versión Alternativa) 05 El Intruso (1981 - Versión Alternativa) 06 Rosemary (1979 - Maqueta) 07 La TV Es Nutritiva (1982) 08 Baila Con Tu Robot (1981 - Maqueta) 09 Telepatía (1982) 10 Obsesión (1981 - Versión Alternativa) 11 Nuclear Sí (1981 - Versión Alternativa) 12 Hazme Tu Androide (1980 - Maqueta) 13 Metalina 2 (1981 - Maqueta)
LP/CD 2: 01 Sintonía Del Refugio Atómico (1982 - Instrumental) 02 En La 5ª Glaciación (1981 - Maqueta) 03 Anarquía En El Planeta (1980) 04 Láser (1980 - Versión Alternativa) 05 El Nacimiento De La Industria (1982) 06 Cita En El Asteroide (1981 - Versión Alternativa) 07 El Retorno De Godzilla (1980 - Maqueta) 08 Sintonía Del Diario Pop (1982) 09 Selector De Frecuencias (1982) 10 No Tengo Boca (1981 - Maqueta) 11 La Modelo (1980 - Maqueta) 12 La Chica De Plexiglás (1980 - Versión Alternativa) 13 Electroshock (1979 - Maqueta)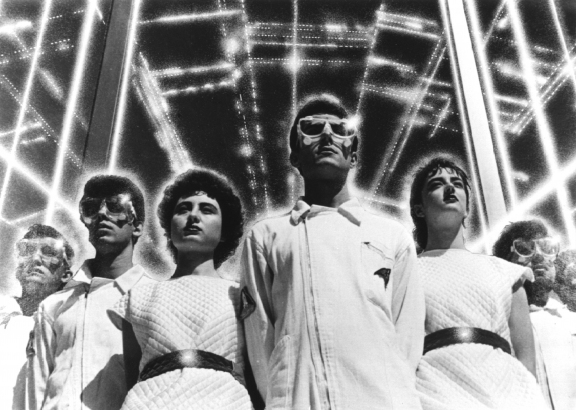 TO INFINITY (AND BACK) By Luis Calvo (Elefant Records)

"Time flies at the speed of light, and EL AVIADOR DRO's songs continue to travel to infinity with the same freshness and relevance they had when they were first created. I close my eyes and it seems like no time has gone by - I can remember what EL AVIADOR DRO meant to me perfectly, what my mind experienced every time they put out a new album, the excitement of listening to their new songs, enjoying the lyrics, and the feeling of living in the future that so much of my generation was so concerned with. Even though the beginnings of electronic music go back to the end of the 19th century and the Telharmonium (a prototype of a completely electronic and polyphonic organ), and in spite of all of the experimentation and artistic movements and electronic advances in the first half of the 20th century, it was really at the end of the 1970s when electronic music reached the masses and started to coexist with the popular music of the time. It was in this scene in 1979 that EL AVIADOR DRO Y SUS OBREROS ESPECIALIZADOS appeared. They were a different kind of music group, born from the ashes of a punk project called ÁLEX Y LOS DRUGOS and from another more electronic project called HOLOPLÁSTICO. All of the group's members were pretty influenced by science fiction, Futurism, Constructivism, Dadaism, and new technologies. From the very first time I heard EL AVIADOR DRO Y SUS OBREROS ESPECIALIZADOS, my life changed drastically and their influence on me, both musically as well as aesthetically and theoretically, has basically marked my whole existence.
I have a theory that possibly doesn't make any sense, but at least it explains the way I lived and experienced everything that happened in that period. It has to do with "Star Wars" - In 1977, when the movie was released, I was 9 years old. I loved old science fiction movies and everything was about the future, about conquering outer space, the cosmos, the spaceships... "Star Wars" was total madness for me; it seemed incredible; it was a total shock; suddenly, I was completely immersed in the future, a future that seems closer than ever and that, through the movie, I could touch and feel in a very real way. The imperial guard's uniforms, the androids, the spaceships, the new planets, and the new life-forms... It was so impressive, such a powerful experience. Suddenly, it was as if "Star Wars" has absorbed everything in my little world, and the interest in the future, in electronics, or in androids, was more present than ever, everywhere. I remember seeing Dee D. Jacksonplaying "Automatic Lover" on Aplauso (TVE's music program that everyone back then watched), and a lot of other groups go on stage, with robots and androids; it was disco music, but it seemed like the future; it was different. As time passed, we learned more about this more futuristic offshoot of disco music (which, in most cases was instrumental music, and the style was sometimes called Space Music or Cosmic Disco... It was where you could find the disco versions of the songs from the "Star Wars" soundtrack, or artists as varied as LA BIONDA, MISTRAL, ARPADYS,Giorgio Moroder, SPACE, I SIGNORI DELLA GALASSIA and AUTOMAT). And from the worldwide electronic explosion in the late 70s and especially from Techno-Pop's golden years at the beginning of the 80s, I have the feeling that "Star Wars" was, in a certain way, one of the most important influences that sparked all those musical movements. Or at least it prepared our minds and conditioned our thirst for a soundtrack for that fictitious universe that was in perfect harmony with the images we had seen in the movie - music that was more mechanical, more electronic, more futuristic... Of course the path that led us to everything that happened back then had begun long before the movie was released. Many groups' first strong influence was the songs Wendy Carlos wrote for "The Clockwork Orange" soundtrack in 1971.
But I still have the feeling that the movie, on a generational level, years later helped make electronic pop - known outside of Spain as Synth-Pop and here known as Techno-Pop (that's what it was called on the stickers that appeared on the album covers of groups like KRAFTWERK, CABARET VOLTAIRE, OMD, THE BUGGLES, DEVO, TUBEWAY ARMY, VISAGE and DEPECHE MODE) - become so huge and popular. At least it seemed like that to me; it accelerated my interest in the future, in machines, in androids, and as I was a huge music fan from a very young age, it made me give myself completely to that electronic universe that was beginning to take over the planet. That's why the appearance of EL AVIADOR DRO in my life was so special. I first heard them when Radio 3 began and there was the subsequent explosion of independent Spanish labels - an explosion that brought hundreds of albums and songs from new groups, groups that were full of life and youth, and who really wanted to say what they were feeling. It was a really exciting time in my life and, as I've explained many times, was definitely, even if I wasn't aware of it at the time, the main push and motivation for starting Elefant Records.

EL AVIADOR DRO was more than just a group; the whole universe they created around them was fascinating. It's not hard to imagine that a 13 year-old like me, a fan of "Star Wars" of drum kits, of keyboards, of Mazinger Z and KRAFTWERK, would fall at their feet. Their proclamations and manifestos were so absorbing that even in high school, my Philosophy project in my 3rd year was dedicated to their manifesto "La Revolución Dinámica" (The Dynamic Revolution). They said: "Somos el primer paso hacia el Hombre-Máquina" (We are the first step toward the Man-Machine) and I, at 15, turned into an EL AVIADOR DRO mutant and adopted, like they did, a code name: CYTOLEX-R3. My contact person in the group was Metalina 2, the person who was in charge of communication with fans, and I was in constant contact with her, which ultimately fed my fanaticism for the group even more, and increased my desire to become more and more like them both aesthetically and mentally. My single goal was to stop being a vulgar human and mutate into a humanoid. It was so much fun and so crazy at the same time; each new album was a cause for celebration; there were new adventures in their incredible lyrics, new sounds... Songs that made them the constant and continuous soundtrack to those endless afternoons. They were one of my favorite groups then, and they still are today, and that's why, after all these years, this is possibly one of the most exciting album in the history of Elefant Records, and definitely one of the releases that I'm most excited about. It's not only the musical aspect, it's also because they meant so much, because EL AVIADOR DRO was a group with an independent spirit that served as an example for Elefant. They released their own albums and created their own company, DRO (Discos Radioactivos Organizados). The label maintained a different kind of work philosophy in the first years of its existence, a philosophy that affected me very deeply and somehow established the foundation of what my label would be. They taught me to have an independent spirit, to fight against multinationals, to be self-sufficient, to take care of the fans, to create and believe in a parallel world far from the trends and the norm... I owe them and their songs so much that this compilation is almost an homage to a really decisive, formative period in my life.
Musically, they were light years ahead of the majority of the groups from that time. There were other interesting Techno-Pop groups in the early 80s in this country: METAL & CA, GRUPO Q, OVIFORMIA SCI, LÍNEAS AÉREAS, ÚLTIMA EMOCIÓN, WAQ, DEMIAN, ESTACIÓN VICTORIA, LUNA, LOS INICIADOS, VIDEO, MINUIT POLONIA, LA MODE... But EL AVIADOR DRO were most productive and interesting group from the first years of the indie explosion. They were suggestive, modern, and very advanced. This album includes songs from their early years, maybe - as with a lot of groups - their best. It was a period when the freshness that makes us young is almost magical, and inexperience and lack of available resources are more than made up for with a solid dose of ingenuity and clarity. There are 26 songs in total, many of which are demos or different versions of the group's classics, that had been previously unreleased (until now). But their first "hits" are there too; those songs that helped to earn them a top spot on the list of most interesting groups in the history of Spanish pop music. Though don't be fooled by the word Spanish, they extended beyond our borders and seduced thousands of Synth-Pop fans in even the most remote corners of the planet, in the early 80s. In the meantime, I continue listening to and enjoying EL AVIADOR DRO's songs; I continue to (re)discover new ideas and advanced thoughts in their manifestos and texts; I still play their songs for my friends and guests, especially the ones who come from other countries, songs that are on the same level as groups like DEVO and KRAFTWERK. They were infinitely talented and their songs were timeless, and even after 36 years, they are more alive than ever, releasing albums, playing concerts all over the world, and maintaining an aesthetic and an image that very few groups have been able to achieve. Is it the miracle of technique or the result of a few active minds and endless talent? Those of you who already know EL AVIADOR DRO will definitely enjoy these alternate versions, and how these 26 songs work as a whole to summarize an important part of their first period. For those of you who are discovering these songs for the first time, I can only say: "Welcome to the future and get ready to enjoy yourself and dream of other worlds and other stars".
Luis Calvo (Elefant Records)