Biography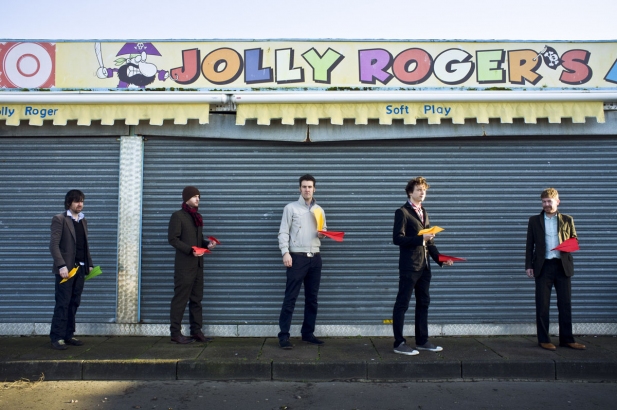 2005

Kev Sherry and Colin McArdle studied in the same school in Glasgow (Scotland) but, because of the year difference in age, they didn't know each other until university, where they met in a bar while having a drink. After graduating, they realized that they weren't made for conventional 9-5 jobs, so they locked themselves up in Colin's attic and began writing songs. And that's how ATTIC LIGHTS were born: candles and dreamy lights in Colin's apartment led them through the process of perfecting the art of power pop, when they wrote almost 100 songs.
In the following months, Jamie Houston (keyboards, guitars), Tim Davidson, and Noel O'Donell join the group and begin playing all over Great Britain. They release their first eponymous EP.
2006

They tour with groups like THE RUSHES and SCOUTING FOR GIRLS and they independently release their first EP, "Shiver by Trees" as well as a 7" single, "Martin". Little by little, their reputation beings to exceed the deep underground scene.
2007

An important concert in the prestigious T in The Park festival winds up being the big push for the group for signing with the multinational Island Records. They release the first edition of "God" as a 7" single (though with the release of their debut a CD-Single of the song would also be released) that includes a cover of "Live It Up" – a classic song from Australia's new-wave group MENTAL AS ANYTHING.
2008

"Friday Night Lights," their debut album, recorded with Francis Macdonald and with arrangements by Bkorn Yttling (PETER, BJORN & JOHN), is finally released. The album has five singles on it, "Never Get Sick of The Sea," "God," "Bring You Down" (with remixes by CAMERA OBSCURA and MOGWAI), "Wendy," and "Santa's Girlfriend," all of which are more than enough to prove how hectic and successful the year would ultimately be for the group. The album is well-received, with great reviews in important press like The Guardian, The Sun, NME, Q, Uncut, and Mojo, who all highlighted their energy and those 4-part harmonies that have so frequently garnered comparisons to groups like TEENAGE FANCLUB. Other names that appear as comparisons in the reviews are ASH, THE BEACH BOYS, WEEZER, THE THRILLS, FOUNTAINS OF WAYNE and R.E.M.
They tour England, Scotland, Wales, Ireland, and Spain, occasionally sharing line-ups with groups like CAMERA OBSCURA, TRAVIS, GLASVEGAS, and artists like Cerys Matthews.
2009

Britain's channel 5 makes a new episode of their hit series "Minder" and gets the Scottish quintet to do a version of the theme song, "I Could Be So Good For You" that winds up being released as a single.
2010

Jamie Houston decides to leave the band in order to take on his paternal responsibilities. He's replaced by the producer and musician, Jim Lang, who turns out to be a key factor in the recording sessions that will become their second album, "Super De Luxe".
They record a version of "Since Yesterday" from their compatriots, STRAWBERRY SWITCHBLADE, for a very important TV ad campaign that is aired throughout 2010.
2012

After a couple of years with a few concerts and very little news, they group signs with Elefant Records.
2013

Their new album's advance single, "Say You Love Me," is released. It holds onto the classic structure of their songs and is incredibly catchy, with their huge addictive melodies and multiple-part harmonies.

Their second album, "Super De Luxe" is finally released, produced again by Francis Macdonald (TEENAGE FANCLUB, NICE MAN), John McLaughlin, who has also produced groups like ECHO & THE BUNNYMEN and has worked with artists that range from GLASSVEGAS to Lamont Dozier himself, and the very Jim Lang.
The name of the album comes from the brand of jukebox that Tim Davidson has. After each recording session, the band would get together at Davidson's house and relax, listening to their favorite songs on that jukebox.
2014
24/03/2014

Digital single and video for "Orbison". The Scottish band continues to release some of the best songs from their second album, "Super De Luxe" (their first for Elefant Records), and this time they're doing it with a new digital single that includes a surprising video. The chosen song for this occasion is "Orbison", a tribute to the legendary singer Roy Orbison and one of those trademark ATTIC LIGHTS songs: romantic yearning, powerful guitars, addictive choruses and bursting with energy. And we get a previously unreleased track as an extra gift, "Known Outsider", on which ATTIC LIGHTS show us their more peaceful side, leaving the urgent electricity of the majority of their songs to one side and embracing a precious melody with deliciously unfolding guitar rhythms and an invigorating chorus

2015
18/09/2015

ATTIC LIGHTS REWORKED BY LA CASA AZUL
Elefant Records, in its constant search for new ideas and projects, is beginning a new collection of limited-edition Singles called "Reworked By Series". The main idea is that groups on the Elefant label appropriate, play with, and remix each others' songs. It's an explosive mix that can create (and has, in fact, already created) really exciting cocktails. Guille Milkyway does his thing, making a few new Eurodisco hits from "Future Bound" and "War Years", two songs from the Scottish band