Biography
Manolo Martínez: Vocals, guitar, keyboards
Genís Segarra: Synthesizer and programming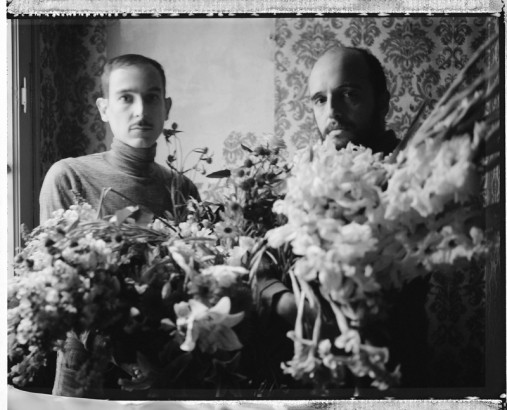 1995-1996

Manolo and Genís meet at a PULP concert in Barcelona in November 1995. A few weeks later, in January 1996, the meet again at a LE MANS concert, which is when Genís shows Manolo a "Press release" about the group he'd like to form with him, a declaration of intentions that Genís had been carrying around all that time, waiting and hoping to find the perfect soul mate. As the story of forming groups goes, their similar tastes motivated them to start ASTRUD. They were soon getting the attention of music fans, thanks to a surprising mise-en-scene, and their unclassifiable musical discourse, which includes influences of all kinds: techno-pop, Italian disco, pop ye-ye, French chanson…
1997

After a couple of years trying to make themselves known, they recorded a demo, "ASTRUD loves me", with two songs, "Superman" and "Lemongirl". They finally make contact with the Acuarela label; curiously enough, Jesús Llorente had been a classmate of Manolo's in El Puerto de Santa María when they were in high school, and their first and eponymous EP is released on the Madrid-based label. The disc quickly disappears from the stores, selling out its printing and making it a highly desired collector's item. Songs like "Superman" and "No estaría mal no tener que saber qué es lo que va a pasar" already clearly define the sarcastic and disjointed style that will populate their career. As curiosities, that "Last time" in English, the Japanese edition of the EP that contains four extra tracks: a version of PULP (paying back the debt from that concert), "Vamos al amor", "Mi fracaso personal" and the super-fun "Lemongirl", and the American release which is published on the Sealed Fate label and includes two extra tracks (the PULP version and "Lemongirl") and is released in CD format and in a special-edition 10" vinyl.
1998

They turn into the little darlings of Spanish pop, joining unanimous praise from the critics and the public, so much so that they even played at the Benicássim Festival that year.
Just when they are preparing their first full-length on Acuarela, they have a computer problem and lose almost the entire disc. In the period of time in which they are recovering and re-recording the material, ASTRUD play in Madrid as the opening act for Carlos Berlanga, specifically on the night of Halloween. They were seen by Javier Liñán in that concert, who decides to sign them on Chewaka, the sub-label of Virgin Spain, which he manages.
Nacho Canut and Alaska declare themselves fans of the group, and record LOS PLANETAS' "De Viaje" with them, as a single for the FANGORIA fan club "Fan fatal". The single includes a danceable remix of the song.
1999

Their highly anticipated and soon-to-be acclaimed debut album comes out. "Mi fracaso personal" puts them at the head of an original and groundbreaking vanguard, both musically and esthetically, thanks to a collection of inimitable songs, which include such unforgettable numbers as "Esto debería acabarse aquí", "Miedo a la muerte estilo imperio", "Cambio de idea" and that explosive version of "Bailando", originally by the Belgian group PARADISIO. The album marks the definitive consecration of the duo, identified by personal lyrics which range from uncouth to exciting, from absurd to sarcastic, always with great melodies, danceable rhythms, and an attention-getting mise-en-scene (Genís's high heels were heavily commented on). They show up on the best album of the year lists, and today it is still considered one of the best albums of the last century in Spanish pop.
They make videos for "Esto debería acabarse aquí", "Bailando" and"Cambio de idea", and a maxi is released with remixes of "Bailando" as well as a promo CD with "Esto debería acabarse aquí".
The magazine Shangay releases a CD that includes the version of "De viaje", the danceable remix recorded with FANGORIA, and "Electricistas". Even today the price of these items soars sky high in auctions for collectors.
2000

As the cycle of "Mi fracaso personal" comes to an end, the EP "Cambio de idea" comes out, a conceptual release (with one of those touches of personality and deconstruction that is so them), with four songs that revolve around the idea of change: "Cambio de idea", "Cambio de forma", "Cambio de tiempo" and "Cambio de sentido" ("Change of mind", Change of style", "Change of time" and "Change of direction"). Undoubtedly, one of the irrefutable gems of their career.
The rest of the year they're on the road, where they cross and recross the Spanish geography and continue hitting some of the most important spots. And so the activity never stops, they start the label Austrohúngaro, where they release albums for bands like HIDROGENESSE, CHICO Y CHICA and MANO DE SANTO.
2001

"Mentalismo" is released as an advance-EP for their new album. It includes a lighter version of the title track, compared to the version that will later be released, as well as the song "El teclista telequinético" which they played live in a very curious way: Génis lip-synched to Manolo singing the song live.
2002

"Gran Fuerza" comes out, an album that, as it's name ("Great Strenth") indicates (although the name was a reference to a Chinese restaurant near the student-apartment where Manolo lived before he met Genís), a huge dose of energy is hidden, with more muscular programming and a more organic sense of the music, with more instrumentation. Songs like "La culpa", "La boda" and the marvelous "Me afecta" earn them the definitive support of the public, and puts them in a special place of honor, that very few groups have had the honor of, from the national independent pop. J himself, from LOS PLANETAS, writes the promo information, as a letter to the group.
Months later they release "La boda", with two new songs, an acoustic version of the title track, and "A mí me pasa lo mismo", a song they had written to show to A&R people of Ana Torroja, who was looking for repertoire at the time, but it wasn't as warmly received by them as the band had hoped, and it found a good home among ASTRUD's fans.
They play in the big festivals again, like Primavera Sound and the Festival Do Norte, and they usually bring Eduard Alarcón on bass.
2003

It's the year of "clocharismo", as they themselves called it, or "Marginales. Las estatuas cantantes": a series of concerts that Manolo and Genís played in the middle of the street, with the help of only acoustic instruments like clarinets and ukeleles, and which they justified with the following sentence: "Last year, in the middle of the year, we reached the sky. Now we're are beginning the Great Descent."
In December, Elefant and the magazine Rockdelux released a tribute album to FAMILY, and ASTRUD collaborated with a version of "El bello verano": but what they really do is an interpretation, a capella and live, of the theme-song from the "Pink Panther" TV show, to which they added FAMILY's lyrics.
At the end of the year, they release "Un mystique determinado" on Austrohúngaro, music composed specifically for an audiovisual project by Carles Congost, and for which they worked exclusively with Desireé García, the lead singer of FINE!, Carlos Ballesteros (HIDROGENESSE), Helena Feria (LES BISCUIT SALÉS) and a string quartet. In these songs, they narrate the strange story of a young man who wants to be an artist, but whose surroundings force him to become a football player. It is an album that ASTRUD adores, despite being one of their lesser-known works.
2004

Their contractual obligations with Chewaka end, and they sign with Sinnamon Records. For their first release they put out that sonic artifact, in the form of a six-song EP, called "Todo nos parece una mierda", on which the group completely lets all of their obsessions run wild (if they hadn't done so before). The title track is an absolutely hilarious anthem that they themselves describe as "a mix of protest song and fantasy pop, with castanets, angelic choirs, Spanish guitar and a chorus that repeats eighteen times"; "Hay un hombre en España" is one of those incredible and unimaginable songs that only they could have written, with an air of the spectacular, and which brings down all the myths of Hispanic iconography at the same time; "Nuestros poetas" brings up all the common places of Spanish literature; "Café con cebolla" is a strange joke that they admit to having recorded while under the effects of alcohol; "Es que sí" (in Catalan) was selected to represent Andorra for Eurovisión, and "No tengo miedo" is a revival of "Un mystique determinado", as they say, 'with airs of the song "Dragostea'." A totally impressive work.
Immediately after, their full-length, "Performance" arrives, which came to confirm all the aforementioned. If it hadn't been enough already, they dazzled the whole world with songs like "Masaje" and "Soy futbolista". They manage to give a pop touch to a completely irreverent disc, on which they collaborated with Claudia Gonson, of THE MAGNETIC FIELDS, without a doubt one of their biggest influences, and with whom they had already shared a stage while touring together.