Biography
Ana D is the biggest surprise in the last decades of the Spanish pop scene: her music has a timeless quality that makes it very special and different to anything you have heard so far.
Ana D doesn't play any instruments, but in her head there are thousands of ideas which only need of twin souls as creative as hers to crystallize in the most beautiful pop tunes that will make you travel to the stars.
Like a futuristic orchestra conductor, she coordinates the evolutions of Ibon Errazkin, leader and songwriter from LE MANS, and Javier Corcobado, legendary musician, poet and songwriter, who guide and develop in the most stimulating way the talent of their muse.
Like a more sophisticated Martin Rev and a black haired, tattooed Nancy Sinatra, distant and mysterious, they use vintage instruments and forgotten beat boxes to create a new style of "acoustic synth-pop" the references of which go from Kurt Weill or Gainsbourg to SUICIDE. Ana D's warm, sensual voice caresses you with love, in an enveloping hug from which you never want to get rid.
Like Astrud Gilberto, she bewitches you and transports you to other mysterious, blurred worlds, giving her own identity to the lyrics written especially for her by Corcobado. Like KRAFTWERK, finally, she empties the songs until she leaves them naked in their essence, with a painfully austere beauty, and with the necessary genius as to reinvent classical tunes from the Spanish modern folklore. Music to dream with journeys to outer space, on board of a wooden rocket, with a big round window through which wave goodbye to the other interstellar travellers.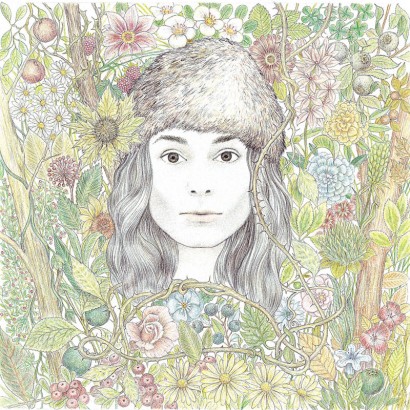 1997

Shortly before the summer she gave us a first sample of her talent with the brilliant CD-Single "Naufragio". Her live debut opened the III edition of the Benicàssim International Festival, and more than two thousand people were amazed by her charisma and her magnetic presence on stage. At least, in November 1997 came out her long-awaited debut LP, "Satélite 99", a concept album of cosmo-melodic chanson which was received with praise everywhere, and which she presented live in Madrid and Barcelona supporting British band STEREOLAB.

1998

Elefant Records' Singles Club released in early 1998 a new single, "Recordando", a white vinyl platter featuring two new songs taken from the same sessions of "Satélite 99". Grimsey Records released the U.S. edition of the album, and shortly afterwards Dean Wareham (LUNA, GALAXIE 500) chose her album as one of his 1998 favourites in Magnet Magazine. To promote this US release she did a September/October tour with Ibon Errazkin. They played in Los Angeles, San Francisco, Chicago, Minneapolis, Boston (with DAMON AND NAOMI), Washington and New York.

2000

Grimsey released a CD-Single with an accoustic session Ibon and Ana did at "Morning becomes eclectic" KCRW radio show in LA. Other artists that made a session in the previous weeks included names like THE FLAMING LIPS, DOT ALLISON, BILLY BRAGG, MOOSE, KRISTIN HERSH, BLACK BOX RECORDER or THE BETA BAND.
To promote this CD-Single Ana D toured the States again in October 2000, this time accompanied by young guitarist Sergio Fernández. This new tour included some dates supporting DAMON AND NAOMI (in Los Angeles and San Francisco) and Perla Batalla (in Minneapolis). There was also a date in Tijuana (Mexico) and an appearance at Seattle's "Rockgrrl festival". This festival is wholy devoted to female bands and artists, and included a live act by THE RONETTES' Ronnie Spector (THE RONETTES).

2001

In September 2001 Argentinian label Indice Virgen released "Recordando", a CD compiling songs from "Satélite 99" and "Live at KCRW". The album featured a new sleeve by Javier Aramburu.

2003

The song "Me quedo contigo" (included in "Satélite 99", Elefant 1997) by Ana D is chosen by well known film director Pedro Almodóvar to be included in the compilation "Viva la tristeza!" (Milan Music/Warner); the album compiles the songs that, according to Pedro himself, inspired and helped him throughout the process of writing the script for his latest film, "Hable con ella" ("Talk to her").
Pedro Almodovar talks about "Viva la tristeza!": The cd you are holding in your hands is composed by the songs that accompanied me while I was writing Hable con ella. All of them were good for the story while I was creating it in my computer. All of them were good for me too: they stayed with me with the efficiency and the intensity of a secret lover. If you read the script by chance while listening to the songs, you will realise both things merge in a single one, we could say it's an alternative, secret soundtrack for Hable con ella...
Artists featured in this album were: Shirley Horn, Jimmy Scott, GOLDFRAPP, Michael Brook & Djivan Gasparyan, Albert Pla, Ana D, Chavela Vargas, Kepa Junkera, Caetano Veloso, Chet Baker, Nina Simone, Gregory Isaacs and Nicolette.
Meanwhile, Ana D, the great melodic diva from outer space, works on new songs in her satellite, with the help of Sergio Fernández, who had previously worked with her, playing guitar during her last tour around the United States. The Elefant compilation "Moda Pop" featured "Andrómeda", a chilling, fragile and moving new song by KAMAMURI: ANA D, the name of the new project of Ana with Sergio Fernández. With this new name she took part as well on the tribute to FAMILY album, covering the song "La noche inventada".

2004

In November is published in Spain and Argentina the book titled "Curvas Peligrosas" (Editorial Lumen), a compilation featuring strips and illustrations by brilliant Argentinian cartoonist Maitena, very famous all over the world for her witty and hilarious look at the female world and the struggle with men's impossibility to understand women. The book came along with a ten song CD featuring some of her favourite songs, and among them we found tracks from the Elefant Records catalogue, by Ana D and ENTRE RÍOS.
In Maitena's own words: "drawing is a lonely job. Sometimes I need silence, and sometimes I need music. The songs on this album were by my side during the last year and a half, whilst I was doing this book. I wanted to share them with you".
For the album, Maitena Burundarena (Buenos Aires, 1962) chose some of her most beloved songs from the recent times. Along with latin classics as Paquita la del Barrio, she placed stars from Argentinian music as Juana Molina or Axel Krygier, and, from the Elefant Records roster, the beautiful song "Más" (Riz Ortolani's cover, taken from Ana D's album) and the melodic electronics on "Litoral", by Argentinian trio ENTRE RÍOS.
Discography in Elefant:
ER-1045 ANA D "Satélite 99" LP/CD Digipak (October 1997)
ER-185 ANA D "Recordando" Single 7" (February 1998)
ER-1128 ANA D "Satélite 99" [10th anniversary edition] Doble-CD Digipak (September 2007)
Non-Spanish releases:
- "Satélite 99" (CD Grimsey, USA, 1999)
- "Live in Los Angeles on 89.9 KCRW'S Morning Becomes Eclectic" (Mini-album Grimsey, USA, 2000)
- "Recordando" (CD Indice Virgen, Argentina, 2001)
Songs in compilations:
- "Naufragio" (CD-Single sold along with the magazine El Canto de la Tripulación, 1997)
- "Satélite 99", in SUPERMARKET (CD ER-1051, 1998)
- "Selenio 2034", in CASABLANCA (Double LP/CD ER-1056, 1999)
- "Satélite 99", in DREAM POP (CD Big Fish Music, Japan, 1999)
- "Los amantes", in ELEFANTDIEZ (CD ERDL-001, 1999)
- "Galaxia (live KCRW, LA)", in DO NOT FEAR THE FUTURE (CD Grimsey 2000, USA)
- "Todo comenzó", in I LIKE 70'S (Doble-CD Arcade, 2000)
- "Galaxia (live KCRW, LA)", in ELEFANT DOSMILUNO (CD ER-1083, 2001)
- "Los amantes", in ELEFANT 2002 (CD Suave, Mexico, 2002)
- "Me quedo contigo", in VIVA LA TRISTEZA - Pedro Almodóvar choice of songs that inspired "Talk to her" (CD Milan Music, France, 2002)
- "Velero lleno de estrellas y bahías", in MOMENTOS PERDIDOS (CD ER-1115, 2004)
- "Más", in MAITENA's "Curvas peligrosas" (CD Lumen, 2004)
- KAMAMURI: ANA D
- "Andrómeda", in MODA POP (CD ER-1094, 2003)
- "La noche inventada", in HOMENAJE A FAMILY (CD SM-064, 2003)