t
15/12/2010
"A coming of age", One of the best albums of the year and "Love³ " is one of the best songs
LUCKY SOUL:[SP] Je Ne Sais Pop, EN ARTÍCULOS, A coming of age, ENTRE LOS MEJORES DISCOS DELA AÑO PARA JNSP
47.-Lucky Soul / A Coming Of Age: Cuando Andrew buscaba cantante era una obsesión para él no encontrar divas chillonas a lo 'Factor X'. Llegó a mencionar en su anuncio que no quería que se pareciera en nada a Christina Aguilera y suele contar que la única de las candidatas que no sonaba a Christina Aguilera fue Ali. Una voz dulce como la suya es perfecta para defender baladas como 'Warm Water', 'Southern Melancholy' o temas basados en una línea de piano como 'Could Be I Don't Belong Anywhere'. A nadie puede empalagar sino resultar maravillosa en esta nueva búsqueda de lo atemporal (y del amor, en las letras) que llega a buen puerto.
LUCKY SOUL:[SP] Je Ne Sais Pop, EN ARTÍCULOS, "Love³ " ENTRE LAS MEJORES CANCIONES DEL AÑO PARA JNSP
47.-Lucky Soul / Love³
Ali y Andrew exploran ligeramente el country sin traicionarse a sí mismos en uno de los temas estrella de su segundo disco, 'A Coming Of Age', que habla sobre amor, amor y amor para nadie excepto para uno mismo.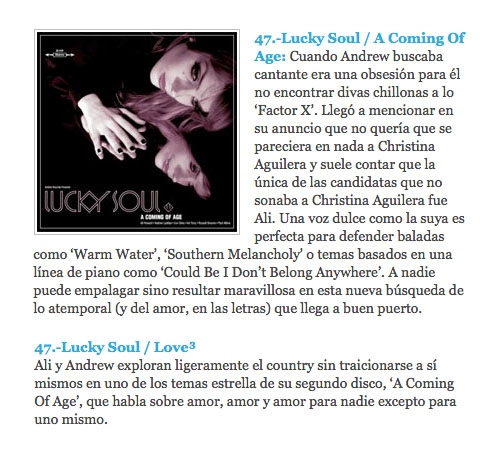 Lucky Soul [Je ne sais pop]
picture: Archivo Elefant